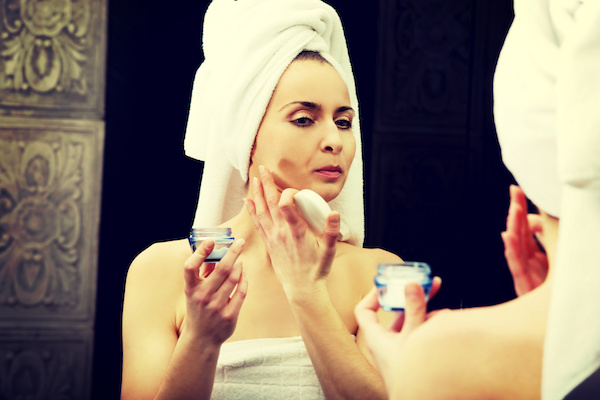 by Lauren Follett, BA, RHN, Registered Nutritionist
Just like there's a dirty dozen for food (EWG's list of 12 fruits and vegetables that have highest amount of pesticides), there's also a dirty dozen for ingredients to avoid in your beauty products (check out David Suzuki's Shopper's Guide to see how your products rank). For example, BHA or BHT found in moisturizers and makeup may cause cancer and hormone imbalance, parabens have been linked with breast cancer and parfum can trigger allergies, asthma and cause cancer. When I first discovered Suzuki's list, and starting comparing it to products I used each day, I was disgusted and overwhelmed. Everything I used included at least one of these chemicals. I didn't know where to start, and I was hesitant to give up my favourite products.
Awareness of toxic chemicals in cosmetics is growing. As a result, more companies are popping up to offer alternative products that use natural ingredients and provide amazing benefits for your skin. One of my recent favourites is a company based out of Ottawa called The Kitchen Sink.
The Kitchen Sink is owned and operated by Debra Munro. As someone with sensitive skin, Debra went searching for affordable products containing ingredients she could pronounce. In the process, she decided the best way to find the ideal formulations was to create them herself. After months of research and experimentation, she developed a line of all-natural beauty products that care for skin beautifully without synthetic chemicals, skin irritants or potentially toxic additives. They're effective and you can feel good about what's in them. Not only are the packaging and ingredients from Canada, several of those ingredients come right from Debra's organic gardens.
Over the last couple months I've had the pleasure of trying her products. I want to share some of my favourites, and also educate you about natural ingredients that have awesome benefits for your skin:
For the Face
Anti-Wrinkle Serum – $25, 30ml
(Calendula oil, Sesame oil, Jojoba oil, Rosehip oil, Vitamin E oil)
Calendula oil is perfect to moisturize the skin, and is especially good for sensitive skin. Sesame oil is a natural antioxidant because of it's high content of vitamin E, which aids in quick absorption of the serum. Jojoba oil is an excellent moisturizer, and rosehip oil has been used for years as a cell regenerating and scar lessening ingredient, perfect for damaged skin. I love this product, and have noticed a difference in my skin since using it – some of my fine lines have become less noticeable. It also has no fragrance, which is so nice compared to the strong scented, parfum-laden alternatives.
Herbal Facial Cleanser – $15, 50ml
(Witch Hazel, Vegetable Glycerine, Organic Geranium essential oil, Organic Lavender essential oil, Castile soap)
An ideal facial cleanser and safe for mature, sensitive, oil and even acne prone skin types. Naturally fragrant and antiseptic. Washes away impurities and excess oils without changing skins pH balance or stripping away natural oils. I use this every morning to clean my face, as I find the natural herb fragrance invigorating. My skin is left feeling fresh and clean.
For the Body
A Winter Body Oil – $25.00, 100ml
(Hemp oil, Sunflower oil, Olive oil, Avocado oil, Pumpkin oil, Vitamin E oil)
Hempseed oil is high in omega 3 fatty acids, which makes it a fantastic cosmetic-grade oil. Sunflower oil has high amounts of vitamin A, B, D, and E, minerals, lecithin, insulin, unsaturated fatty acids and by all accounts, it is a good product for the skin. Olive oil is extremely versatile and is a favourite on both dry and irritated skin. Avocado oil contains vitamins A, B1, B2, D, E and beta carotene. Pumpkin oil is valued for its skin healing properties. Vitamin E plays a crucial role in protecting skin cells, and membranes from environmental damage. This protection extends to preventing damage to the skin from UV rays, pollutants and the effects of aging. I mix this oil with coconut and use it as a lotion for my 1 and a 1/2 year-old-son after baths, and it has really improved his dry skin. It also feels so good knowing that I'm not using any harmful chemicals on his skin.
Body Butter – $25, 240ml
(Cocoa butter, Coconut oil, Sweet Almond oil)
Coconut oil has antioxidant properties, which protect the skin from free radical damage (a.k.a. premature aging) and it also helps to build and strengthen skin cell structure. This will keep the skin strong & supple and prevent sagging & wrinkles. Sweet almond oil is an emollient, so it smoothes and softens the skin. It is full of vitamin E, a powerful antioxidant and a great skin protector and healer. Plus, it acts in natural skin care products as a preservative. Cocoa butter is a rich emollient, containing fatty acids to help retain moisture and build elasticity, and may also relieve rashes and irritation. I use this every morning after my shower, and it's the only product that keeps my skin moisturized in the winter. It also fills the room with the decadent smell of chocolate. I'm also using it during my pregnancy as a way to prevent stretch marks on my growing belly.
Coffee Body Scrub – $10, 240ml
(Coffee grounds, Organic Sugar, Himalayan Salt, Coconut oil, Cinnamon and Vanilla)
Caffeine stimulates blood flow, and helps reduce the appearance of cellulite, eczema, stretch marks, age spots and psoriasis. Demerara Sugar and Himalayan salt will exfoliate skin removing dead skin and other blemishes. Coconut oil will hydrate and moisturize skin. If you want to create a spa-like experience in your very own home than you have to give this a try – it's an awesome experience, and my skin has never felt softer. I love using it in the morning as the smell of coffee and cinnamon really wakes up the senses.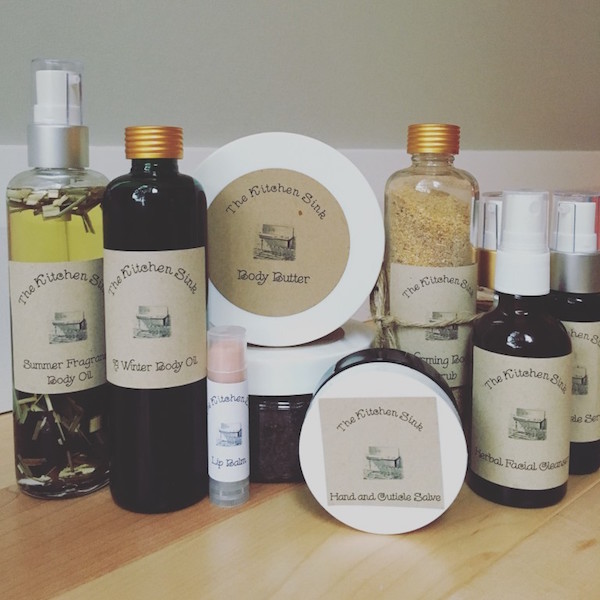 Those were just a few of my favourite products from The Kitchen Sink. Debra also offers:
Summer Fragrant Body Oil
Warming Body Scrub with Calendula Oil Kit
Lip Balm
Hand and Cuticle Salve
If you're interested in placing an order from The Kitchen Sink, email Debra at: thekitchensink@storm.ca (she will ship just about anywhere!).
I know it seems like everything these days causes cancer, and you may be left feeling overwhelmed and wondering where to begin. Going through your beauty products is a great place to start, and with amazing natural products like The Kitchen Sink on the market, you won't even miss your old, chemical-laden cosmetics. The Kitchen Sink products will protect, moisturize and heal your skin, prevent premature aging, and you can relax knowing that you're cutting down on the amount of cancer-causing chemicals and toxins that you put in your body.