THEN and NOW: Fifty-Five Plus magazine at 35
Despite all the ways our world has shifted since the Big-Hair, Big-Dreams 1980s, what sparked a magazine for the mature crowd in 1988 still drives Fifty-Five Plus today: The desire to share inspiring stories for making the most of the second half of your life.
Remember 1988? In Calgary, the world's best athletes were competing at the Winter Olympics. In Scarborough, two 18-year-olds were forming a rock band called Barenaked Ladies. And in Kingston, Ontario, a couple of 20-somethings were starting their own magazine, Fifty-Five Plus. With youthful bravado, they launched a "lifestyle magazine for the young at heart." Really, though, the two Kingstonians were young.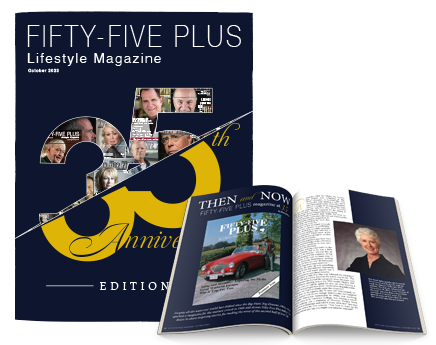 "We were kids," recalls co-founder Josie Walsh. The other co-founder, Sharon Freeman, remembers she was just finishing the advertising and public relations program at St. Lawrence College and looking for work that would allow her to stay in the city.
"A lot of skills we had developed [through the program] were conducive to publishing," Sharon notes, mentioning an earlier graduate of the St. Lawrence program had launched a well-received publication. What's more, at the time Kingston had the second highest number of retirees per capita in Canada.
While the newbie publishers may have been light on first-hand knowledge of the retirement years, they did have experience to draw on—that of Kingston's Pat MacAulay.
A writer, author and long-time leader in the local arts community, Pat, at 51, was a little closer in age to the audience.  Her son Stu describes her as a "silent partner" in the magazine venture, explaining she initially served as "a backer, a source of experience in the realm of publishing.
"Mom was not entirely silent in practice, however, and was, I believe, the advertising department, seeking and securing ads from any and all businesses relevant to the magazine's target audience."
Pat MacAulay also came up with something that was a big hit with that audience. Appearing in every issue, her word search puzzle was a back-page mainstay for over three decades.
The first edition of Fifty-Five Plus was released for October/November 1988 and its price, listed on the cover, was $1.50.  The dapper gentleman who fronted the inaugural issue, Stu says, was "Mr. Ted Whitney, standing next to his 1955 Austin Healey 100. In the cover story, he said he opted for this car over buying a second MG 'because it goes like stink!'  At the time of publication, Mr. Whitney was 73 and evidently quite the character."
There's more. As Stu reports, the 73-year-old "also owned, re-built and regularly rode his six vintage motorcycles (he founded the Canadian Motorcycle Association in 1946), was teaching motorcycle safety at St. Lawrence College, was writing a novel, was busy sculpting, was a mainstay of Domino Theatre from front-of-house to backstage and I don't know what else." Stu says he had some advice for new retirees: "You have to want to do something and not give up; you might just surprise yourself!"
Surprisingly, perhaps, Fifty-Five Plus—the new Kingston-based, niche magazine—prevailed. The younger MacAulay remembers its early years well. When an edition came from the printer, he says, "Everyone, including the extended Freeman clan, was called all-hands-to-the-pump for the growing task of addressing, bundling, mailing and also the hand-delivering of copies to various outlets throughout the greater Kingston area." In 1990, the coverage area was expanded to include Ottawa.
Then, following the October/November 1994 issue, Josie stepped away from Fifty-Five Plus. At that point, Stu says, "Mom became co-publisher, with Sharon, while retaining all of her previous roles."  In 1996, the magazine was sold to Brian Warren. After that, Pat den Boer became the editor. Then in March of 1999, Coyle Publishing Inc. purchased Fifty Five Plus, producing that year's May/June edition.
George and Carole Coyle of Coyle Publishing went on to establish the magazine's presence in Ottawa and also to expand it into the Ottawa Valley and the GTA. Pat remained editor of the magazine until 2022, overseeing the publication as its circulation grew and it collected over 75 awards, earning top honours in everything from writing and photography to overall excellence. In those years the eye-catching layout and design were thanks to Daphne Pierce and Tim Skinner of PS Design.
Over the years, a laundry list of high-profile Canadians have graced the front of Fifty-Five Plus magazine, from astronauts Roberta Bondar and Chris Hadfield to governors general David Johnston and Mary Simon. Dragons' Den dragons Arlene Dickinson, Kevin O'Leary and David Chilton have appeared on the cover, as have chef Michael Smith and pastry chef Anna Olson. Gardening greats Mark Cullen and Ed Lawrence, fashion designers Paddye Mann and Linda Lundström, broadcast journalists Peter Mansbridge, Pamela Wallin and Linden MacIntyre and Canadian military generals Lewis MacKenzie and Roméo Dallaire have also appeared.
Cover features about comedians have been popular and have included the likes of Rich Little, Don Harron, Ron James, Brent Butt, Red Green and Rick Mercer. From the realm of athletics, Olympic skater Elizabeth Manley, marathon swimmer Vicki Keith and runner/Running Room founder John Stanton have been showcased, while from the arts, painter Robert Bateman, classical guitarist Liona Boyd and Juno Award-winning Inuk singer and songwriter Susan Aglukark have been in the Fifty-Five Plus spotlight.
Cover stories about musicians and entertainers have been plentiful too, running the gamut from Wayne Rostad, Murray McLauchlan and Paul Anka to Bruce Cockburn, Jann Arden and Jimmy Rankin. In fact, Jimmy performed last month at the September 2023 Fifty-Five Plus Lifestyle Show.
The popular show, held twice each year at Ottawa's EY Centre, was a natural outgrowth of Fifty-Five Plus magazine and its role as a trusted source for information, inspiration, opportunities and connection in Eastern Ontario.
When George and Carole Coyle launched the show in September 2014, crowds streamed through the door and people appreciated the compelling mix of vendors, exhibitors, on-site experts and performers.  That year the master of ceremonies was Wayne Rostad and the main stage entertainment included singer Gail Gavin, plus Frank Sinatra, Tom Jones and Marilyn Monroe impersonators.
In those days, there was more emphasis on retirement, while today—at both the show and in the magazine—the focus is more on lifestyle opportunities. That's because a lot has changed since the first issue of Fifty-Five Plus was published. For one thing, readers can now browse through or download the digital edition. They can also visit the website and connect with the active Fifty-Five Plus community on social media.
For another thing, how we live, what we care about and what we want are different than they were in the 1980s. Now people are as apt to be starting a new career as they are to be retiring at age 55 or 60 and while many people are empty-nesters, others are starting second families. Still others may have multigenerational households because they're caring for elderly parents while having welcomed their adult kids back into the nest, along with the grandkids.
Certainly, there are interests and preoccupations today—from electric bikes and QR codes to artificial intelligence and CBD products—that nobody could have imagined back in 1988. Not even those two bright, entrepreneurial 20-somethings in Kingston who had the chutzpah to start a magazine. Now Sharon Freeman and Josie Walsh are part of the target audience; both are in the 55-plus age group.
From the start, Sharon explains, they wanted to present "inspiring stories for living the second half of your life." That goal continues at Fifty-Five Plus. Thanks to her work on the magazine, Sharon adds, she personally got an early start in thinking about retirement planning. She also shares another thing she learned along the way: "The people who are really successful at aging are the ones who give back."