Profile
By Iris Winston
COMMITMENT TO RECONCILIATION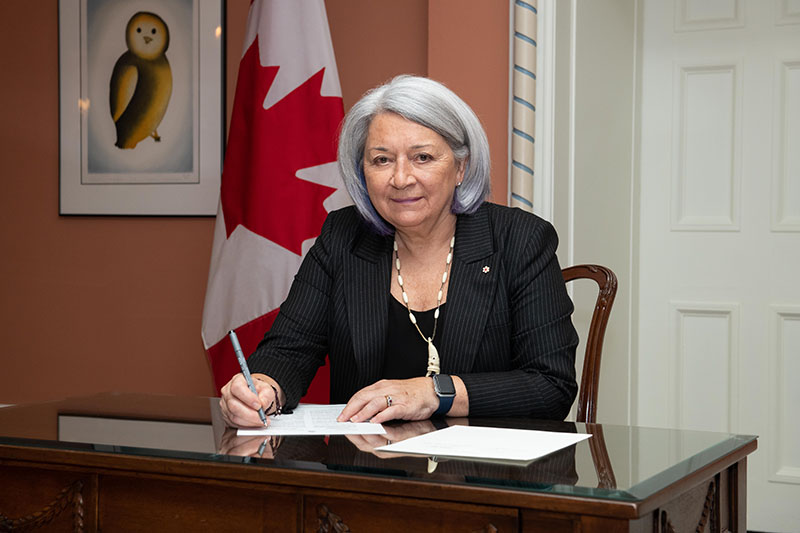 A Governor General for all Canadians
The temperature hit 50 below and lower through the winter that Mary May Simon, then a teenager, lived in a tent in the Arctic. Th e relative luxury of Rideau Hall, her current home as the 30th Governor General of Canada, underlines the huge contrast between her two worlds.
Bridging the two cultures of the Inuit lifestyle in the far North and the completely different ways of southern Canada comes easily to her.
"I have always felt very lucky to have had the kind of upbringing I had and to have been comfortable in more than one culture without trying," she says. "It just comes naturally and I think that's what's important. When I go up North and go to small communities across the Arctic, I can transition into my Inuit culture as soon as I get off the plane. When I'm in Ottawa at Rideau Hall, I feel no different transitioning back in the southern part of Canada amongst different people. I always feel I'm seeing two sides of myself. It's so natural that it never crosses my mind until I talk about it. When it comes naturally, you don't get anxious or worried about what's going to happen, whereas a lot of the friends I grew up with tend not to want to be in the southern part of the country. It's not just that they feel isolated from their home community. It's also such a different world that people feel intimidated a lot of the time."
Not so, when you were fortunate enough to have the "amazing parents" that she and her seven siblings had, she emphasizes. "My father was a white man from Manitoba who went north when he was 18 to work for the Hudson's Bay Company. He ended up in a very small community in Nunavut. As he was the only white man there, he had to learn the language and he became fluent in Inuktitut — even speaking three or four dialects. My mother and grandmother — she lived with us — were unilingual, so we always spoke Inuktitut and practised the Inuit culture at home. And my father also taught us how to live in a different world."
But first Bob May and his wife, Nancy, ensured their children were at ease in the northern climate — hence the decision to winter some 100 miles upriver from their home in the far north of Quebec.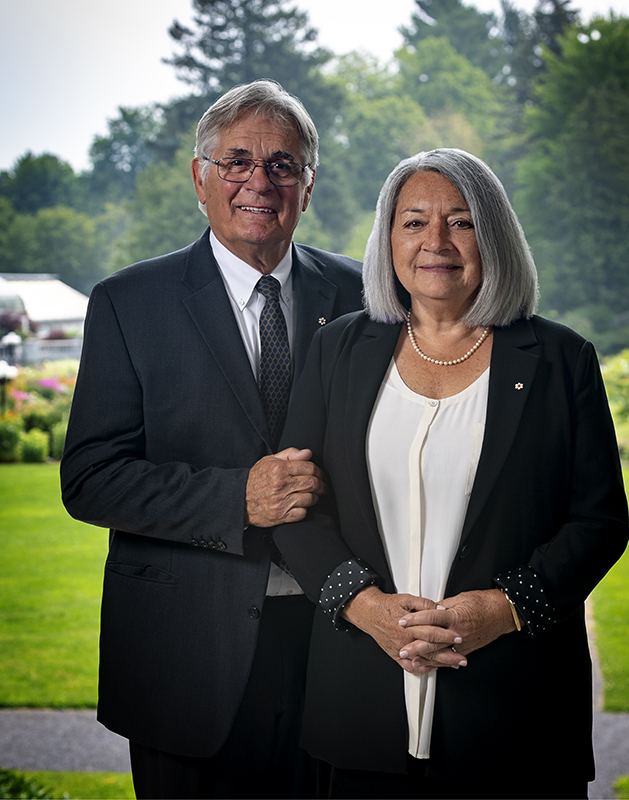 "My father built a log cabin, but it wasn't big enough for everybody, so my grandmother, my oldest brother, one of my sisters and I lived in a tent all winter. It was minus 50; the temperature wouldn't register any lower," recalls the Governor General, noting that she and her siblings were sad as Christmas approached, because they did not expect to have any gifts that year.
Happily, their assumption was wrong, because their father had arranged a surprise through a pilot friend. On December 25, he told his children to listen and watch. "Suddenly, a plane flew over bringing a big bag of presents and a big bag of oranges. That was a very special Christmas," says Her Excellency.
Like that warm memory, berry picking brings back happy thoughts. "When I was growing up, I spent a lot of time out on the land with my family," she explains. "We were always hunting or fishing for food and, in the summertime, we picked a lot of different kinds of berries, as well as roots and greenery. Some of it is edible up North and my grandmother and mother knew all about that."
"It's a time in my life I remember well," she continues. "I was very connected to the land. One of the things I always enjoyed was climbing up the hills and picking berries, especially blueberries, my favourites."
"Her heart is still very much a part of the land, lakes and rivers of her homeland in northern Quebec," wrote Whit Fraser, her husband of 27 years, in his memoir about his life and work in Canada's North.
"When I moved away from the North and started working for different organizations, beginning with CBC in Montreal, I went home every summer," says the Governor General. "I was home a lot in the late summer and early fall, so that I could go berry picking. I've done that all my life and it's one of the things I really enjoy."
"It's not just a grounding," she adds. "It also takes me away from all the thinking I do when I'm working in Canada or internationally. Berry picking brings back memories that I treasure about my mother and grandmother. The stories my grandmother used to tell while we were berry picking have stuck with me all my life.
One of the ideas that was spoken of frequently was ajuinnata, a concept that remains a guiding principle of the Governor General's life.
"It's a very significant word in our language — more than a word, a concept that can be interpreted in different ways," she explains, pointing out that ajuinnata is particularly relevant in relation to her longstanding commitment to reconciliation initiatives.
"Basically, it means never give up, continue moving forward and always be committed to what you are doing. It's a way of expressing how I feel about the work that I'm doing on reconciliation, as we try to move forward and make commitments as different cultures in the country and work together."
As she has pointed out often, reconciliation "is not a project. It's a way of life, a lifelong experience that doesn't end. It's continuous in our lives. It's also learning from each other's experiences in terms of different cultures and identities."
As the Governor General said at her installation on July 26, 2021, "My appointment reflects our collective progress toward building a more inclusive, just and equitable society."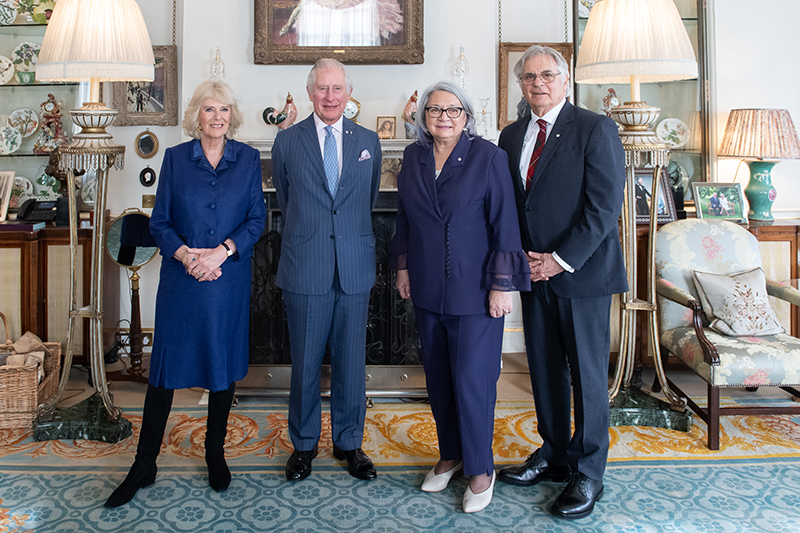 Her background speaks to ajuinnata, her direction and commitment towards that end. Over many years, she has demonstrated that working to reconcile differences, negotiating and learning to understand other viewpoints have always been her way.
"A lot of times in the negotiating process, you have to explain why you're taking a position," she says. "Through the constitutional negotiations in the 80s and the land claims agreements we signed across the Arctic, we were trying to see ourselves respected as contributors to the fabric of the country and able to govern ourselves. The underlying theme of my work has always been to bring that understanding out.
Bridging understanding and bringing people together has been a strength that I have had in my work."
As a public servant and advocate for the Inuit throughout her career, she began work with the Northern Quebec Inuit Association (now Makivik Corporation) in 1978. Rising to become its president, she was also part of the national organization, Inuit Tapiriit Kanatami, negotiating the first Inuit land claims agreement in Canada. A senior negotiator in the repatriation of the Canadian Constitution in 1982, she was also prominent in the Charlottetown Accord discussions a decade later. Her advocacy for Inuit people continued through negotiating the creation of the Arctic Council while she was the ambassador for Circumpolar Affairs (1994 to 2003). During this period, she was also Canada's ambassador to Denmark (1999 to 2001). (When the workload of two concurrent ambassadorships became overwhelming, she chose to stay with Circumpolar Affairs.) In 2008, on behalf of the Inuit, she responded to the formal apology about residential schools from then Prime Minister Stephen Harper, calling for concrete action, particularly education, for the apology to have lasting value.
"Politics, particularly in the context of Indigenous rights and justice and equality, are the root and the branches of Mary's professional life and persona," writes her husband. "These are the issues that have driven Mary for almost half a century."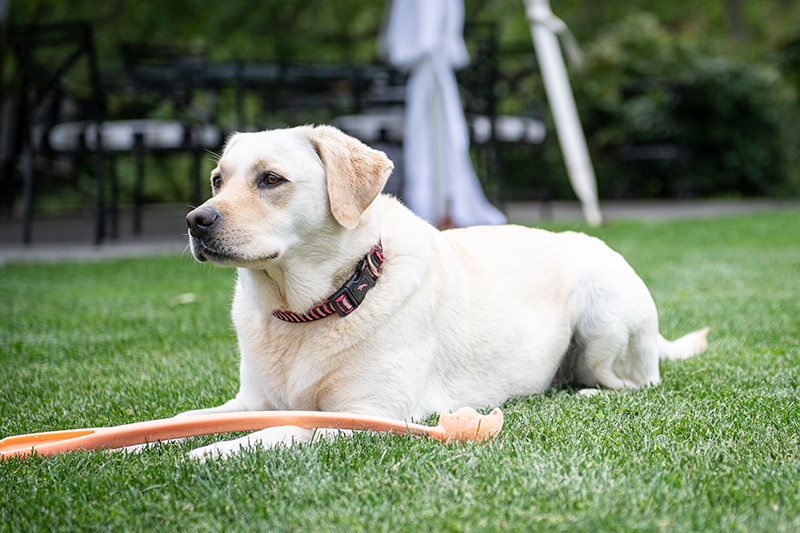 "We need to reach out and reconcile our differences," stresses Her Excellency. "Within the overarching theme of reconciliation, there are different subjects: mental health, nature and climate, education, inclusiveness and youth. I'm going to be working on all these issues within the framework of reconciliation and how to bring about this conversation that's so necessary in our country."
"Education is the foundation of the work we do," she continues, a belief she demonstrated when she founded the Arctic Children and Youth Foundation and, until 2014, chaired the National Committee on Inuit Education. "We need a better  education system for our people. We need to educate each other and ourselves so that we will learn to respect each other's identities and work together. I know it's a big ask, but I feel I can contribute to it and, now that I have an apolitical forum to work in, I can do it at the human level."
While working on this and all aspects of reconciliation is of particular importance to her, because of all that has happened
in the past and is still happening in Indigenous communities today, she emphasizes that, as well as being Canada's first Indigenous vice-regal representative, she is "the Governor General for all Canadians."
Therefore, she says, "I, first of all, have to remember all my regular duties as Governor General. I have been asked how I reconcile the role with my lifelong work of challenging colonial power structures. My response is that the position has evolved to a degree where I feel comfortable.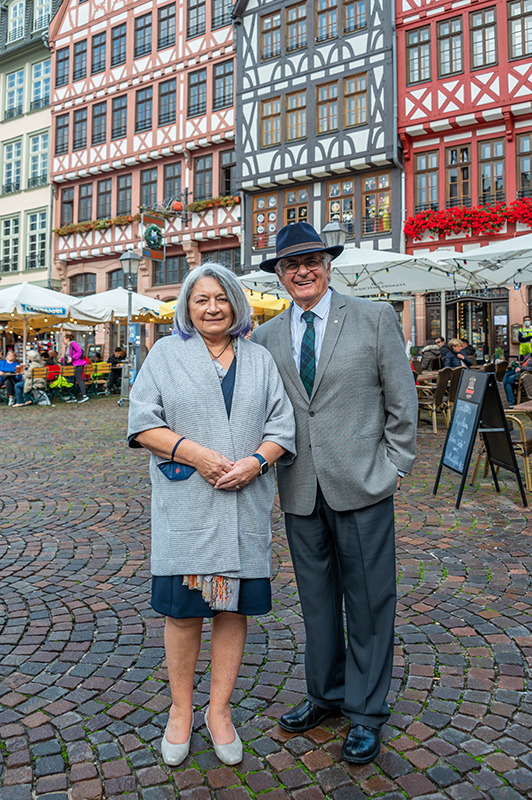 When I was growing up, the Queen was revered in the Arctic. She was well respected historically — my grandmother even had her picture — and there's a lot of work going on that recognizes the
relationship between the Crown and Indigenous peoples. Inuit, Metis and First Nations leaders are rebuilding the relationship with Canada and the Crown plays a big part in that at the national level."
"When things open up," she adds, referring to current COVID-19 restrictions, "and I can eventually travel around Canada again, I really look forward to meeting as many Canadians as possible and visiting communities, many of which will never have been visited by a Governor General. I'm hoping that my travel will highlight some of the great initiatives and achievements of Canadians from coast to coast to coast. There are so many positive things in Canada that are not being talked about these days and we need to reinvigorate that
part of our identity as a nation."
It's all part of her expressed desire to bring her office as Queen's representative in Canada to the human level.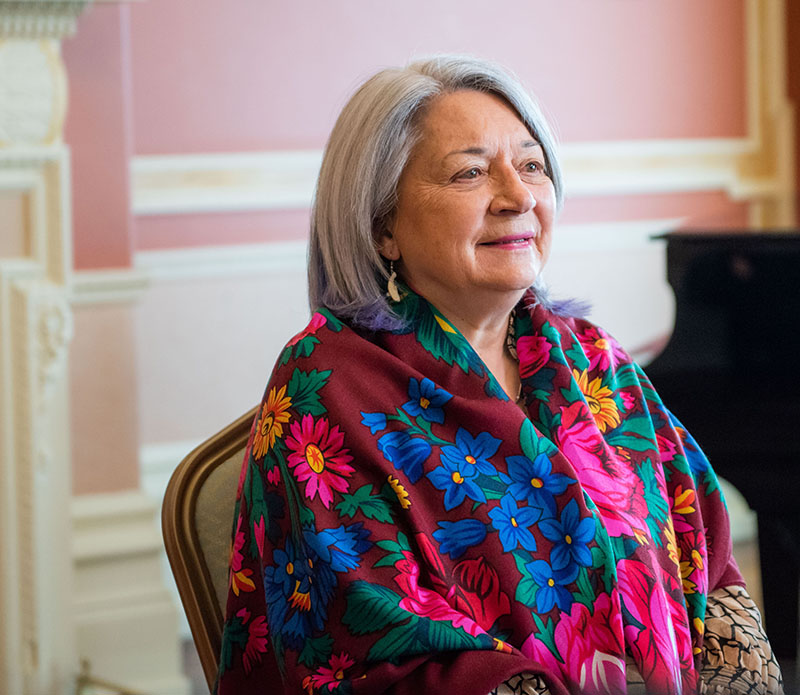 A fierce advocate for her people throughout her life, she also enjoys the simpler joys in life, whenever possible. Aside from such pastimes
as berry picking, accordion playing and glass collecting, she relishes walking her six-year-old Labrador retriever, Neva, and being with her extended family, whether it's her four brothers and three sisters in her hometown in the Arctic or with any of her three children, three stepchildren, 12 grandchildren and four great-grandchildren in
southern Canada.
"I have a wonderful relationship with my grandchildren," she says. "A lot of them have never lived in the North and teaching them who I am and where I come from is such an interesting process."
Just one more example of the connection between education and understanding each other.