High Achievers
By Martin Cleary
Young at heart and on the ice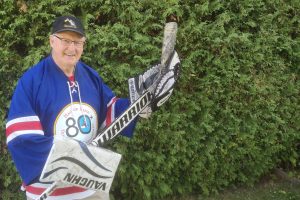 At age 78, Barclay Frost of Munster, Ontario, played 66 games for three old-timers' hockey teams during the COVID-19-shortened 2019-20 season. As a goaltender, and a good one, he's in high demand. (Barclay turned 79 on June 6.)
Barclay Frost is in demand as a hockey player.
No, the National Hockey League coaches, scouts and agents won't be showing up at any of the chilly Ottawa rinks to assess his talent, write a report and track his progress. The hands of the clock have turned too many times for that dream to become a reality.
But when it comes to old timers hockey, Frost is a hot commodity. So much so, he played 66 games for three teams during the COVID-19-shortened 2019-20 season, which was scheduled to end April 30, but shut down mid-March. He's uncertain when the 2020-21 season will start because of the pandemic.
Being a goalkeeper has helped catch the attention of team organizers, as there are far fewer netminders than forwards and defencemen. And being a six-foot-two-inch goalie who fills the net, Frost's strong points are his experience (six decades of hockey) and remarkable flexibility given his age.
Even at 79, Frost proudly and courageously straps on his modern, lightweight pads and all of his other athletic armour to enjoy a 50-minute hockey game.
One of the oldest hockey goalies in the city, Frost doesn't shy away from competition, just as he has done all his life. Whether he's golfing, curling, officiating at a track and field meet, working at his church or home in Munster, or co-chairing the annual Ottawa Sports Awards dinner for the city's top amateur athletes, Frost is all about going full steam ahead. But he does it in a proper and respectful manner.
When he looked back at the 2018-19 season, he played 78 games for his various teams. He didn't intend to play the number of games that matched his age, but that's how it worked out. There have been seasons when he has played more than 120 games.
For 55 years, Frost has stepped onto community ice pads and joked in the dressing rooms with people from all walks of life to enjoy "a worry-free"50-minute game of Canada's national winter sport.
Worry-free? Yes, even old-timers hockey has rules and it varies from team to team. But the common denominator is always safety first. Rough play is not tolerated and, if present, is dealt with promptly.
"I'm on our discipline committee and we've banned someone for life," said Frost, who is the goalkeeper for the Silver Wings Old-Timers on Mondays and the Old Buzzards and Octo Kids (80
years old-plus) for back-to-back games on Thursdays.
"When the guys get aggressive, we'll ask them to find another place to play. We don't want anyone hurt, so we can go home and hug our grandkids the next day."
In Frost's hockey world, there are no referees ("it slows down the game") and players come on and off the ice on the fly. The whole idea is to skate hard, move the puck and squeeze the most excitement out of every minute on the ice.
And to help do that, players can take a course to get fit to play the game, instead of playing the game to get fit.
The Canadian Adult Recreation Hockey Association (CARHA) has created the Puckfit program (White and Blue levels) to improve the health and fitness of its members, who pay $24 a year to cover their on-ice insurance needs. The programs, which were developed with Capital Strength Training Systems in Ottawa, are provided free online and can be done at home.
Frost added, if someone is looking to start playing old-timers' hockey, a visit to the doctor for a check-up would be advisable. When playing, a pregame workout of stretching exercises would be
good to alert the body to the oncoming physical stress. In the early years, Frost also suggests avoiding tournament play as "the pace and intensity of the game goes up." Frost, who was an all-around athlete in his youth, started playing pick-up hockey at age 24,in the former Ottawa Teachers' League at the Nepean Sportsplex. After moving to Munster in 1977,he also joined men's
leagues in Stittsville and Richmond. Since the early to mid-1990s,Frost has enthusiastically played old-timers' hockey.
"It's all about having fun. There are no referees and we don't worry about the score. It's 'drop the puck' and let's go. Then, we all go for breakfast after the game."
The time spent in the dressing room pre- and postgame is also highly revered by the players. "The idea is to be there," added Frost, who has been blessed with good overall health. "The biggest
thing players miss is the dressing room. We've had guys (who are injured) just come and sit in the
dressing room to be with the guys to kibitz and go for
a drink."
The camaraderie on and off the ice is the natural fuel driving these mature adults. Some play year round. Some play five-days-a-week. Frost prefers two days-a-week with three teams from September to April but added a third day last season to fill an opening and double his fun with the Old Buzzards. His spring and summers belong to golf, track and field and camping.
Frost can't see a finish line for his hockey career just yet, but he knows it will happen at some point.
"Winter can be long, and it gives me a purpose to get up. I do love going and playing hockey. If I can't play, I'll really miss it. I dread that day."
When these gentlemen, who receive monthly CPP and OAS cheques and senior discounts, skate onto the ice, they feel young again. When they put on the team jersey, they're hockey players. That's a spine-tingling moment, even if there's a lot of tape under the equipment holding them together.
Martin Cleary has written about amateur sports as a sportswriter for more than 44 years. His bi-weekly High Achievers column concentrates on athletes, teams and builders from Olympians to Little League Baseball players. Martin won the Doug Gilbert Medal as Canada's sportswriter of the year in 1983.