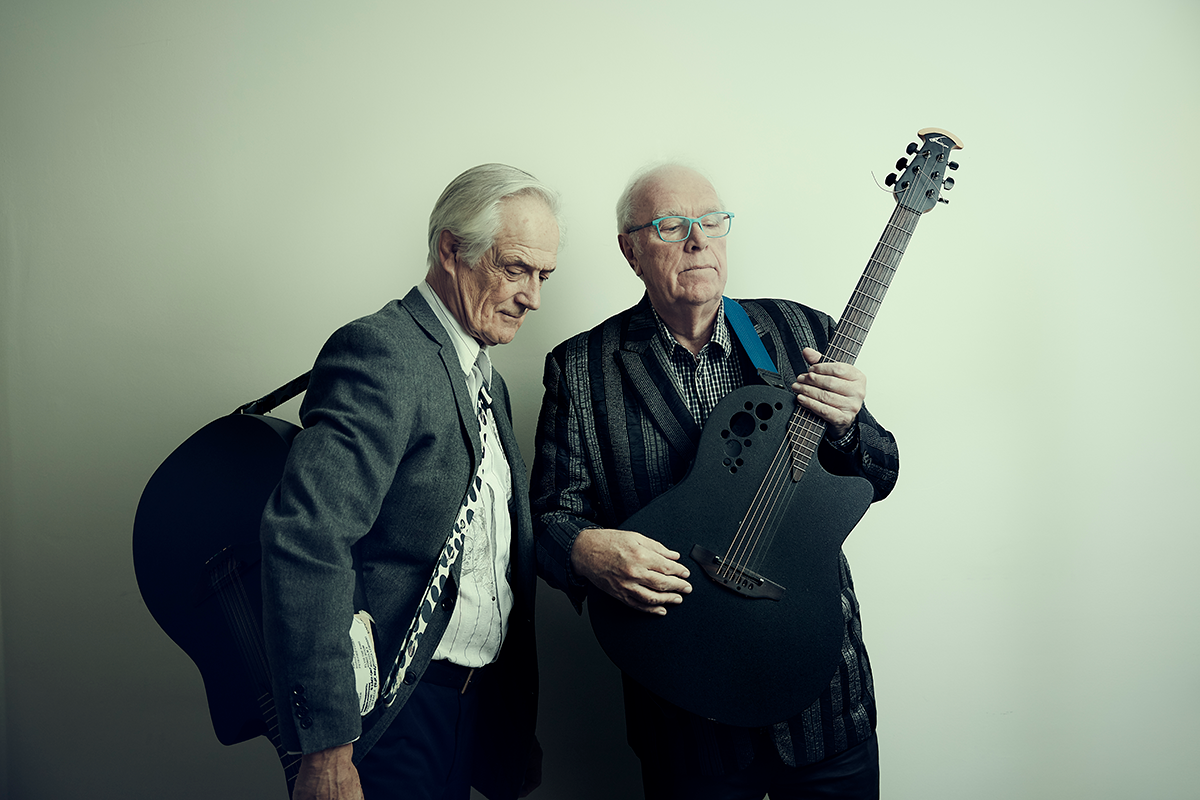 Profile
By Iris Winston
A unique comedy legend duo
It's 42 years and counting for George Bowser and Rick Blue. The "openly grey" Montreal-based duo, frequently introduced as "a comedy legend," has been entertaining sell-out audiences with their special brand of social satire set to music for more than four decades.
And, says George, "as long as the phone keeps ringing, we're going to keep working and doing the show."
Rick agrees. "As long as I can work and get to the gig — knock on wood — and I can stand and play my guitar and my fingers still work and I can remember the words, I'll keep going."
Good news for the many loyal fans who enjoy the quirky humour of such Bowser and Blue original ditties as The Colorectal Surgeon (working where the sun don't shine); Talking 'bout my Vasectomy and Pension Envy.
The pair met as young folk and rock musicians, soon after George emigrated from England, after choosing music over an academic career.
"Music was the reason I didn't finish university," says George, who had been studying modern languages. "I like to travel with language, speaking to people I meet, but I wasn't interested in books, lectures or discussions. That's funny, because Rick and I spend hours having discussions in the car as we go to and from jobs."
He had an immediate connection with the music industry in Montreal, as his sister, who had come to Canada earlier, was dating one of The Bells group (best known for their 1971 hit Stay Awhile by Ken Tobias).
"I met a bunch of musicians and started to play right away and loved it," says George.
Meanwhile, the more academically inclined Rick, completed his first degree while playing in another band. "We knew of each other from the Montreal scene when we both wanted to be rock stars," says Rick. "Actually, I started off as a folkie, playing in folk clubs, way back. I wanted to be Bob Dylan, but, apparently, the job was taken." The two teamed up after George took his Canadian wife to England for a while. Rick contacted him when he took a trip across the Atlantic and they made their first musical connection. The bond they forged grew from a jam session with other musicians, including George's drummer cousin, and fueled by Abbot ale ("a local brew that is very potent," says George).
"We had a really enjoyable evening and realized we knew all the same songs," says Rick. "And George's voice was one-third lower than mine, so I could sing the harmony."
As soon as they were back in Montreal, they joined forces. Their first gig as Bowser and Blue was at the Irish Lancer pub downtown.
"We had to learn twelve Irish tunes and we've used those tunes every St. Patrick's Day since," says Rick. "I had wanted to play downtown for a long time because I was really tired of playing in grubby bars on the outskirts. They had got a little grubbier and I wanted to play for people who actually had jobs."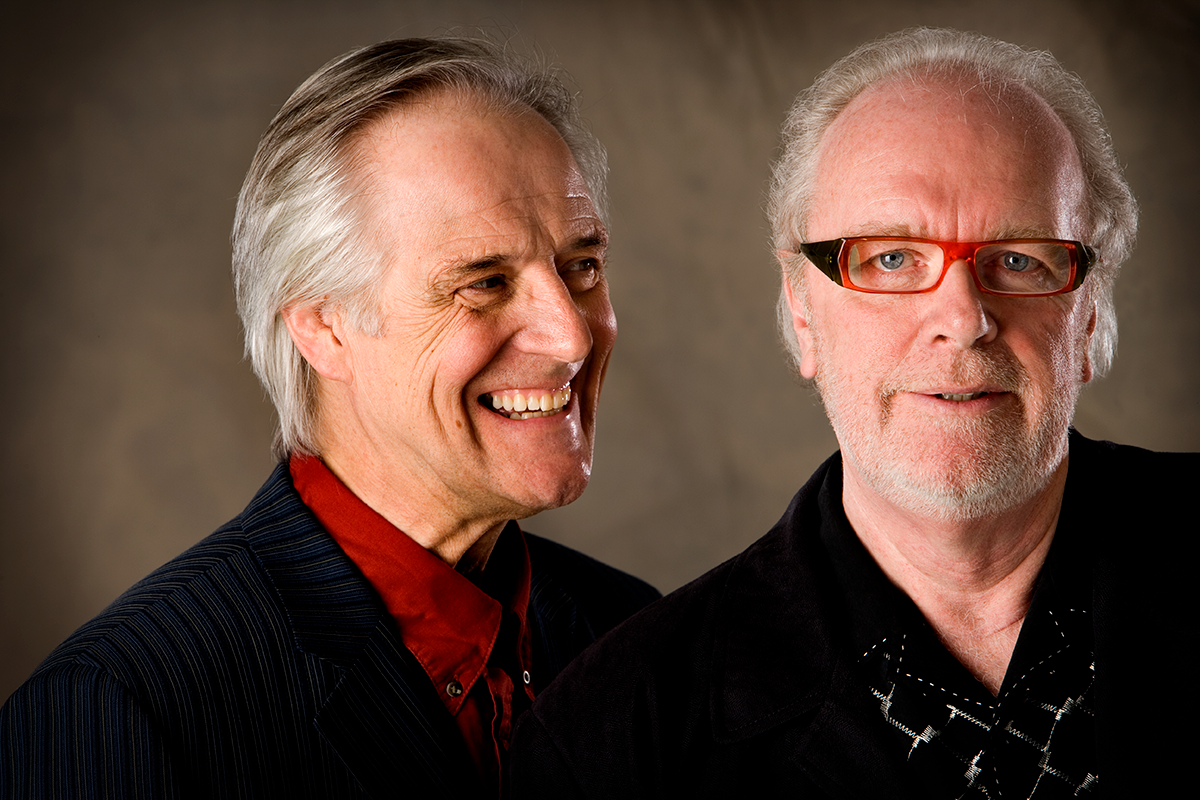 Playing at the Irish Lancer was the beginning of their long-time partnership, forever afterwards marked by fun for the two performers and their audiences. (They remain favourites with the Boomer generation in particular.)
"George knew a lot of rugby songs and I knew a lot of folk songs — basically, songs that had been on the hit parade ten years earlier. The beauty of it was that we could do everything because there were only two of us and we both sang harmonies," says Rick, who was born in September 1946 and claims that his conception nine months earlier marks him as the very first Boomer. "We could play anything and it was really easy to rehearse because one of us just had to go to the other person's house."
As well as their musical compatibility and versatility in playing an assortment of instruments, the similarity of their humour meant that they have had "lots of fun" over the years, they say.
"In the 80s, comedy came in in a big way," recalls Rick. "We were playing on Bishop Street in Montreal at Déjà Vu. The Comedy Nest was just up the street and all the comics would come in after their shows. We'd make each other laugh and then make the audience laugh. That's when we added comedy to our shows. We told jokes between songs and changed the words of songs. People started coming to see us because we did things a little differently."
The next step in their burgeoning career was as the opening act for Katrina and the Waves (best known for Walking on Sunshine by Kimberley Rew) in 1985. (George's cousin was the group's drummer and had been part of the jam session in England that marked the official beginning of Bowser and Blue as a duo.)
"We were opening for them across Canada and then across the States," says Rick, "so we had to decide how to present ourselves. We had written some comedy songs and did half an hour of such songs as I'm in Like with a Dyke (named Spike) and Polka Dot Undies. We got along very well with the comedy thing. It was a gradual evolution but that cemented it."
Soon, through Katrina and the Waves' agents, who became the duo's agents too, they were introduced to the college market. "We went over very well with computer students, engineering students and business students," says Rick, noting that they won repeat COCA awards during their campus-entertainment phase. "We would roast some of their favourite songs by changing the words and did well on the college circuit. But that was before political correctness. We were testing the limits before there were any limits."
This was also the time that the Just for Laughs comedy show, which had been presented in French for some time in Montreal, started up in English. In 1988, George and Rick took to the stage with I'm an Anglophone in Quebec, as part of their act.
"It stopped the show," says Rick, who notes that his wife is French-Canadian and the couple encouraged their children to be bilingual. "The anglophones were so happy to hear somebody speaking for them."
From here, he says, they were seen as spokesmen for the beleaguered anglophones. They appeared regularly on CTV's Fighting Back, offering political satire in song each time.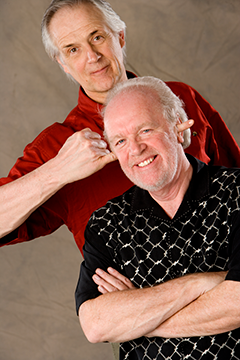 "Writing a new song that was good enough to perform every week was something of a challenge, but we ended up with a whole bunch of material," says Rick. "We stood up for the Anglos because we were Anglos and felt exactly as they did. That was our political phase."
By this time, Bowser and Blue were clearly "hometown favourites" for the English-speaking community. Over the next decade, as well as presenting such television specials as Two Nuts Roasting on an Open Fire, they were frequently the stars at the many conventions held in Montreal. They were also busy entertaining Canadian Snowbirds in Arizona, Florida and Texas for a number of years with such comic songs as It's Okay to be Grey and Snow is a Four-letter Word.
Their next stage — in both senses — was the Centaur Theatre, where founding artistic director Maurice Podbrey and his successors Gordon McCall and Roy Surette presented their work.
This was the period that marked Rick's return to his background in creative writing when Bowser and Blue presented such original musicals as The Paris of America, Last Night at the Gayety and the particularly successful Schwartz's — the Musical (inspired by author Bill Brownstein's book about the Montreal deli). The Montreal Gazette dubbed Schwartz's — the Musical the hit of the year in 2011.
"We had so much fun working with the actors in Schwartz's," says Rick. "George has a tremendous ability to write lyrics and we really enjoyed our cameos in the show."
"We'd like to do another musical," says George, "but we would need the assurance that it would be mounted or it tends to be an exercise in futility that takes years. I'll be seventy, next birthday, so I'm even starting to wonder if this is a good time to buy green bananas."
Whether or not there is another Bowser and Blue musical, CD (to add to the current 13) or DVD, there will certainly be as many more appearances as they can fit in alongside family time and their other pursuits. Rick may add more writing to his regular columns and forays as a playwright. George, a former city councillor and now a grandfather, is studying Russian again and busy playing his various instruments daily.
"I have to keep my musical chops up and be ready to play as if I were playing every day, he says. "You can't stop, because if you do, you just don't have the musical fluency."
While they are relaxing a little in their seventies, the "openly grey" entertainers intend to follow their mantra "to have fun and make money" as they continue their highly successful partnership in comedy and music for the foreseeable future.