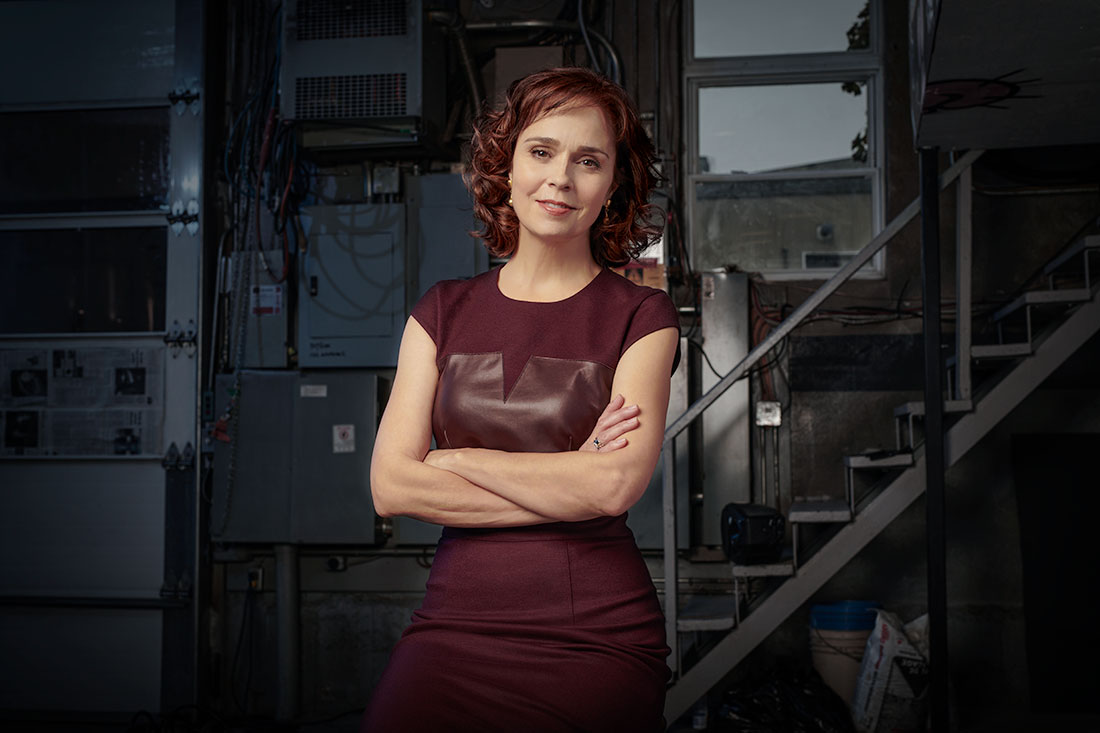 By Iris Winston
Cynthia Dale back in court with Street Legal
Triple threat for half a century
Cynthia Dale is about to return to what she once called the best job in Canada. She will play a lead role in the new version of Street Legal, the show that held the record as the longest-running one-hour drama on CBC TV, through its 124 episodes between 1987 and 1994 and for another 20 years after that. (Street Legal was eventually outrun by CBC's Heartland in 2014).
Viewers — more than a million were glued to their television screens each week—watched episodes featuring the cases and personal lives of the lawyers of the Toronto law firm of Barr, Robinovitch and Tchobanian (played by Sonja Smits, Eric Peterson and C. David Johnson). The series, which won 10 Gemini awards over its lengthy run, became distinctly spicier when a new lawyer, Olivia Novak, joined the Toronto firm. Cynthia claims that her character, the sultry, sexy, risk-taking Olivia, was just misunderstood, though she recognizes that Olivia was unusually aggressive for her time.
Cynthia has been quoted defending Olivia and pointing out that "she spoke her mind, had a voice and made sure people heard it." Now, she is keen to recreate her character in the present climate "where we listen to, value and honour and not judge a woman for speaking or acting or feeling that way."
It was the original role of Olivia that marked Cynthia's breakthrough as a Canadian star, although she began her career as a performer when she was just five years old.
"Street Legal was the turning point for sure," she says. "Television has the ability to do that when you come into people's living rooms once a week for that many years."
Now, as one of the producers of the new six-part Street Legal — set to air on CBC TV Monday, May 4, 2019 — she will bring an older and wiser Olivia Novak back to the screen as a partner in a major Bay Street law firm.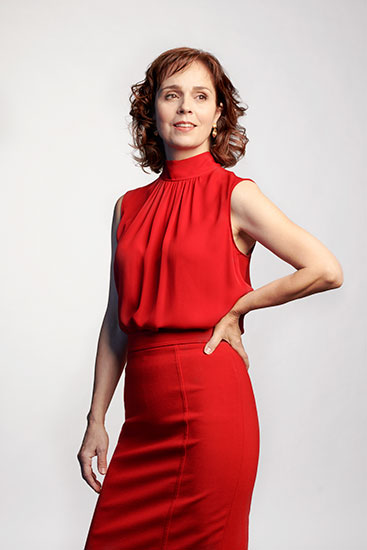 "It will be an ensemble show, as the original Street Legal was," says Cynthia, "just a different ensemble in a different, younger law firm."
Cynthia's stage career began when she appeared in Finian's Rainbow at the Royal Alexandra Theatre in Toronto when she was five. Following this early success, she and her two sisters, Jennifer and Loretta, came under the guidance of an agent, who advised assuming a stage of name Dale.
"Who knew at five years old that the name was going to stick or that you were going to stick?" says Cynthia."Then, at some stage, you hit a point when you can't go back [to using your old name]."
So, the Dale sisters became regular performers, strongly supported by their mother ("a bit of a Mama Rose," Cynthia has been quoted as mentioning, referring to the stage mother in the musical Gypsy.) Like Cynthia, her older sister Jennifer continued with her stage career and retained the name Dale. Loretta stopped performing as a teenager and is now in the organic gardening business with her husband, as well as being a major television producer.
Early television and stage appearances for Cynthia included spots on the Tommy Hunter and Wayne and Shuster shows and being cast in a revival of the 1947 musical Finian's Rainbow, which played at the Royal Alex in 1965. Finian's Rainbow is a fairy tale about a pot of gold, which Finian and his daughter have stolen from a leprechaun and buried near Fort Knox in the mistaken belief that it will grow.
Some 53 years later, in May 2018, Cynthia completed an extended run as one of the leads in another award-winning musical in Toronto. Fun Home, based on the graphic novel by Alison Bechdel, recounts Alison's unusual childhood growing up in a funeral home, her sexual awakening and how she untangles her relationship with her deceased father. The Toronto production of Fun Home picked up four critics' awards, one of them naming Cynthia as best supporting actress for her performance as Helen, Alison Bechdel's mother, in the show.
"It's an incredibly powerful and moving piece of theatre," says Cynthia. "I knew that it was a wonderful musical through its reputation and the number of awards it won in New York. But being on the inside is a whole different thing. It's a fantastic show that includes some of the most beautiful music I've ever been involved with. And I worked with a phenomenal group of people on the show. The whole thing was just a beautiful gift."
Between the bookends of these two very different musicals, she has packed in a wide assortment of dramatic and musical performances on stage, assorted television and movie roles, three record albums and a rich personal life as well.
Some of her initial gigs included chorus work at the Stratford Festival in The Gondoliers and The Mikado by W.S. Gilbert and Arthur Sullivan. Her early career also featured an assortment of films, including such Canadian movies as My Bloody Valentine (1981) and Heavenly Bodies (1985), in which she starred as the owner of an aerobics studio.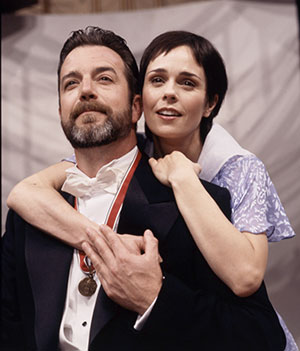 During these years, she married and parted from her first husband. Shortly afterwards, she picked up a Dora Mavor Moore Award for her performance in theTarragonTheatre production of Pal Joey in 1987 and then headed to New York as a cast member of an unusual play set in several rooms in a house (John Krizanc's Tamara) off Broadway.
In addition to dancing and acting, singing was always part of the mix for Cynthia. Throughout her career, she has been recognized as the legendary triple threat on stage. This she proved in spades when she returned to the Stratford stage in 1997, acknowledged as the Festival's leading lady in musicals for the next 10 years.
These were the years that she has called her charmed decade. Between 1997 and 2007, she played "all the best parts" appropriately beginning with Queen Guinevere in Camelot.
"I was surprised when Richard Monette contacted me and asked me to do Camelot," says Cynthia, referring to the artistic director of the Stratford Festival at the time. "But it seemed perfect. I had always been a huge fan of the Arthurian legend."
And perfect it was with Richard Monette as her mentor and the leads in such shows as My Fair Lady, Guys and Dolls, The Sound of Music and South Pacific over the next few seasons. There were also such straight dramatic roles as Annie Sullivan in The Miracle Worker and Maggie in Cat on a Hot Tin Roof, because Stratford's artistic director recognized her acting ability as well as her knockout performances as a singer and dancer.
"I was so lucky to be able to play all the best parts at Stratford for 10 years," says Cynthia. "Richard was phenomenal in helping to guide my career. It was such a rich, fulfilling period for me."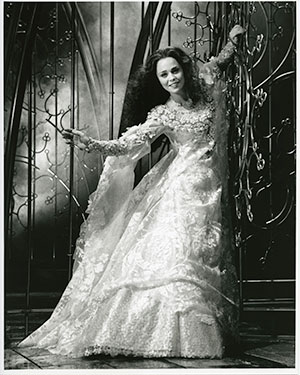 The new regime that took over after Richard Monette's resignation in 2007 apparently did not recognize her star quality and she did not appear on the Festival stages again until 2012. Then she played the aging diva Dorothy Brock in 42nd Street. In reference to the Dorothy Brock character, Cynthia told the Toronto Star, "When you do musical theatre, you've got to play the truth; you've got to go for the honesty. When you're older, it costs more. The stakes are higher. You want to know if you can still do it and so does everybody else."
This musical, like her many other past performances, allowed her to demonstrate that she certainly could still do it and garnered her universally positive reviews.
Her personal life through 1997 to 2007 was as charmed as her stage life. She married longtime CBC news anchor Peter Mansbridge in 1998 and gave birth to their son, William — named after her father — in 1999.
She was also busy recording a number of albums of show tunes and with various charitable causes. Over the years, she and Peter have been active in efforts to raise literary awareness, as well as supporting hospitals and hospices in Toronto and Stratford.
"You step up in different ways and just try to pay it forward somehow," says Cynthia, who holds honourary degrees from Fanshawe College and McMaster University, as well as being recognized on the Stratford Bronze Star Walk of Fame.
In many ways, 2017 was a year of major changes in her life. Her son Will graduated from high school and went off to university. Her husband retired from his CBC position and her mother died in the spring at the age of 84.
"It's been a time for rebalancing and trying to find my wind again through these three huge changes," says Cynthia.
Getting used to her son being away at university has required considerable adjustment, she adds. "We're very close, which is fantastic and thank goodness he's no further than Toronto, but it's still a whole new thing. You're there to give them roots and wings and this time of life is about their filling themselves up with lots of things. But it's a very different time [for the parents]."
At one point, she might have reacted by throwing herself into a heavy performance schedule. Not so now, she says. "I don't think I'm a workaholic any more, though I was at one time in my career. Now, it has to be a fantastically interesting job for me to want to do it. And shows like Fun Home don't come along that often. Helen was like no character I've ever played before and I wouldn't have given that up for the world."
Between the end of the run of Fun Home and gearing up for the demands of Street Legal, she was ready for a dose of off-stage normal life, and says she thought about "groceries, laundry, gardening, walking my dog and painting, which I find relaxing."
"Sitting watching a basketball game with my boy may actually be the sweetest moment of my week and I have had a really fab week," tweeted Cynthia shortly after her win for her performance in Fun Home, underlining her assertion that "life is as important to me as the job."
And, what lies beyond the renewed Street Legal? "If you're an actress, you never know exactly what lies ahead, no matter how old you are," says Cynthia. "Actresses don't retire. In fact, I don't understand the concept of retirement. You just do something different. People should be active. I don't know what will happen next and that's okay with me."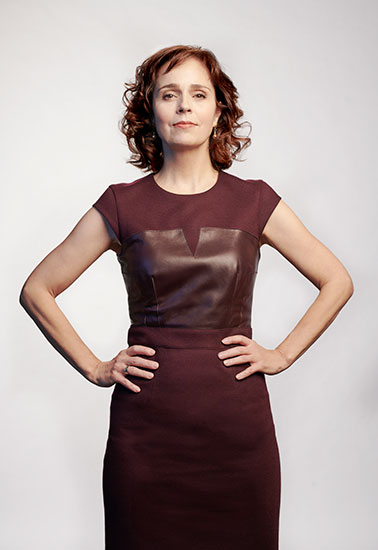 About Street Legal
Cynthia Dale reprises her role as Olivia Novak in the revival of CBC's Street Legal. The award-winning character-driven drama returns on March 4 at 9 p.m. with both familiar faces and new characters. Described by Cynthia as, "the show that changed my life," the series picks up 25 years after the original with Olivia now a partner at a major Bay Street law firm. Beaten to the punch on filing a massive class-action lawsuit by an upstart firm of young social-activist lawyers, Olivia pursues them as an acquisition target. But when her own firm goes down in a flame of egos and departing partners, Olivia finds herself starting over with new younger colleagues. The reboot of Street Legal sees Dale joined by a new generation of Toronto lawyers played by Cara Ricketts (The Book of Negroes), Steve Lund (Bitten) and Yvonne Chapman (The Crossing). Original cast members Eric Peterson (Leon Robinovitch) and Anthony Sherwood (Dillon Beck) are also confirmed to return for special guest appearances.