By Iris Winston and Photos by John Major
Titan of Stroke Research and Patient Advocate
Dr. Antoine Hakim is a world leader in neurology.
A stroke, still a medical emergency, was once a death knell. Now, because of the work of a tireless genius, Dr. Antoine Hakim, until recently Director of Neuroscience Research Program at the Ottawa Hospital Research Institute, and his colleagues across Canada and around the world, there is hope of recovery.
"When I came to Ottawa 25 years ago, there was basically nothing you could do for a patient who had had a stroke," says Dr. Hakim, who Chaired the neurology department at the University of Ottawa and was chief executive officer and scientific director of the Canadian Stroke Network, and the Centre for Stroke Recovery – organizations that he founded.
"Stroke patients could be made comfortable and then put through rehabilitation to try to reprogram the deficit, but that was all." (A stroke – sometimes called a brain attack – occurs when the blood supply to part of the brain is interrupted or severely reduced, depriving brain tissue of oxygen and nutrients.)
"Then, all of a sudden," he says, "through our studies and the studies of others, it became clear that when a patient suffers a sudden deficit, the part of the brain that is affected does not die immediately." Fast action could prevent permanent damage. "A large number of strokes are due to a blood clot [moving] out of the heart into the major arteries that supply the brain," he explains.
Early administration of a drug called tPA (tissue plasminogen activator), discovered in 1995, could break down blood clots before brain damage occurred.
"The problem was how to get the patient who had suffered the stroke to the centre that had the drug available." But, he points out – a note of pride in his voice – "because of the Canadian tendency to work together, we were able to establish OSCAR – the Ottawa Stroke Consortium for Applied Research. A group of people from diverse institutions in Ottawa was willing to work together to advance the cause of stroke research."
"I am really grateful to the University of Ottawa for wanting to get into brain research and for supporting me all these years with the ideas I took to them," he says. "The Ottawa Hospital has been equally supportive."
OSCAR was so effective that the group, headed by Dr. Hakim, developed a national program and worked in partnership with the Heart and Stroke Foundation to establish a national stroke strategy.
"This meant that all of the provinces where the Heart and Stroke Foundation was active were with us in trying to improve the accessibility of stroke patients to tPA." A further factor in combating long-term effects of strokes was disseminating information as widely as possible, so that those suffering any type of stroke would understand just how important it was to seek help immediately.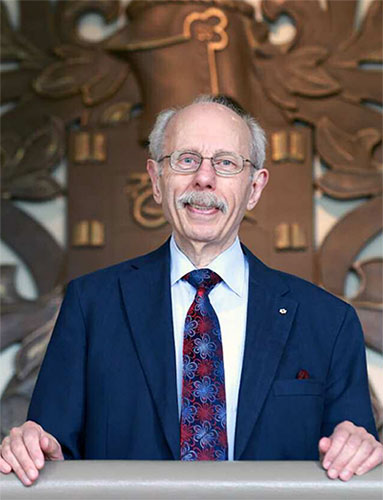 Through his work at the University of Ottawa's Neuroscience Research Institute and his creation of the Canadian Stroke Network, Dr. Hakim has revolutionized the way strokes are being researched and treated in Canada and around the globe.
"When patients suffered a stroke, they often didn't recognize it for what it was," says Dr. Hakim.
"So the message went out on television and radio and so on, that if you are suddenly unable to do something that you were able to do a second ago, consider it a stroke until proven otherwise and call 911." At the same time, he and other stroke specialists worked with paramedics to emphasize how speed could make recovery a possibility.
"It took a great deal of partnership and education, because before this there had been nothing that could be done for strokes," says Dr. Hakim.
"I am delighted to recognize that when paramedics get a stroke call now, all lights are on and all sirens are blaring because they know it's an emergency."
Similarly, the stroke specialists worked with staff in hospital emergency rooms to prepare them to deal with patients in the acute phase of strokes. "When I went into neurology, it was extremely rare for a neurologist to be called into emergency," he recalls. "Now, it has become very common. Many of my colleagues moved houses to be closer to emergency rooms so that they could go into the hospital quickly when called."
Within three years, some 45 per cent of stroke patients were receiving tPA in time to prevent permanent damage – compared with the initial two per cent – and, says Dr. Hakim, "the figure is much higher now."
"We were held up as an example to the world," he adds quietly. "No other country was as successful in treating strokes. And the success continues. It has gotten better and better."
"We have realized that when a stroke happens – when a large blood vessel is occluded [blocked] by a clot and the patient recognizes that something awful has happened – this is just the tip of the iceberg."
Below the surface, he explains, are what were once known as silent strokes. "But there is nothing silent about them, so we now call them covert strokes." While the patient has felt nothing, an MRI (magnetic resonance imaging) identifies that small blood vessels in the brain were blocked.
"Any occlusion, no matter how small, can impair the brain," he warns, noting that while "the brain weighs approximately two percent of the body, it consumes about 25 per cent of the body's energy and is, therefore, entirely dependent on its blood supply." While the small blockages did not appear to result in immediate loss of function, patients did complain about problems with their thought processes.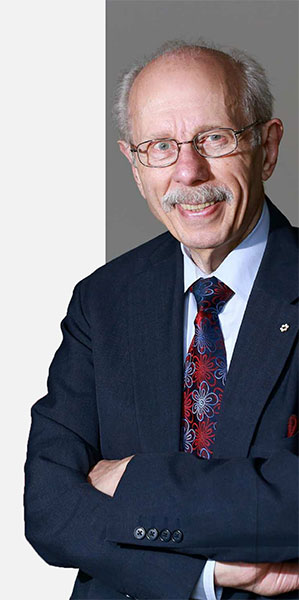 In recognition of his hard work and dedication, Dr. Hakim has been honoured through various awards including the Award for Excellence by the Canadian Stroke Consortium in 2000, the Ottawa Life Science Council Career Achievement Award in 2004, and was made an Officer of the Order of Canada in 2007.
"We began to recognize a very strong connection between blood vessel function and the mind," says Dr. Hakim, who was inducted into the Medical Hall of Fame in 2013, in recognition of his groundbreaking work.
"A lot of data shows a strong link between small strokes and dementia." (He notes that he is not referring to "a genetic condition known as Alzheimer's, which would probably declare itself in affected patients in their 50s or 60s.") In addition to his extensive research and academic writings, Dr. Hakim has written a book on the subject for the lay public. "We know that a stroke is one pathway to dementia and I wanted to help people avoid that condition."
The first edition in French, Préservez votre vitalité mentale, was published in 2016. The English version, Save Your Mind: 7 Rules to Avoid Dementia, (published by Barlow Books) will be available in April 2017. "Preventing vascular risk factors is a pathway we need to follow both as individuals and as a society to decrease strokes and their consequences of motor and speech handicaps and their major consequence of dementia," says Dr. Hakim.
"Prevention of vascular disease is the reason we are pushing so hard to understand what the risks are and how to do something about them." Large and small strokes share common risk factors, he points out.
The greatest of them is high blood pressure. Other conditions that "put blood vessels at risk are smoking, obesity, a sedentary existence, sadness, depression and lack of adequate quality sleep."
"The brain is like a 12-cylinder engine with the accelerator on the floor at all times. That 12- cylinder engine that is the brain, needs servicing. Sleep is that. While we are working, we accumulate toxins.
While we sleep, and only while we sleep, the exit pathways open and the toxins get shipped out." "We all want to do whatever needs to be done to protect our brains," says Dr. Hakim.
"It is empowering to individuals to know that they can reduce their risks for strokes and for dementia. I also see an opportunity here for governments to invest in protecting their citizens' minds. Think how successfully we have decreased the rate of smoking in this country. We can also work together against other stroke risk factors." Part of protecting the brain is keeping it active, he emphasizes.
"The brain wants variety and persistence. If you do sudoko or crosswords all day long, you are not going to hurt your brain but perhaps you are not going to help it a lot either. Variety of activity and making demands on our brain – such as learning a second language and using it, listening to music or playing a musical instrument – are protective of the brain. And it is never too late – or too early – to expand the brain. It can grow in direct proportion to what you demand of it."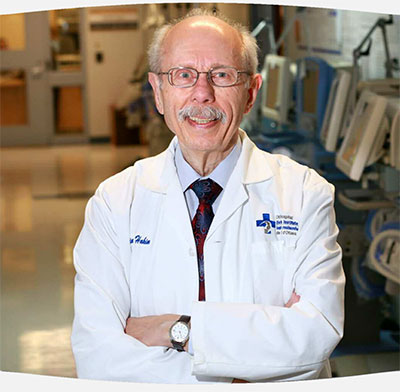 He adds that having a purpose and being useful to others are major factors in preserving emotional stability; and, as sadness and depression are listed among the risk factors for stroke and dementia, they too play their part in staying healthy. A perfect example of what he advocates, Dr. Hakim, a world leader in his field, continues to help stroke patients and others daily through his years of groundbreaking research and the medical networks he has founded.
It all began for him by following the example that his parents, Armenian refugees from Turkey, set. They settled in Montreal after many years of "displacement, forced exits and living in refugee camps."
Times were difficult and "there was a lack of material things, but no lack of love and attention in our multi-generational home," says Dr, Hakim, who received his medical degree at theAlbany Medical College in 1976. He says that one of his clearest memories of his father was seeing him asleep on Sundays, exhausted after working long hours in a shoe factory all week.
"We learned that hard work was a way of saying that everything would be all right and that education was the only way to break the cycle of poverty," he says.
"There was a great sense of responsibility for my generation," adds Dr. Hakim, who became a member of the Order of Canada in 2007. "My three siblings and I were going to be confirmation that we had survived and that we were the conduit to better times. And so it has proven. We are all successful and very committed [in our careers] and we are a very close-knit family." Dr. Hakim, who spent the first three years of his professional life as a chemical engineer with Syncrude inAlberta, then returned to Montreal, and from there he pursued a doctorate in biomedical engineering.
"As part of those studies, I discovered the complexity and joy of the brain," he says. Among his required courses were biochemistry and physiology, which he took with the medical students. This, he smiles, resulted in two happy events. "The first was that I met my future wife. The second was that one of the professors came to me and said that I seemed very interested in brain function, even though I was an engineer. He said 'if you apply to medical school, we'll take you.'"
The rest is history. Antoine Hakim became a medical doctor, then a specialist at the Montreal Neurological Institute. When the University of Ottawa decided to establish a program in brain research, he was asked to be its head and the Hakims and their three children moved to Ottawa. Their children have continued the Hakim tradition of hard work, success in their chosen careers and close family relationships.
Stroke Warning Signs
Numbness or weakness in the face, arm, or leg, especially on one side
Confusion or trouble understanding other people
Difficulty speaking
Difficulty seeing with one or both eyes
Trouble walking or staying balanced or coordinated
Dizziness
A sudden, severe headache
Risk Factors
High blood pressure (hypertension)
Heart disease
Previous stroke orTIA (transient ischemic attack)
High cholesterol (hyperlipidema)
Diabetes
Obesity
Smoking
Excessive alcohol consumption
Physical inactivity
Sadness and depression Lack of quality sleep
Heredity
Protection Against Stroke
Monitor blood pressure and work to lower it if necessary (The ideal is 120/80)
Exercise regularly
Maintain a healthy weight
Treat such conditions as atrial fibrillation (irregular heartbeat) and diabetes
Do not smoke
Consume alcohol in moderation only