For Fred Bowie, Service Doesn't Stop When the Workday is Done.
Fred Bowie's journey in the financial services industry began as a young teenager with an investment in life insurance. It was a purchase required by his mother, Marian (Sloan).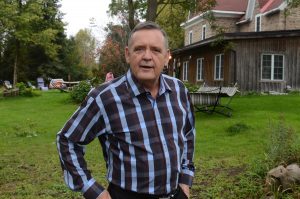 Fred's earliest recollection is growing up in the Alvin Heights neighbourhood of Ottawa. His mother and dad, Keith, and five brothers lived in a two-bedroom row house walk-up. Living quarters were cramped, with the six Bowie boys sharing one bedroom with three sets of bunk beds. "Money was tight, but life was great," Fred says. He fondly recalls some of the neighbours' family names, Morrison, Wise, Anderson and Casey, and many kids to play with. Fred learned early in life the power of sharing and offering a helping hand.
When Fred was eight, the Bowies moved to a three bedroom semi in Ottawa's Walkley Road/Ryder Street area. Not long after, the stresses of life and alcohol abuse caught up with Fred's dad and his parents separated. Without financial support or a job, his mother was responsible for the family finances. Eventually Marian served tables at a local restaurant, later becoming a secretary at St. Patrick's High School and retiring from the Ottawa Catholic School Board. Marian, now 95, continues to live in Ottawa.
Fred and his brothers worked hard to afford the "extras." Shovelling snow, cutting grass, delivering papers, packing groceries and serving customers at a department store were just a few of their jobs to pay for entertainment, clothing and high school tuition. (At the time, Catholic high school grades 11, 12 and 13 did not receive public funds.)
One of Marian's concerns was that if something happened, God forbid, to one of her boys, she could not afford to bury him properly. The solution, she figured, was life insurance. Thus, as they turned sixteen, they had to invest in a life insurance policy of at least $5,000, enough to cover burial expenses. This turned out to be a tremendous financial lesson and began Fred's journey to the financial services industry.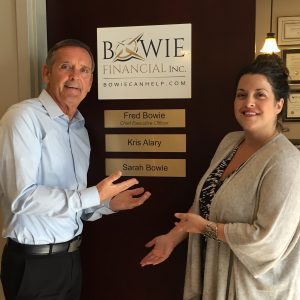 Richard "Dick" Casselman from London Life was the Bowie family agent, and he became Fred's mentor and friend. Dick was part of the family, and Fred looked up to him. "I thought, 'What a nice man. A kind man. He's helping families, and I bet he gets paid for it too.'" At that point, young Fred decided his future career would be in the financial services industry.
Another big decision came a few years later. That's when Fred set eyes on Rita Bisenti and resolved to marry her. In 1967 her mother, Palmina, a young widow with four children, had moved the family from Italy to Canada to settle in Ottawa, where she had a brother and several cousins.
Ten years later, Fred met Rita. It was August 27, 1977, and they were married 364 days later.
In 1980, at age 24, Fred launched his financial services career. It was an eventful year. On May 9, 1980, Fred and Rita were blessed with a daughter, Melinda. Unfortunately, in 1980, alcohol
abuse also became an issue. Fred was drinking too much. With his family expanding and a new career beginning, he tried to slow down but could not. The only option was to quit. With God's help
and the loving support of Rita, he was able to stop and had his last taste of alcohol on April 26, 1980.
A second daughter, Sarah, was born in 1984. Today the mother of two works with her dad, and Fred and Rita have two cherished grandchildren, Maia and Owen.
Back then, as now, what Fred enjoyed most about his job was working with people who were about to retire or already retired. As a Retirement Risk Manager, he prides himself on providing clear and concise information about converting RRSPs to protected lifetime income and helping families create meaningful estate plans. As a Certified Executor Advisor, he works with Estate Trustees to navigate the often-complicated estate settlement process. Because tax planning and preparation are critical to any financial plan, he has a tax specialist on staff. People need to know they can go to someone to get informed answers and Fred says, "The government complicates retirement issues; we simplify them." You can learn more about all the services Fred and his team offer at BowieCanHelp.com.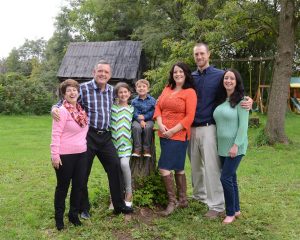 On Fred's 40th anniversary of serving the community, Dina Palozzi, retired CEO of the Financial Services Commission of Ontario, Insurance Commissioner and Superintendent of Pensions, Province of Ontario, had this to say:
"Fred Bowie has a wealth of knowledge and common sense. The message he and his team deliver regarding retirement, tax and estate issues is clear, concise and informative. In the years I have known Fred, I have found him to be reliable and always ready to help others…"
But for Fred Bowie, service doesn't stop when the workday is done. He has served as a trustee for the Ottawa Catholic School Board, board member and past chairperson of the Catholic Education Foundation of Ottawa, director with the Youville Centre, and as a director with the Life Underwriters Association (now known as ADVOCIS, The Financial Advisors Association of Canada).
In addition to that, Fred is co-founder of the Bytown Business Guild and Golden Era Communication Ltd., and founder of the Canada Retirement Information Centre.
Fred's community service continues today. In 2011, he was proud to introduce FreeEmergencyContactCard.com, where everyone can apply for a free emergency contact card. The card speaks for you when you can't in the case of an accident or medical emergency. To date, over 50,000 durable plastic cards have been issued, providing peace of mind.