By Iris Winston and Photos by John Major
Funny Business
Jean-Claude Tremblay makes business from smiles.
Spartacat, Badaboum, Blue, Youppi, Scooter and Raymond have a common heritage. Not only is each of the group the mascot of a major league sports team, but they also owe their existence to Jean-Claude Tremblay, the founder and president of Creations JCT in Montreal. Starting from almost an accidental beginning, the company was to grow into the major player in the niche market of manufacturing mascots across North America, as well as expanding to mascot development in Europe, the Middle East and Asia.
To date, JeanClaude has some 5,000 designs to his credit, with more than 2,000 of them eventually becoming fully fledged mascots. And Youppi was the starting point After beginning a career as an arts and crafts teacher at the college level and close to a decade of teaching art to inmates in a maximum-security prison, Jean-Claude Tremblay, a graduate of L'École des beauxarts (School of Fine Arts) in Montreal, fell victim to government cutbacks and lost his job.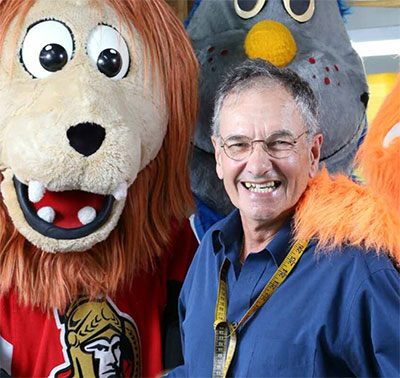 "The work was interesting for the first few years, but it was a difficult place to work," says Jean-Claude. Married with two young sons, he needed to find a new job quickly, he adds. His brother, whose public relations company was working with the Montreal Expos, recommended Jean-Claude as "an artist who could fix things" to rebuild the team mascot's costume and don the outfit to become Youppi when needed. "I repaired him part by part," he says.
"Then they asked me to make a brand-new costume. The original had been intended for television, not for running around. It was difficult to clean and it had got to the point that you could smell when Youppi was coming."
With the newly made, washable Youppi, JeanClaude travelled with the team for the next three years. As it turned out, he had a natural talent for performing as the costumed character.
"I loved the job and had a great time travelling with the players, seeing costumes all over the U.S. and Canada," he says. "But I didn't know then that I was building a mascot business." However, this was just what was happening, although his bank initially refused to give him a business loan. ("The banks actually laughed at me and my business idea," he recalls.) Instead, a second mascot assignment — to make a mascot and perform in the costume for a local radio station (the now-defunct CJMF) — gave him the start-up boost he needed. He began his mascot business in the basement of his home, later moving to an office.
"I slept in the office for two years," says Jean-Claude, explaining that his marriage broke under the strain associated with building his company. "At that time, being or building a mascot was not a job with any prestige. Also, the business took so much energy and I was gone with the team a lot of the time. His heavy travel schedule may have been one of the factors that led to his divorce, but, on the plus side, it added to his visibility in the mascot business.
"Companies started coming to me, looking for mascots," he says. "Then I set up a catalogue and had some business cards printed and got involved with trade shows." "I'm a big fan of trade shows," adds Jean-Claude, whose company takes part in events in such locations as Orlando and Jacksonville, Florida, each year.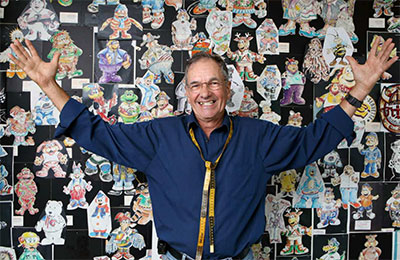 "My mother, who used to work with Tupperware, loved them. She taught me how useful they could be. I also worked with my father for a year. He was a patent agent, so he taught me how to protect my designs." A team's colours, name or history often provide him with inspiration for a mascot design, he explains. For instance, for a team such as the Detroit Red Wings, an obvious choice is a bird or some other winged creature. (The Red Wings' mascot is actually an octopus.
"Sometimes, people ask for foolish things," says Jean-Claude.) Most of the time, however, clients listen to the 68-year-old dean of mascot makers, who has been in the business for close to 35 years and even wrote a book on mascots, Le monde de la mascotte (The World of the Mascot).
Although he has passed responsibility for the day-to-day operation of the company on to his older son, Dominic, now the vice president of Creations JCT, Jean-Claude remains a key part of the organization. It is his sketches for possible designs that decorate the walls of the factory — in the same location in Mascouche, north east of Montreal, in the same 3,000-square-foot facility where the business started its operations in 1983.
Now, a semi-retired snowbird, Jean-Claude spends four months in Orlando each year, to escape the Canadian winters and play golf, but also to cover the major annual trade show there. (It's a show where we regularly see about 26,000 buyers," he says.) On occasions he still returns to memories of the Youppi days, by performing as a JCT mascot or simply ensuring that all is in order with a newly constructed costume by giving it a final check from the inside.
Some aspects of the business have changed over the years. In the early days, Jean-Claude made the models by hand and shaped and cut the foam for every mascot's head with scissors and an X-Acto knife. Working alone and having to do everything by hand in the labour-intensive business, he could produce little more than one costume a month.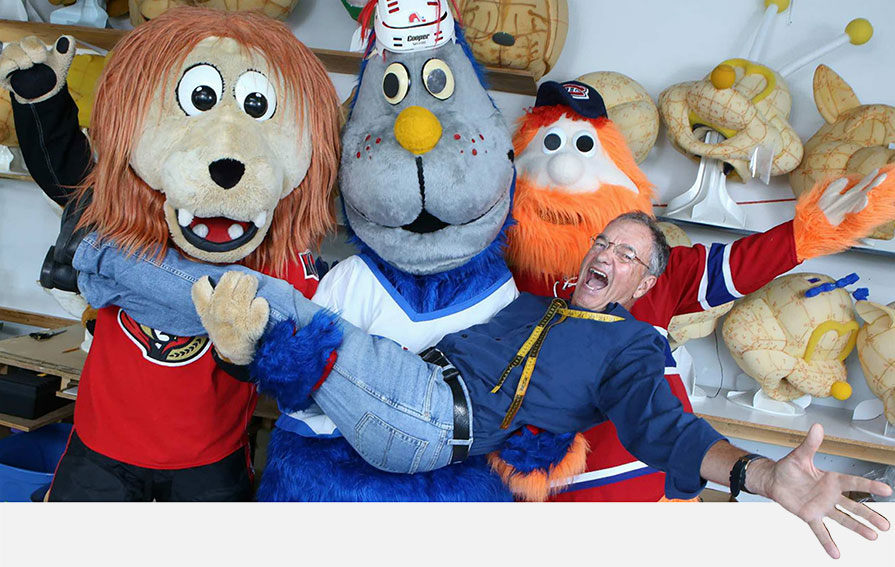 "Today, I have people working for me, so we can make five or 10 mascots a month," he says, adding that this has made it possible to keep the average mascot price in the $3,500 to $5,000 range. These days, graphic designers use computer programs to develop mascot patterns, though hand sewing, as well as machine work, is still part of process for the five seamstresses and other staff in the 12-person production team at the factory.
Jean-Claude's younger son, Maxime, was involved in helping to computerize the mascot design procedure. "Maxime worked for me for three years at the computer end," says Jean-Claude.
"He set up a program so that clients could see a mascot from 360 degrees before it was built. It's very easy to make any changes then." In addition to building the mascots, services provided by Creations JCT include storing and cleaning them and providing trained performers to animate them at assorted sports events and festivals.
"For instance, we have 30 part-time performers in Montreal and another 30 in Quebec City as well as performers in the U.S.," says Jean-Claude, noting that the performers are trained in mascot etiquette. For example, they are taught never to remove a mascot's head in public, because it would spoil the illusion that the furry character creates.
Mascots do not speak either, though they can sign autographs, if asked — a skill that must be learned, when hands are covered in fuzzy mittens to turn them into the character's paws. There have been various improvements in the materials used for the mascots, over the years, with a view to making them more comfortable for the performers.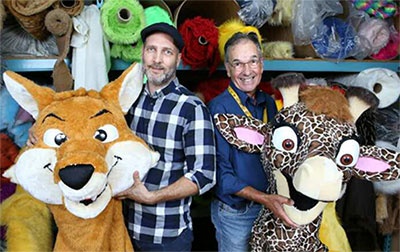 Early mascot costumes were very heavy, hot and uncomfortable. "The head for the CJMF mascot weighed about 60 pounds," recalls Jean-Claude. "By using a new kind of foam, we can make a head as light as two-and-a half pounds. That has made a big difference. Costumes now are lighter than some hockey uniforms. We have developed the kind of mascot that allows the performer to dance and do cartwheels."
"When I was doing Youppi for the Expos, I lost about five pounds a day because it was so hot inside the costume and there was no ventilation," he adds.
"Now, we have worked with an engineer to develop fans and a ventilation system to get the hot air out." And, says Jean-Claude, one other game changer in the manufacturing of mascots wasVelcro. "When I started, we were using heavy metal snaps for closure. Then Velcro was invented," he says, noting that the switch to Velcro closures cut the weight of a costume by about a pound.
Although health issues have forced Jean-Claude to slow down, he still has big plans for Creations JCT. "Having cancer and chemo last year made me realize that life is short and I had better make the most of it," says Jean-Claude, who has just been given a clean bill of health since the bout with colon cancer.
"Dominic and I want to enlarge the company further. We can demonstrate that a mascot gives any company the chance to show itself in a way that is less costly than other forms of advertising. We sold a costume to a company in Russia recently and we now have managers in the U.S. and Europe. The world is open to us. And mascots make people everywhere smile. They are fun for everyone.