By Iris Winston and Photos by John Major
Keeping the Balance
Lloyd Axworthy is an expansive global thinker with unwavering local loyalty.
A fine teacher can affect the direction your life takes. So it was for veteran politician Lloyd Axworthy. Then, in his last year of high school in Winnipeg, he and his classmates were told to visit the local civic auditorium to hear a speech by a visiting politician who had recently been awarded the Nobel Peace Prize.
"We all grumbled, but as we were told the assignment would be worth 25 percent of our history mark, we conceded," recalls Lloyd. "The speaker was Mike (Lester) Pearson," he adds, recalling what was to be a life-changing event for him.
"I listened as he talked about what it meant to be a Canadian and how you could do things in the world that had nothing to do with strength or pushing people around. He spoke of Canadians having special privileges and a vocation for how things are negotiated that was different from the size of our army." Inspired by former Prime Minister Pearson's address, Lloyd says, "I walked away saying, 'I'm a liberal, I'm a Canadian. I'd like to be foreign minister some day.'"
The future was set. Another major influence when he was growing up in Winnipeg's multi-cultural north end —"part of the ultimate WASP minority"— was his family's church connection.
"They were very active in the church and we had wonderful ministers," he says. "The United Church in Winnipeg at that time was still very much infected with the social gospel notion of Protestantism."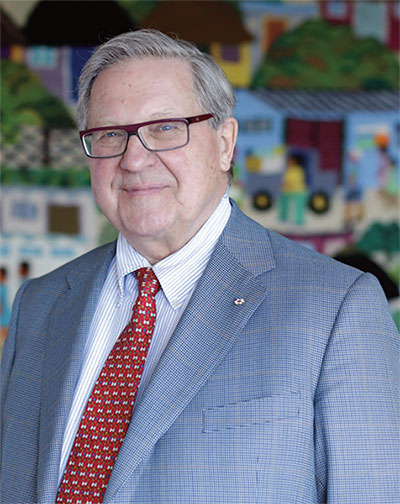 Pointing out that the teachings involved defining oneself by one's actions and so living up to the lessons of the gospels,Lloyd says he grew up representing the church in his community and being part of youth parliaments, debating such issues as nuclear arsenals. He went on to the college affiliated with the church, United College (later to become the University of Winnipeg), after completing high school.
It was still a long road to his 27 years of service as an elected official, first as a member of Manitoba's provincial legislative assembly, then as a federal politician and cabinet minister, but his future path was set early. At the prompting of one of his professors, Lloyd continued with postgraduate training at Princeton University in the U.S. (The doctorate he earned at Princeton was later to be accompanied by some 14 honorary doctorates that he has been awarded over the years.)
"The early part of the sixties was a terrific time to be there," recalls Lloyd, noting that he quickly became involved in civil rights activities on the U.S. campus and beyond. "I was there just at the height of the civil rights movement and the war in Vietnam. It couldn't have been a more dynamic place any more full of ideas, especially when you were young. It certainly increased my appetite for getting into politics, because I really saw this as a place where you could do things and make a difference."
He initially returned to Winnipeg to teach and to become the director of the Institute of Urban Affairs at his alma mater, now renamed the University of Winnipeg. But politics beckoned. His first move from here towards the political arena was to work for John Turner in the 1968 Liberal leadership contest — won by Pierre ElliottTrudeau. Lloyd took on a few more politically related jobs, including working for MP Paul Hellyer as part of an urban task force.
Eventually in 1973, after a couple of unsuccessful attempts, he secured a seat in the provincial legislature, representing the riding of Fort Rouge. When he was re-elected in 1977, he was the only Liberal left standing.
Two years later, he resigned to continue his career in federal politics. The story goes that he was successful in 1979 not because he campaigned so effectively, but because he stopped campaigning to work on the dykes when the Red River flooded. His efforts in helping to stem the flood were so appreciated by the electorate that he was elected as the representative for the Winnipeg-Fort Garry riding, beating his opponent (Sidney Spivak, a former provincialTory leader and the favourite) by just 600 votes. For the next two decades, Lloyd continued as the federal representative of the riding
"That I was able to serve for 27 years unbroken says to me that there was a degree of trust among the voters ofWinnipeg and having that feeling is as good as it can get for an elected member," says Lloyd.
As one of only two Liberals elected from the western provinces, he was also assured of a cabinet position early on, though it was to be some time before his early ambition of becoming Minister of Foreign Affairs was to be realized. In terms of actions that he considers particularly meaningful over the years, he points to "participating in the evolution and ultimate passage of the Charter of Rights and Freedoms and the initiative of developing a treaty on land mines."
"That really started a chain of events and actions that helped to define Canadian foreign policy for five or six years and define a principle of responsibility," he says, looking back on his service as Minister of Foreign Affairs under Prime Minister Jean Chrétien from 1996 to 2000. "There was a clear definition of where we were going. People understood the objectives and actions and there was a high level of Canadian support — as there was around the world."
"It made me feel good as a Canadian that we could help shape the direction of things to happen," he adds, "particularly meeting the challenge of helping innocent victims, especially women and children who were not the normal victims of war. We were able to offer them a better level of protection." He is quick to give credit to his wife, Denise Simard, for the consistent support she provided through his years in the political arena that freed him to do his work. "I was very fortunate," he says.
"Denise had a life of her own as a senior executive with the Human Rights Commission, but she understood that she had to fill the gap when there was an absent father and husband. We had a son and she had two children by her first marriage. She had to give up and sacrifice a lot of her own career to support mine and I've always been grateful to her for that. It may be a cliché that we had a fine partnership and that behind every man there is a great woman. But it is certainly the case here."
Despite the solid support at home, not every project on his list came to fruition. Among the times that he "hit the uprights" was an attempt to set up a guaranteed income and employment program, while he was Minister of Employment and Immigration.
"I was moved to a new portfolio — Transport — before we had moved ahead," he says. "If we'd been able to move a little faster and with a little more zeal, we could have done something more substantial in that direction."
Another major disappointment for him was not being able to maintain a peacekeeping mission in the Eastern Congo to help refugees escaping from Rwanda. "We were able to put a peacekeeping group together," he says.
"We had UN approval and several other countries were on board. But the Americans came up with satellite maps showing that a military peacekeeping mission was no longer necessary. We missed an opportunity to help and save a lot of lives."
During his tenure in the ForeignAffairs portfolio, Lloyd was recognized and honoured for the emphasis he placed on"human security" and one of his earliest initiatives after retiring from politics in 2000 was to publish Navigating a New World: Canada's Global Future. In general, this is an analysis of his time with Foreign Affairs, with a focus on the need to protect the vulnerable.

Lloyd's first position after returning to private life was to return to academia as head of the Liu Institute at the University of British Columbia. Soon afterwards, he returned to the university where he had begun as a student and later served as one of its professors. This time, he was the president and vice chancellor of the institution, a position he held for the next decade.
"I knew the place very well because I had been a student and a professor there," he says, noting that he also knew what was happening in the city where he had grown up.
"Going back to my own experience, I believed that a university, aside from the standards of good teaching and research, has to look at issues of access — something that none of the universities were doing at the time. Yet, a university seriously doing outreach in the community can open up a big, big window for Aboriginal and new Canadian kids."
When his term at the University of Winnipeg ended in 2014, he was appointed chancellor of St. Paul's University College, a constituent institution of the University of Waterloo, He still holds numerous other positions such as being president of the World Federalist Movement and being the chair of CUSO International.
"CUSO is now pivoting from international work to coming back to work in Canada," says Lloyd, who is focusing his work with the organization at helping First Nations in North America.
"We all have real poverty issues and have to pursue them actively with more of a universal than international view." Maintaining his efforts on the international, national and local fronts, Lloyd, a Companion of the Order of Canada, continues collecting accolades — the most recent being a life achievement award from Maclean's magazine — while offering his support to local organizations and future generations of politicians on the home front.
"I can bring a capacity to raise some money for them because I have the name and the experience," he says. "You can't be in politics or be a university president without learning how to ask for help. And picking up with what is going on here in Winnipeg is part of the anchorage that everybody needs."
At 76, he says, he intends to "sift out of some activities and spend more time with family and friends," but he also has work to do on the political front. "I'll be out on the street knocking on doors for Jon Gerrard, the local provincial liberal candidate for River Heights and I was very active in co-chairing Jim Carr's campaign in the federal election in 2015," he says.
"I love being back at the constituency level, going up and talking to people on their doorsteps. You never know whom you are going to meet or what you are going to talk about. There's nothing I enjoy more than personal-style politics. I'm delighted that it's come full circle."