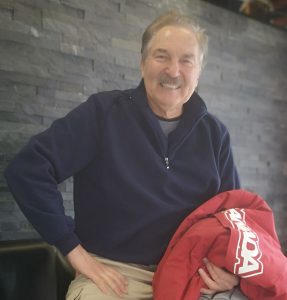 High Achievers
By Martin Cleary
Canadian Olympian Peter Patasi of Smiths Falls has been kayaking for almost 60 years and would love to do it forever, enjoying all the healthy benefits.
If Peter Patasi could be granted one wish, it would be this: live forever.
That way, the non-stop athlete from Smiths Falls, just might be able to accomplish everything on his todo list.
Given his healthy lifestyle as a multi-champion sprint kayak racer, even at age 72, a dedicated recreational cross-country skier and someone who practises his paddling technique holding five-pound weights in each hand while watching TV, Patasi will give it his best shot to do the unthinkable and paddle forever.
"I'd like to live for another 100 years,"proclaimed the former Smiths Falls District Collegiate Institute shop teacher with a smile and plenty of enthusiasm. "There's so much to see and do. Life now is skyrocketing in speed. There's no time to do all the things we desire."
It's hard to believe he has time to do everything he does these days anyway. When he's not training — paddling six days a week for 45 minutes a day on the neighbouring Rideau River or cross-country skiing eight kilometres a day in the winter — he also operates a small cottage industry making high performance carbon-fibre paddles for elite paddlers, including world C2 champion Katie Vincent of Mississauga. His former clients include Olympic champion Adam van Koeverden of Milton, and world champion Renn Crichlow of Ottawa.
Patasi has been kayaking for more than six decades and he's passionate about it. He has been able to thrive in the sport because it's a body-friendly activity. He'll tell you more than once, you shouldn't get injured, if you take the smart approach to joining this all-Canadian culture.
If you're looking for a three-season,outdoor sport to develop your strength, improve your fitness and ease stress, Patasi suggests approaching a local canoe club, just as he did back in Bratislava, Czechoslovakia (now Czech Republic) in 1962.
Patasi played many sports as a young boy, but a serious leg injury took him out of contact activities and led him to kayaking.He joined a cycling club, but when he wasn't peddling for that team, his bike became his mode of transportation to the canoe club.
"I was fortunate I picked a sport where injuries are almost zero," said Patasi, who fled Czechoslovakia in 1968 because of the invasion by the former Soviet Union, became a Canadian citizen and raced at the 1976 Summer Olympics in Montreal. His crew reached the men's K4, 1,000-metre semifinals, but missed the final by 0.87 seconds.
"And when you paddle, you don't have to race.You can paddle for fitness. You're outdoors. It's fresh. There's no (car) gas. You're born in water and you're with the water (around the boat). You can paddle around the world, different rivers and lakes. Take your pick.
"You don't have to wait (for someone). There's that freedom (to go on your own). I'm on the water paddling and I see the loons every day. It's healthy and the stress disappears. You build up your upper body, neck and shoulders."
If, you fancy competition, there are local, provincial and national competitions and every four years you can compete in the World Masters Games with no qualifying standards.
Whether you lean toward competitive or recreational, Patasi said the best way to approach paddling is to visit a club. Not only will you find
proper coaching in all aspects of the sport — technique, equipment and safety — but also your experience will be centred in a community of like-minded and social people.
"Get into a canoe club. They'll welcome you with open arms,"he insisted."They'll teach you. They'll show you the proper tools, the
boats and the paddles, which are your propellers.
"If I brought you to a canoe club… I would put you on the grass and show you how to dryland paddle. I would explain how the paddle grabs the water. You take baby steps and they increase fast. You need a good, honest coach to show you the basics."
The list of Eastern Ontario canoe clubs include Rideau, Ottawa River, Petrie Island, Gananoque and Carleton Place,
where Patasi has a lifetime membership.
If,at some point, your interest in the sport brings you to buying your own boat and paddle, Patasi said the money you spend would be a
good investment.
"If you own your own equipment, you can almost sell it for the same price as you bought it,"he added.
"If you fall in love with it, they do have master sage championships and Masters Games.Your dream of competing in an 'Olympic-type' event could still be there. The beauty of paddling is you're there and doing it.You're not going to win most likely, but you're still there. One time, I raced against a three-time Olympic champion."
Patasi has had several uplifting moments at the Masters Games, where athletes compete in five-year age groups. In his career, he has won nine medals in K1 (solo), K2 (tandem) and K4 (crew) boats at four Games.
Between 1986 and 2018, Patasi has won 41 gold medals at CanMas (the Canadian masters canoe-kayak championships), and four masters sprint titles at the Canoe Kayak Canada national championships. He also has captured several kayak-marathon titles.
"It's up to you what you want to accomplish," he said."If you want to go fast,you spend more time at it. Maybe you just want to be happy and fit. You're outdoors and you can do it for the next 100 years." That's Patasi's ultimate goal. n
Martin Cleary has written about amateur sports as a sportswriter for more than 44 years. His biweekly High Achievers column concentrates on athletes, teams and builders from Olympians to Little League Baseball players. Martin won the Doug Gilbert Medal as Canada's sportswriter of the year in 1983.