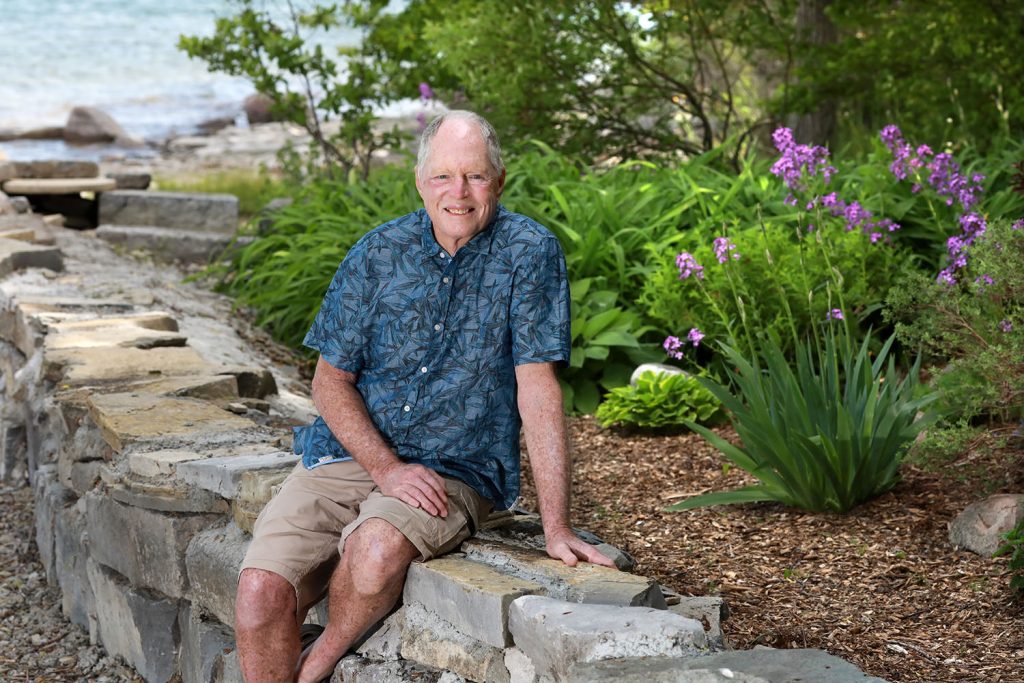 By Iris Winston
Photos by John Major
Perfect Vision
The life work of Dr. David Edmison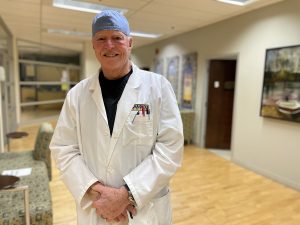 Yachts. Eyes.  Airplanes. Skis. Lawns.  At first glance, there seems little connection between these items. But each is associated with a key aspect of Dr. David Edmison's life.
A board-certified ophthalmic surgeon in practice since 1972, best known for his work in laser eye surgery, he has balanced a stellar and innovative career in caring for patients' eyes for half a century with a love of the outdoors and a drive to help others and give back to his profession.
The eldest of five siblings—four of the five are healthcare professionals—he followed his physician father's advice to study medicine. "My father talked me into going into medicine," says Dr. Edmison, a Queen's University, Kingston, graduate. "I really didn't know what I wanted to do when I had to make the decision, so it was a good thing he pushed me in that direction because even though I'm not the brightest and had to study very hard to get my degree, I found that I really enjoyed it immensely."
He smiles as he notes that one of his favourite pastimes helped increase his schedule's comfort level during his residency as a medical student.
"One of the senior doctors found out that I knew a bit about sailing," he says, explaining that his family owned a cottage on the Ottawa River in Dunrobin, and he sailed regularly as he was growing up. "The doctors quickly conscripted me as a crew member on their race nights. That meant I was able to get good rotations because some of the doctors wanted me to sail with them."
"That's when I really developed a love for Lake Ontario and that part of the world," he says. "Even though I grew up on the Ottawa River looking at the Gatineau hills, there was something about the big water of the Kingston area that drew me to it."
This, he says, was why he bought property on Howe Island in the Thousand Islands chain between Kingston and Gananoque, first as a summer resort, then as the primary residence for himself and his family for the last four decades.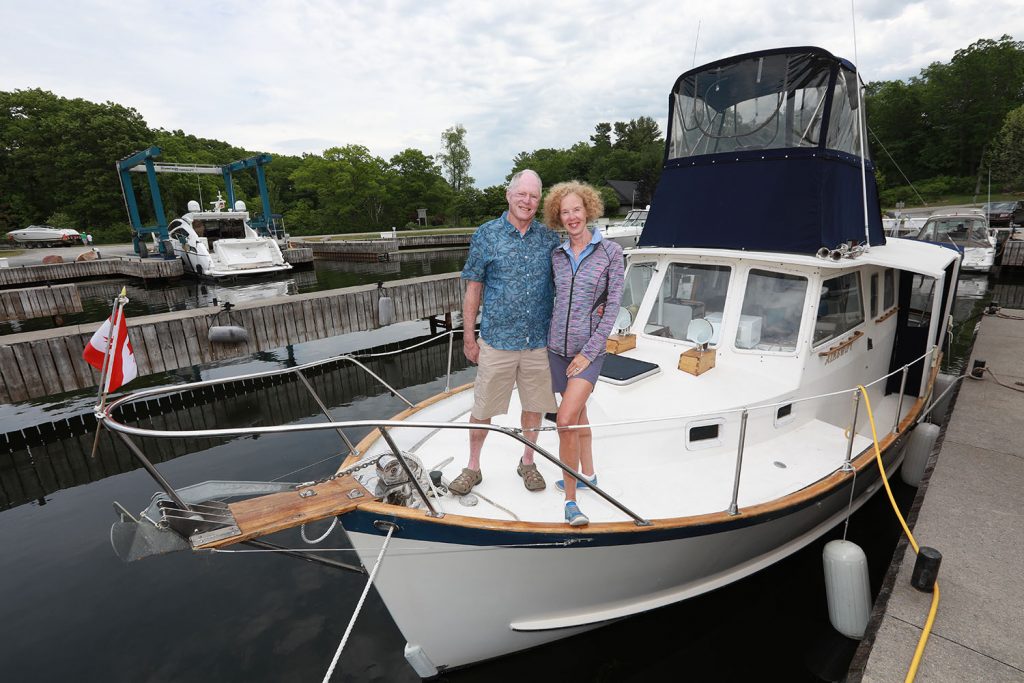 Unfortunately, his marital life was less stable than his choice of location as his first marriage disintegrated after 28 years and his second, "a rebound marriage that didn't work at all," he says, lasted only six. Sadly, his daughter, Libby, died of breast cancer at this low point of his life. His ever-present sorrow at losing her is evident as he looks at her picture.
Then, as he displays a photograph of his third wife, Leslie, he returns to the present and his smile indicates that marriage the third time around is a charm.
"I met Leslie in Whistler 17 years ago and have been married for 13 years," he says, holding out another photograph of his wife, with her arms around his grandchildren.
"Skiing's a big part of who I am," he adds. "I've skied all over the world. Skiing's even more important to me than sailing. I've been helicopter skiing in the Canadian Rockies, and, for the last few years, I've done a lot of ski mountaineering."
Both helicopter skiing and ski mountaineering are considered high-risk adventure sports. In helicopter or heli-skiing, participants are flown into remote backcountry areas to ski on virgin powder snow in hard-to-access terrain. Ski mountaineering combines the two sports of climbing and skiing through the use of specially equipped skis and bindings that make it possible for participants to climb up remote slopes ranging from 3,000 to 5,000 feet and then ski down after reaching the top.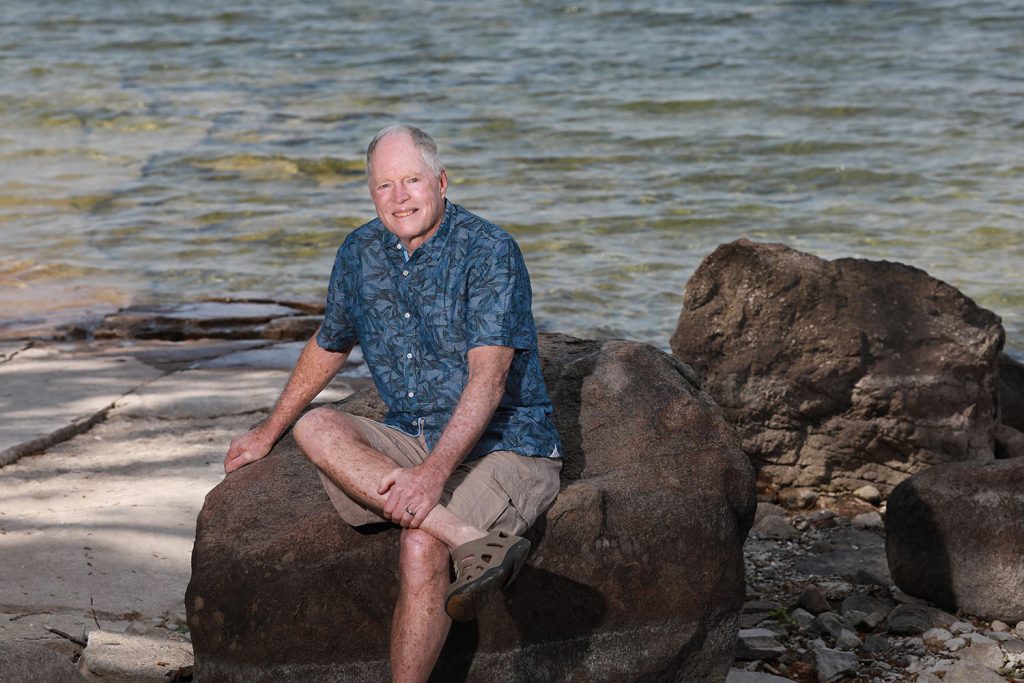 The adventurous streak demonstrated through these sports was also evident after Dr. Edmison was established and thriving in Ottawa as a successful eye surgeon specializing in cataract surgery.
"In the late 1980s, I began to hear about refractive surgery, laser correction, and I went down to the U.S., where they were doing research in the area and got some exposure to it," he says. "I came back wanting to open a laser vision centre in Ottawa."
He approached a number of his colleagues to see if they would be interested in becoming partners in the costly venture, but no other ophthalmologist in the city was willing to take the chance at that time.
"They all said they would send me patients but were not prepared to invest," he says. "So, I took the plunge and borrowed a big chunk of money."
In 1992, he opened the Focus Eye Centre, where he was one of the first ophthalmologists in Canada to start doing laser vision correction.
"The business grew slowly and has become quite successful," he says modestly.
At this point, Dr. Edmison and Focus Eye Centre are sometimes treating three generations of patients from the same family. "It's very satisfying work," says Dr. Edmison, who continues to perform laser surgery in Ottawa and Kingston and care for patients post-operatively. "I was the main surgeon here until about five years ago. Now the new generation is moving in, and they will take over when I retire."
Even though retirement is slated for the end of this year, it is nowhere near the end of the story for Dr. Edmison. As well as retaining ownership in the Focus Eye Centre, he intends to volunteer more of his time to Orbis, the flying eye hospital that travels around the world. Both as a teacher and practitioner, he will continue to fly to India and China to work with medical personnel and patients to treat avoidable blindness. Over the years, he has also delivered numerous presentations across North America sharing his expertise on all aspects of laser eye surgery and any new developments, as well as holding several professional offices and teaching positions.
"I'm going to miss the Focus Eye Centre and doing eye surgery," he says as he talks about his upcoming retirement. "I'll miss the patients. This work is a wonderful combination of having positive feedback and rewarding work. It's been easy for me to keep doing what I'm doing."
Laser eye surgery is particularly satisfying because it is almost always successful, he points out.
"I stopped doing cataract surgery after starting laser eye correction," he says. "I enjoyed it so much that it allowed me to step away from doing cataract procedures."
In general, he emphasizes, ophthalmology is 'fabulous' because the positive results are so dramatic. At one point, he says, he had thought that plastic surgery might be his specialty of choice.
"I'm good with my hands—possibly inherited from my mother who was an artist—and the plastic surgeon I admired in Kingston was a reconstructive surgeon who looked after kids with burns and people with disfigurements."
But after finding out that most plastic surgery was cosmetic, he turned to ophthalmology instead. This specialty, he anticipated, was where he could help his patients most. And, so it has proved, in fifty years of successful practice.
As this chapter draws to a close, he will be able to spend more time with Leslie, his son, Patrick, his grandchildren and his one-year-old miniature Australian shepherd, Willow. There will also be plenty of skiing and sailing, as well as gardening and landscaping.
"You won't find many eye surgeons who play with a chainsaw," he says. "But I have for years. I climb up a ladder with a chainsaw to cut down branches and have cut down all the trees on the property that needed to go.  And I do enjoy landscaping and gardening."
In fact, he says his philosophy of life springs from cutting lawns when he was a high school student.
"I worked at a farm on the weekends, cutting six acres of lawn," he recalls. "Less than a month after I started, there was a huge windstorm, and all kinds of branches were blown down. The whole lawn was covered."
The owner required him to use a manual (reel) mower, which made the clearing/cutting job even more difficult.
"I was about to give up when he said that all I had to do was to deal with one small section at a time. I had that lawn cleared and cut in three or four days. And that was my life lesson. If you have a huge problem, break it into little pieces and do one section at a time. Now, I have three acres of lawn on the island, and I still enjoy dealing with lawns and life that way."
Laser vision correction
This remains among the most popular elective surgeries in North America, correcting for nearsightedness, farsightedness, and astigmatism. The treatment used by Focus Eye Centre is called Intralase SBK (Sub-Bowman's Keratomileusis), which is laser-assisted in situ keratomileusis. A thin flap is created on the cornea and the remaining cornea is reshaped before the flap is replaced.
Sight issues
               Nearsightedness (myopia) occurs when light does not go far enough to reach the retina (nerve layer) at the back of the eye. Distant images are blurred.
               Farsightedness (hyperopia) occurs when light goes beyond the retina. Near objects are blurred.
               Astigmatism occurs when the eyeball is misshapen. The irregularity of shape causes near or distant images to be blurred.
The cataract option
As our population continues to age, cataract surgery is in greater demand than ever before.  A cataract is the progressive hazing of the natural crystalline lens in the eye. It causes decreased vision that can impact the ability to read, drive, work and function. According to Eye Physicians and Surgeons of Ontario (epso.ca), cataract surgery is the most commonly performed surgery in Canada. The cataract is removed, and an artificial intraocular lens is implanted. Technological advances in both lenses and surgery have revolutionized cataract surgery.
Options exist for those who do not want to wait for insured cataract care in a hospital setting. Non-insured cataract services are paid directly by the patient to the surgeon's clinic or hospital and may include specialized diagnostic eye measurements, special feature lens implants and certain surgical procedures, diagnostics and lasers.
Orbis flying eye hospital
In existence since 1982, the world's only flying eye hospital is a state-of-the-art surgical training facility on board an MD-10 aircraft.
This unique teaching facility, complete with an operating room, classroom and recovery room, carries volunteers around the world to share their knowledge and skill in a global effort to end avoidable blindness.
Faculty train local doctors on-board the aircraft and at the local hospital, providing high-quality, practical education.
Although temporarily grounded during COVID-19, classes and lectures continue online. Through a mentoring platform, Cybersight, doctors from all parts of the world can join training programs.
For a virtual tour of the flying eye hospital, visit can.orbis.org.