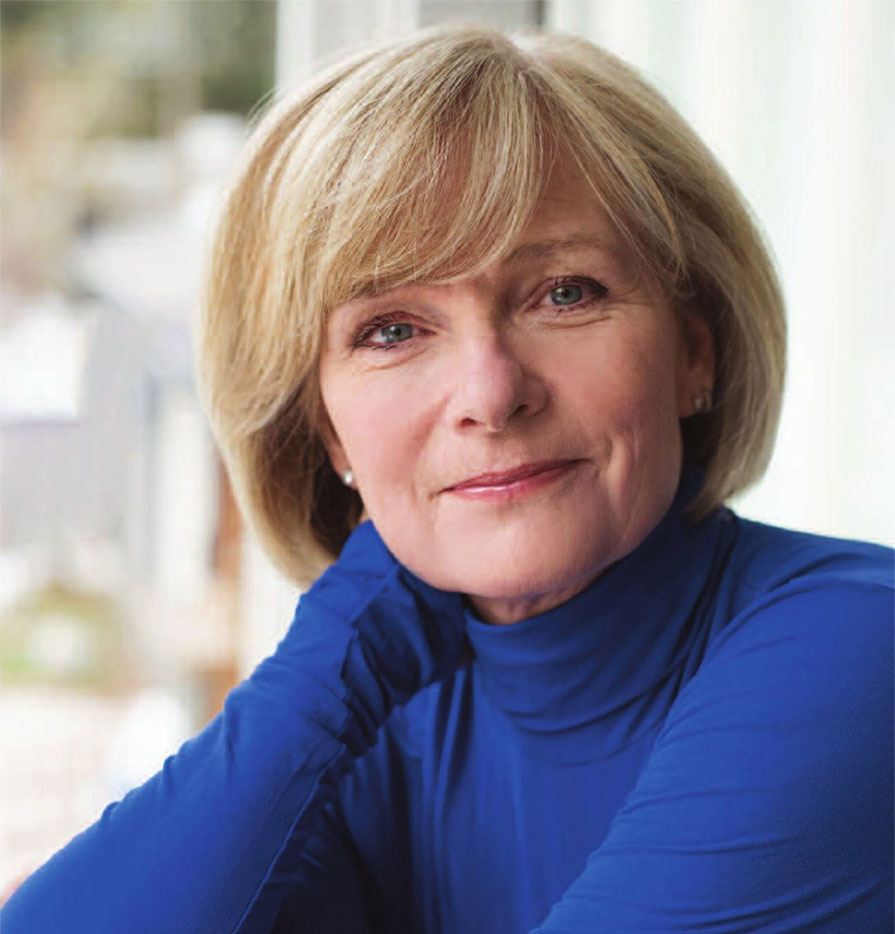 By Iris Winston and Photos by Samantha Gaetz, Gaetz Photography
A True Champion On and Off the Ice
Canada's Barb Underhill has enjoyed a life journey as skating champion, broadcaster and hockey consultant.
Barbara Underhill has lived on the edge since she was five years old — the edge of her figure skates, that is. For the world champion pairs skater, a sense of connection with the ice happened instantly, she recalls.
"My Mom always believed if you live in Canada you need to learn to skate, so she took the five of us — I have two sisters and two brothers — off to the rink for skating lessons. As soon as I jumped on the ice,I just took off and felt at home.It was almost as though my Mom had given me wings." Her future was set at that minute, adds Barb (as she prefers to be called)."I didn't want to do anything else. It's quite incredible to find your life's passion at five years old. Since that moment, skating has really dictated my life and taken me on a wonderful journey — a road I'm still on."
Just two years after her initial trip to the rink, her skating coach paired her with her first partner.
"She thought I had the body type to be a pairs skater," she says, noting that her small stature made it easier for a partner to lift her for various moves.
"I found being picked up and thrown into the air way more exciting than skating by myself and had no fear of being thrown around." She also continued her development as a singles skater, taking part in her first national competition when she was 10 years old and becoming the world junior champion when she was 14.
The required skating practice, coaching and traveling meant she frequently missed school, but "the deal was that I had to keep my marks up," she says.
"If they went below 80 per cent,I wasn't going to be able to skate anymore, so I was pretty motivated to stay focused." By 1977, Barb's coach paired her with Paul Martini and this turned out to be a match made in heaven for the two skaters, although it did not start off that way.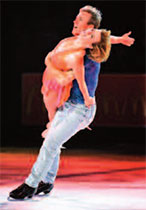 "We had been competitors in the past and didn't like each other very much at first," she recalls."But the partnership worked instantly.He was a foot taller than me and could lift and throw me easily and, technically, we could do moves that we hadn't been able to do with our previous partners."
So began the 21-year link for the skating duo that was to be one of the most successful partnerships in the history of competitive skating in Canada.Within six months Barb and Paul won the Canadian championship, following that with a win at the junior world pairs championship.
"It all came so quickly,"recalls Barb,"almost too quickly when we had so much to learn and develop as a team."
Over the next few years, a time she describes as filled with challenges and disappointments as well as numerous wins, the Underhill/Martini duo became the pair figure-skating fans across Canada watched with high hopes.
"We were blessed with fantastic coaches,"says Barb."The key to any success we had was the team we had around us.They inspired us, mentored us and motivated us, but everyone — including us — always expected more and more of us.We did really well in practice but it took time for us to rise to the occasion under extreme pressure. Much of that comes from experience and learning from the challenges and picking yourself up every time you fall."
By 1984, the pressure was even more intense as they headed to theWinter Olympics in Sarajevo, accompanied by predictions they would bring home a gold medal.But it was not to be. "Bad thing after bad thing happened that year," recalls Barb.
"I tore a ligament in my foot right before the Nationals, so couldn't compete. When we went to Sarajevo, we hadn't competed all season and didn't feel prepared.We still thought we could pull it together and everything was going perfectly for our short program. Then, as we were stepping out for our side-by-side spin, I lost my edge and went flying across the ice and bowled Paul over.There we were, both lying on the ice and our dreams were shattered.It was beyond devastating at the time.
We were crushed and felt we had let down the whole country." With just three weeks before the World Championships, it seemed unlikely they could recover in time.When they were about to withdraw from the competition, fellow skater and silver medallist Brian Orser suggested to Barb that she use her old skates instead of the current blades that had caused her grief all year. "That seemed like my last hope, so I tried them,"recalls Barb.
"When I stepped on the ice, it was like magic — as though somebody had turned on a light switch. I felt like myself again. Paul saw me skating and joined me and we practised and practised for the week we had left." The gold medal they won at the World Championships in Ottawa ended that difficult year on the highest note possible. "It was so special to win in Ottawa because people knew the history.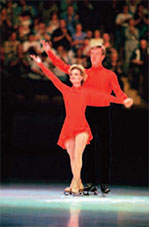 Everyone who had helped us get there and all the people who were part of our career were in the audience,"says Barb. "Going from the lowest low to the highest high was incredible. It was a magical time, the greatest moment of our career."
The next stage in her skating life — as it is with many skaters who have reached the top of the competitive tree — was to turn professional. However lacing up her skates to perform with the Ice Capades wasn't a smooth transition.
"[I] didn't find skating with the Smurfs very fulfilling. It was pretty hollow and quite lonely." It was not until former Olympic gold medallist and U.S. champion skater Scott Hamilton created Stars on Ice in 1986 that she felt at home again.
"With Stars on Ice, professional skating took off and our career took off as well," says Barb, who was inducted into Canada's Sports Hall of Fame in 1988. "Skating was a joy and a challenge again. Skating became huge and we were skating all over the world. It was one of the most fun times of our career. Life was really good professionally and personally. I loved what I was doing and I had just met my future husband."
Barb and Rick Gaetz were married inAugust 1991 and a year later, their twin girls, Samantha and Stephanie, were born. Then, on the day the eight-month-old twins were to be christened, tragedy struck. Stephanie drowned in the family pool.
"We'll never know how Stephanie got out of the screen door and pulled herself 50 feet across the patio stone, up a step, through the pool gate, and into our backyard swimming pool … but in those few minutes, our daughter did what we thought was impossible for a baby who had not yet learned how to crawl," writes Barb on the website of the Stephanie Gaetz Keepsake Foundation, the charity she and her husband founded to promote childhood safety. From the terrible moment when she lost Stephanie, Barb says her life split into two parts: before and after her daughter's death.
Medal Highlights
1978
Junior Canada figure skating champions -pairs
World junior figure skating championships, gold medal -pairs
1979-83
Canadian figure skating champions -pairs
1983
World figure skating championships, bronze medal -pairs
1984
World figure skating championships, gold medal -pairs
1986,1987, 1988, 1990 and 1993
World professional figure skating championships, gold medal -pairs
"You're not the same person anymore. You don't want to go on. You don't know how to go on,"she says.
"But we did because we were blessed to have Sam.She was the one who got us up in the mornings.
She was the one who made us giggle, even though we felt guilty at enjoying anything. She was the one who forced us to move forward."

Six months after Stephanie's death, Barb returned to the ice."At first, it was excruciatingly painful," she recalls, in tears at the memory.
"Then, it started to feel like a safe place to go.Skating was there for me at a time when I needed it most.Being able to pour my emotions into my skating saved me. I'll never forget how Paul and I performed that Christmas in the World Professional Championships. We dedicated the number to Stephanie and it was as if she was carrying me through it."
"You move through different stages,"she adds. "At first, I hung onto Rick and Sammy for dear life. Then skating was my outlet for pouring out all my pain. Everything I learned in skating about keeping going no matter what and the lessons we learn through challenging ourselves in sport helped me to go on, to try to learn something and to try to create something positive."
This was how Barb and Rick came to honour their daughter, by starting the Stephanie Gaetz Keepsafe Foundation. Launched in 1998, on the night she and Paul officially retired from skating, the inauguration of the foundation made the presentation of their final show,One Last Time, at Toronto's Maple Leaf Gardens even more special. "It was a phenomenal evening and a great way to end," recalls Barb, "but I had no idea how much I would miss performing."
There was to be one other particularly meaningful performance Eleven years later when Barb and Paul came out of retirement to skate in the Battle of the Blades. During the finale, they skated to the song Time by Mark Masri and Amy Sky — a number about the importance of cherishing every moment — sung by Barb's daughter Samantha in a duet with Mark Masri.
"To be skating to her voice was the most incredible mother/daughter moment — one of the great moments of my life," recalls Barb, adding that Sam was actually performing close to her mother.
"It made it easier to leave the ice because I felt it couldn't get any better." At the time,Barb was also was partway through 16 years of another phase in her career, in this case as a skating commentator for CBC.
"Commentating was not comfortable for me at first," she says. "It's not something I was prepared for and there was no training involved. But skating teaches you not to be afraid of failing. That's how you learn the most. I've never been afraid of challenging myself. It's made for an interesting life." It has certainly taken her in an unusual direction in recent years. She was drawn to hockey through her husband's longstanding enthusiasm for the game and then, as a hockey mom, through her two sons, Matthew and Scott. After Rick took over as owner of the Guelph Storm in 2006, though, hockey moved front and centre for the entire family.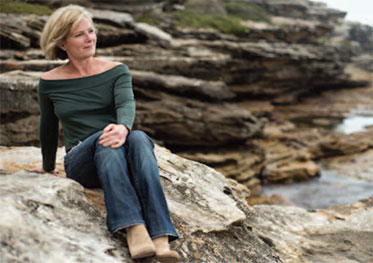 "Rick had always wanted to be involved with a junior team,"says Barb."I knew it was his dream, so I tried to figure out how to fit everything in with the kids in skating and hockey and Sam into music and dance." In fact, she says, it soon became "a wonderful family outing. Every Friday evening, we'd all pile into the van and go to the Guelph game." Then, as she watched, she noticed many of the players skated in an "inefficient" way.
"I started to think that I could help,"she says, noting she had already coached her sons on the ice."I started to work with the team and the flood gates opened to a whole new world." Soon, she chose to give up her television commentating career and concentrate on her new vocation as a power skating coach.
In addition to working with the Guelph Storm, she became involved with NHL teams such as the Anaheim Ducks and the New York Rangers. Currently she is the skating consultant for the Tampa Bay Lightning and the Toronto Maple Leafs, while also maintaining her connection with the Guelph Storm.
"We'll see where it takes me from here,"says Barb, who was named one of the 100 most influential people in hockey by The Hockey News in 2011."What I've learned through my life is that you should always keep challenging yourself. And I don't think I will ever retire from the ice.It's in my blood and I'm most at home there."