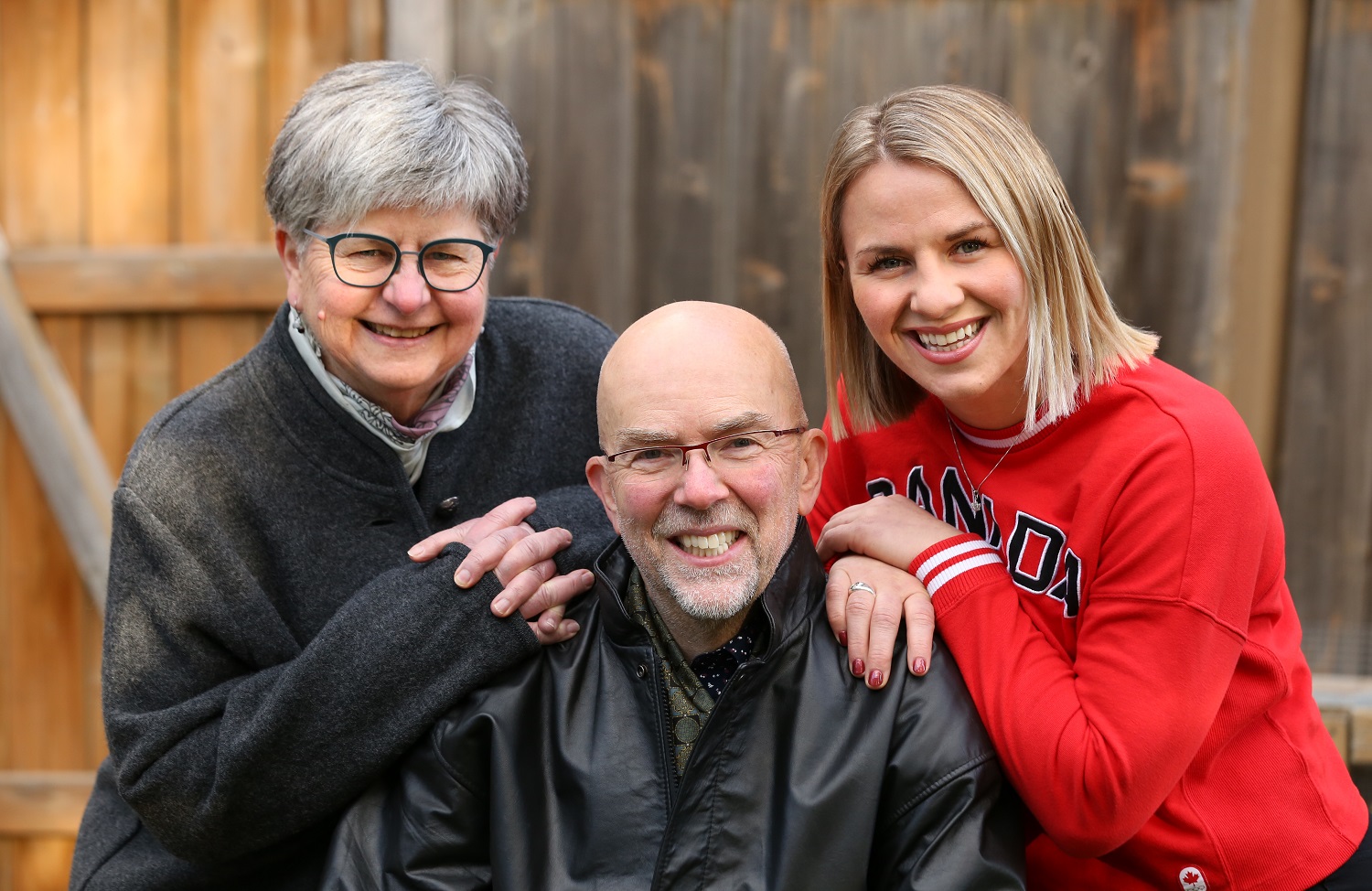 Profile
By Martin Cleary
Photos by John Major
Erica Wiebe's story through the eyes of her parents
Erica Wiebe has viewed the spectacle that is the Summer Olympic Games through the rarified air from the top step of the medal podium as well as the darkest depths of the sweat-covered, cold and heartbreaking competitive wrestling mats.
Two Olympics. Two unexpected and contrasting results. Two parents riding a wave of elation with their daughter one day and five years later tumbling off that crest in an instant.
A student-athlete with two university degrees and another in the making, Wiebe has trained hard, made multiple sacrifices and battled through all obstacles. She has put herself in the public eye,
recording positive and negative results, and capturing the attention of her hometown Stittsville, Ontario and residence training centre in Calgary.
In the background, her parents, Paula Preston and Charles Wiebe have been constant pillars of support in her athletic development and have lived through every victory and defeat, award and consolation, smile and tear.
The Olympic Games have been the highest of high points for both Wiebe and her parents, who guided her through umpteen sports before she discovered the joys of amateur wrestling, an intense,
combative power struggle in a circle.
On August 18, 2016, Erica's parents were seated behind the wrestling officials, but out of the view of the TV cameras in Rio de Janeiro's cozy Carioca Arena 2 for the gold-medal match. They were positioned near the athletes' entrance to the competition mats and could read their daughter's face. She was focused and prepared for the moment.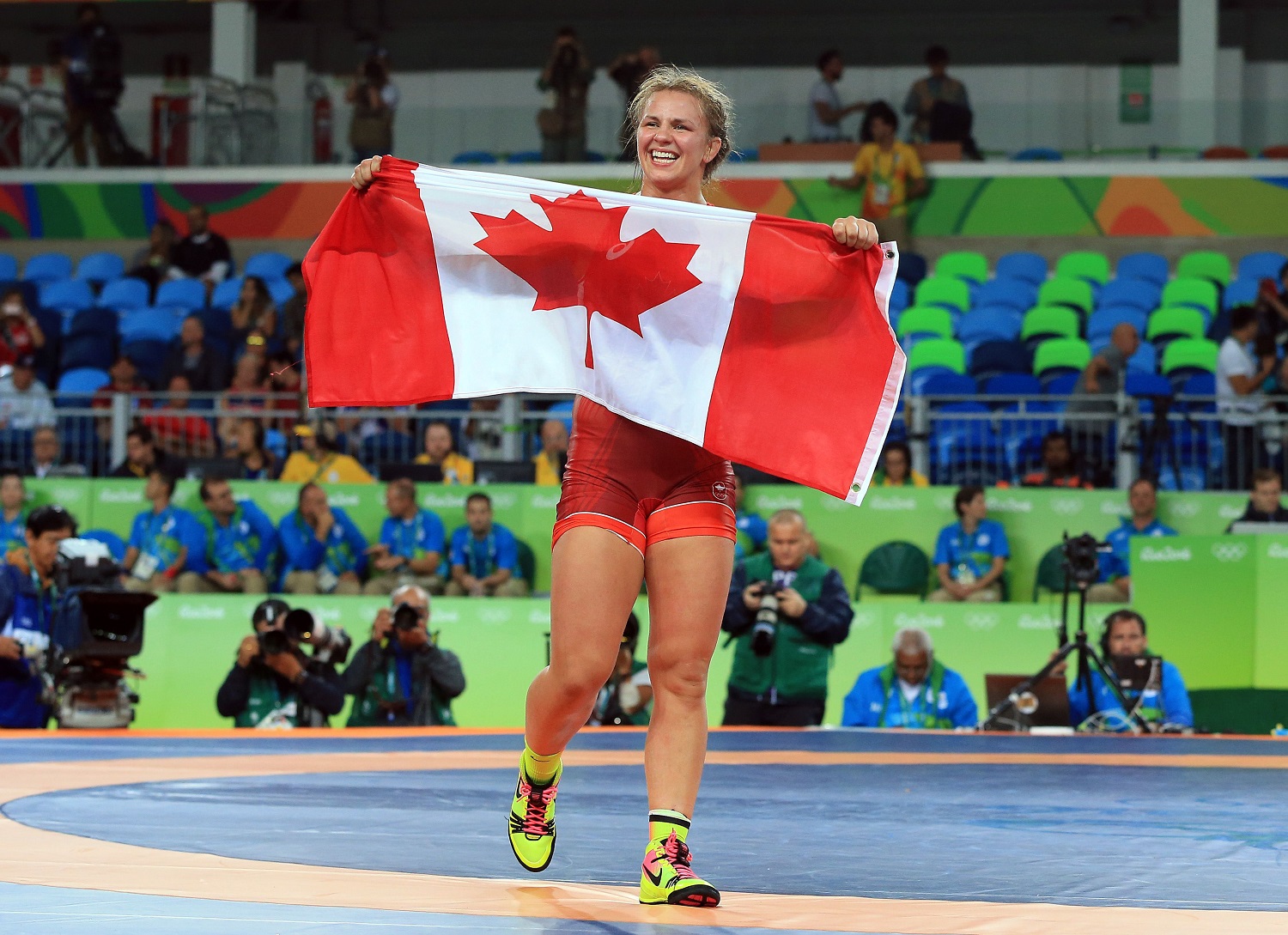 "As soon as I saw her, I saw that spark in her eye," Charles recalled. "She did her characteristic sled jump and slapped herself in the face with both hands. She was just happy to be there. Her best
would be awe-inspiring."
Oddly, Paula and her husband were relatively relaxed given what was about to unfold. Their stress level had been turned down a notch or two because their daughter was already guaranteed a medal.
A few hours earlier, Wiebe and her parents survived the super-stressful semifinal, which ended with a 3-0 decision over Vasilisa Marzaliuk of Belarus. At the end of the two three minute rounds, her parents allowed themselves to breathe again. A loss would have meant Wiebe would have additional bouts, but in the repechage round to chase the bronze medal.
Before Wiebe's gold-medal match in the women's freestyle 75-kilogram class, her parents were interviewed by a TV crew and joined by a number of Canadian supporters, including Olympic team chef de mission Curt Harnett, a four-time Olympian and three-time track cycling medallist.
"When it was finished, there was mayhem," Charles said, remembering his exhausted-looking daughter standing on the mat before she exploded into celebration. "All of the 15 Canadians there were overjoyed. There was yelling and screaming, almost as loud as Erica."
"It was so totally amazing," added Paula, who recalled that the last match of the day was only seen by about 2,500 people in the 10,000-seat arena. "I was ushered down by the president of Wrestling Canada to the back area where Erica was being interviewed by the media. I had a chance to talk to her then.
"Technically, I was smuggled in. I was not supposed to be there. We pushed past three big hulks, but the president of Wrestling Canada was as big as them. People who have been to the Games before know how to bend the rules, but security didn't get it."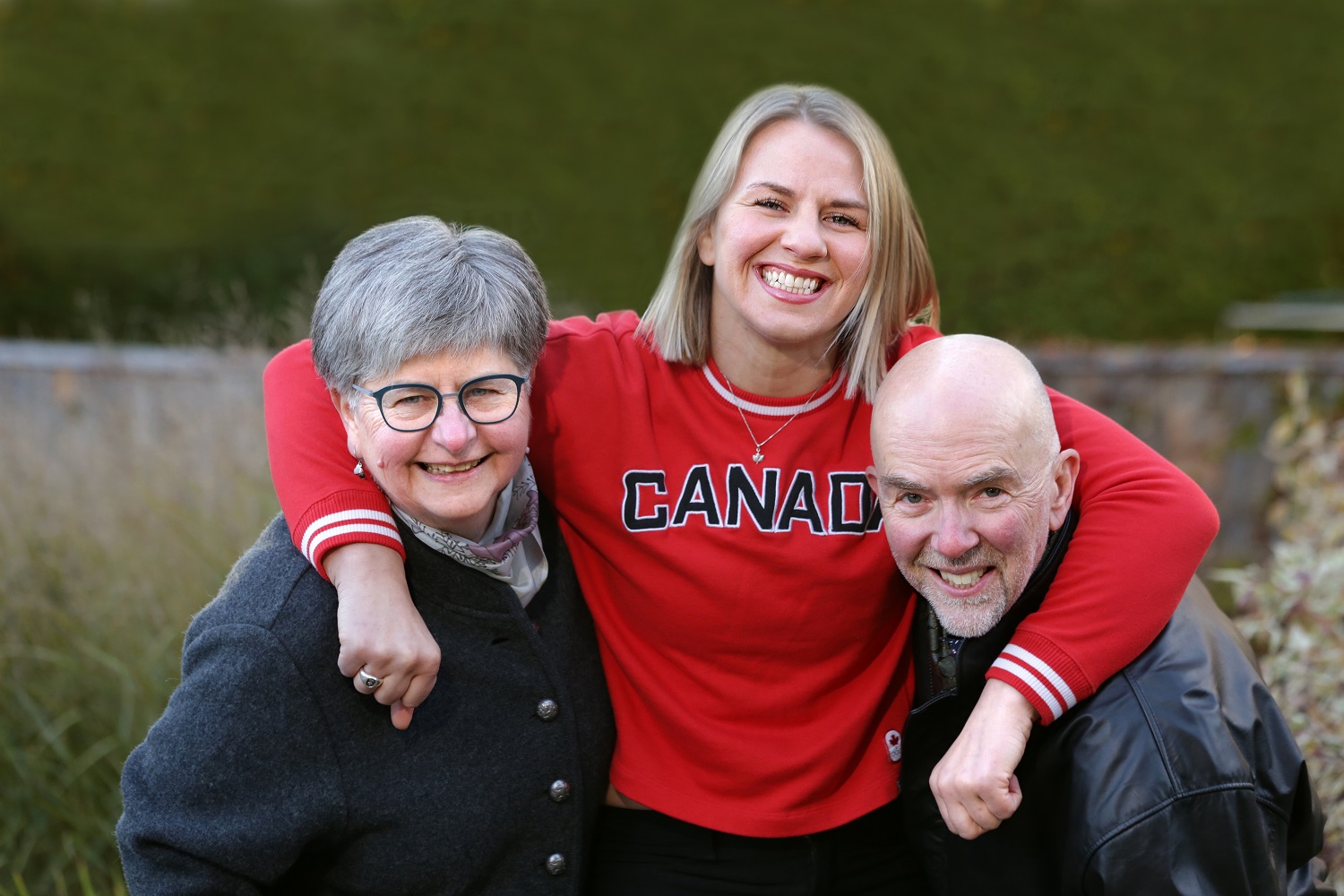 Over the next four years, Erica deservedly experienced the good life, everything from the Goulbourn Recreation Complex gymnasium (Ottawa) being named after her to wrestling in a most memorable professional league in India (receiving numerous marriage proposals, she's still single) to being invited to explore the other side of the sport at the World Wrestling Entertainment training site in Florida to visiting and talking with thousands of enthusiastic school children.
Then, four months before the 2020 Tokyo Summer Olympics, Canada's high-performance athletes, including Erica, were pinned by the COVID-19 pandemic. The Games were postponed, hopefully, until the summer of 2021.
Being a mentally and physically tough athlete in a combative sport, Erica made many adjustments to her schedule, which included novel training methods and only three international competitions. As her European opponents continued almost regular training sessions, camps and meets, Erica could only be jealous.
When the 2020 Olympics arrived, a year late with no fans in the stands and a ban on international travellers to view the Games, Wiebe was dealt a difficult assignment through the random draw for her first opponent in the women's freestyle 76-kilogram class.
On the first day of wrestling, August 1, 2021, the Makuhari Messe venue was eerily quiet, except for noises from the athletes and officials on neighbouring mats. And her first-round opponent was Estonia's Epp Mae, one of the best in her division. (Unlike sports like tennis, where the top players start off meeting much lower-ranked opponents, amateur wrestling has an open draw, where the best athletes can meet right in the opening round.)
The wrestling atmosphere in Tokyo was so different from Rio de Janeiro and the result would be as well.
Erica, who felt honoured to be back on the mat representing Canada, started slow and trailed 5-0 with one minute remaining in the six-minute match. When she came to life, she scored four points and desperately needed one more to tie or two for the victory. But Mae and the time clock defeated her in the end. There was a slight chance Erica could advance to the repechage round to fight for the bronze medal, but that opportunity evaporated when Mae lost in the quarterfinals.
"We were sad," said Preston, who watched that match at home with her husband on TV and laboured through every step, arm movement and point for and against their daughter. "She worked so hard and this tournament was such a different experience in so many ways. There was no atmosphere for her in the arena. No one was there except officials."
The longer it took for Erica to score a point, the sooner her father could envision a first-round elimination.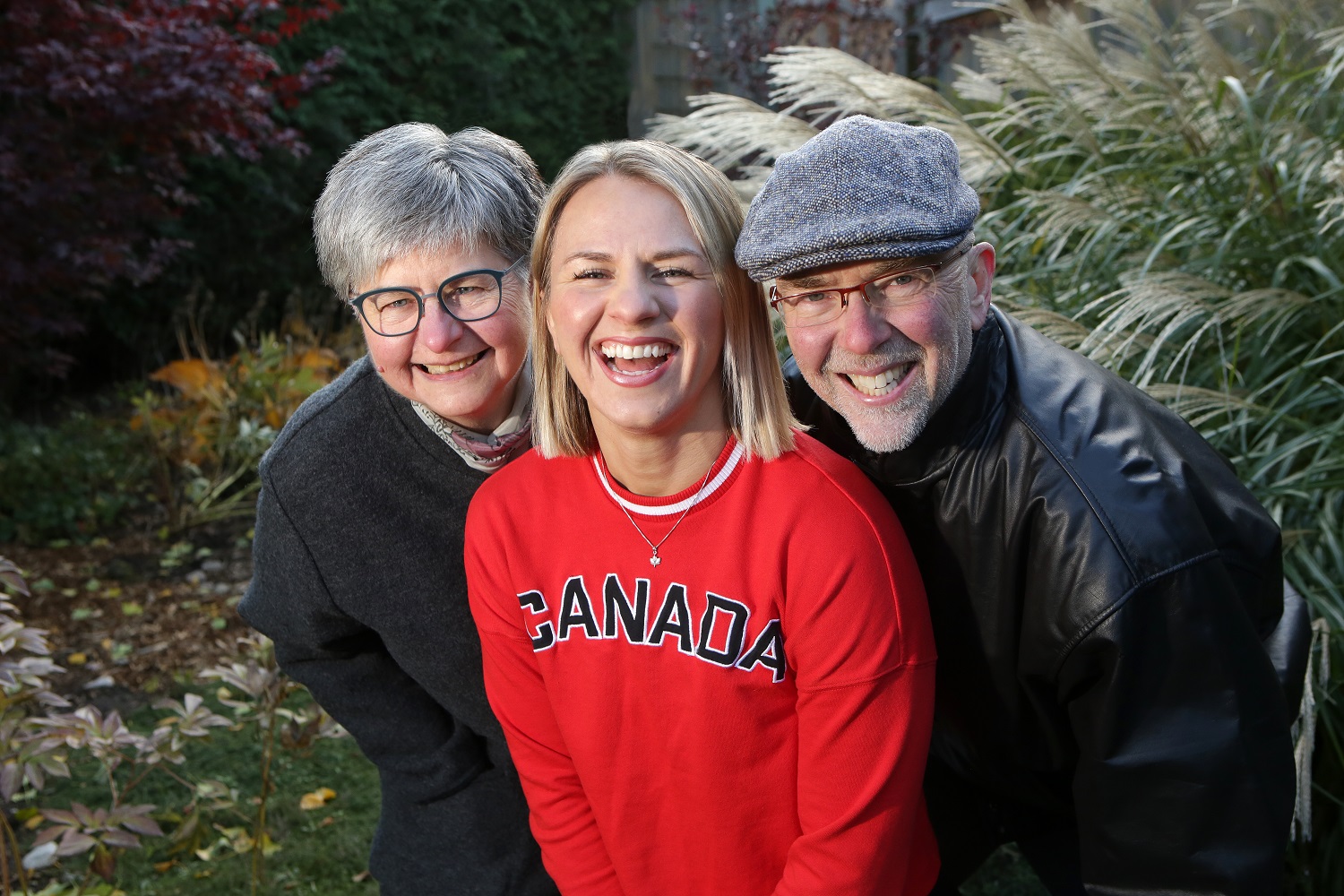 "For me, she never got started. The first round did not go well. In the second (round), she was on fire. But it wasn't enough. One point back. She ran out of runway," Charles explained in thoughtful tones.
"The way she was wrestling, if she had another 30 seconds, she would have won," Paula politely interjected.
What now for Erica, who at 32 is in the middle of her MBA Americas course through Cornell University and Queen's University? Erica qualified to represent Canada at the recent 2021 world amateur wrestling championships in Oslo but declined the trip for professional and personal reasons. In the wake of a sweet gold medal performance in Rio and a bitter first-round defeat in Tokyo,
does Erica have her eye on a third Olympics only three years away in Paris in 2024?
"She's keeping that close to her chest," Paula said, speaking as a caring and protective mother.
But Charles stepped out of the box, preferring to speculate, if only slightly.
"I think she'll stay for the Commonwealth Games (2022 in Birmingham, U.K.). She has two gold (medals) from previous Games. She loved that experience in Scotland (2014, Glasgow, Scotland) and Australia (2018, Gold Coast)."
Erica is familiar with decision-making. She has done it for so many years, weaving her way from sport to sport, making impressions here and there and learning quickly she wasn't suited for every sport. But in the end, all her athletic experiences have played some role in developing her as one of Canada's most illustrious female amateur wrestlers.
Thirty years ago, Erica had her first taste of a sports activity, when her parents bought a cottage at Mont Tremblant in Quebec. They thought downhill skiing would be a great family exercise.
"We were lucky to get Erica in with a great (ski) instructor. His idea was to take her on hills everywhere you weren't supposed to go. Jonathan's idea was for Erica to ski every part of the mountain in all conditions," Preston recalled.
Erica became a good downhill skier, but technically not a racer. Her instructor was proud of his group and decided to have a challenge race against the skiers who were training to be alpine racers. Halfway down the course, one of Erica's skis popped off. But she regrouped quickly, climbed up to complete the missed gate and finished in second place overall.
Then there was rhythmic gymnastics, a sport Erica's sister Elizabeth enjoyed, and Preston latched onto for countless years with the Kanata Rhythmic Sportive Gymnastics Club, serving in many volunteer roles, including as a member of the board of directors on the operations side.
Erica tried rhythmic gymnastics for one week. After her initial offering, "a dear friend" of Preston's suggested it "probably wasn't her sport—her feet were too big."
Now soccer, there's a sport she could get her feet into and get a kick out of. It's even known as football. Wiebe started playing at five in Stittsville and Kanata before graduating to the high-performance Ottawa Fury Football Club youth program, which has since disbanded.
As a goalkeeper, she was making a name for herself, helping her Kanata girls' U13 team play in the Ontario Youth Soccer League, travelling to the United States for games with the Fury, having formal training with former Canadian team goalie Tania Singfield, and winning the occasional award. American university scouts had her name in their books as a potential scholarship athlete.
Singfield took Erica to the next level by introducing her to game preparations, strength training, the importance of all-around fitness and proper skill development.
"My husband coached her in rec soccer, but we felt for the development of Erica, we don't have the technical skills to be a solid coach. We should stay out of it and find her a good coach," Preston explained.
By the time she reached Grade 10 at Sacred Heart Catholic High School, she was dealing with clashing soccer and wrestling schedules, and somehow finding time to still try new sports.
Erica played high school basketball for the Huskies and while she was a solid point contributor, she often took too many fouls. As a volleyball player, she had no fear, constantly diving after loose balls to keep the point going.
She didn't like touch football the first time she tried it, but when she became the quarterback and needed to think more and move continuously, the game was the best. Track and field also was one of her spring high school sports.
In Grades 7 and 8 at Sacred Heart, the Phys Ed program regularly introduced students to new sports. Wrestling was one of those sports. Students would learn the key elements of each sport, but league competition didn't start until high school.
At one of Sacred Heart's year-end athletic award banquets, where she won female athlete of the year from Grade 7 through Grade 12, Charles remembered teacher/coach Sil Sanna talking about his wrestling and soccer experiences. Charles thought Sanna would be an invaluable coach for Wiebe to learn about wrestling.
By 15, Erica was established in soccer and just embracing wrestling. But trying to maintain the training schedules for both sports had become too difficult. At that point, she shelved soccer for wrestling, which she has referred to as "a sweaty chess match" as it requires lumbering, physical work and quick thinking on many levels.
"Erica wasn't one to come to us for advice," Charles said. "But she asked me what to do. I said I think what you should do is pick what you are successful at. Success always opens the doors. I knew she was successful in wrestling and had medals to show it."
Erica was playing soccer at the top age-group level with the Fury. But there had been no early interest concerning university athlete scholarship offers. Just as well because Erica wasn't about to accept one as she couldn't see herself reaching a high enough level in the sport to make the Canadian women's national team.
Erica had already stepped onto the wrestling mat in Grade 9, was learning the ropes and could definitely see a future for herself, after she responded to a posted sign in Sacred Heart about a co-ed wrestling program.
She had some instant success, but then didn't win any medals at the Ontario Federation of School Athletic Association high school championships or make the wrestling team in her first year at the University of Calgary. But five persistent years after her wrestling introduction, she was named to the Canadian national team in 2009.
Besides her high school training, Erica strengthened her skills at the National Capital Wrestling Club, which also introduced Preston to another sports volunteer administrative role, learning how to be a draw master for competitions.
In her 18-year career, Erica has captured multiple Canadian championships and the first came unexpectedly in her initial year in the sport.
"We begged and borrowed for a coach to work with us (for nationals)," said Paula, who travelled with Wiebe to the Canadian championships in Newfoundland. "We had no expectations. It was an opportunity, a good opportunity and she went and won. We were completely blown away. We never expected that would happen."
That national championship victory in the cadet age class earned her a trip to Austria for her first international meet. And what did she do? She won again to the surprise of the Wiebes and the delight of the embracing Austrian fans.
"At 15, she didn't have the technique, but she had pure enthusiasm for the sport," Charles said. "She was naturally strong and very determined."
That was the start of her successful journey in the art of wrestling. She has won numerous other international medals. Besides her Olympic and Commonwealth Games gold medals, she earned bronze medals at the 2019 Pan-American championships, the 2018 world championships and the 2013 Summer Universiade, when she competed for the University of Calgary Dinos Wrestling Club.
It took a long time trying other sports before she found her true calling, but all those experiences were building blocks for her future.
Downhill skiing taught her the importance of technique, physical strength, fearlessness and allowed her to have a fun time in her first sport offering. Soccer provided her with confidence in her own abilities. Team sports like soccer, basketball, volleyball and touch football gave her that important experience of team camaraderie.
"Erica loves to play. She's one of the luckiest people because she maintains her love to play," Charles said. "It doesn't matter if it's physical or a board game. She gives a 110-per-cent effort.
"But the best thing she has is the ability to focus. Winning athletes must be in the moment. Every Sunday, I'd talk to her about Tiger Woods. He was the best in the business and his focus was so
incredible."
Charles added his daughter also had "a goal to excel," which didn't mean she had to be the best and win every time.
"What she has learned is she doesn't have to win, but rather to perform at her best, what she's capable of and enjoy it."
Away from the practice and competitive mats, Erica is an ambassador for the Fast and Female, Right to Play and KidSport programs. She knows she's a role model for younger athletes and takes that honour seriously.
A few years after Erica won her Olympic gold medal, she was approached by a potential sponsor, who wanted to support her with a contribution of $14,000. She graciously considered the offer but
declined and said all was good for her financially at the moment.
But when her Calgary Dinos' teammates were preparing for an important international qualification meet in Eastern Canada, there was a problem. There wasn't enough money to cover everyone's travel costs.
Erica had an idea. She reconnected with the person who wanted to sponsor her and asked if the sponsorship money was still available. And if it was, could it be directed towards team travel instead
of her? The sponsorship deal went ahead with a new direction.
"It says so much about her as an individual. She's a role model for me," a proud Charles said