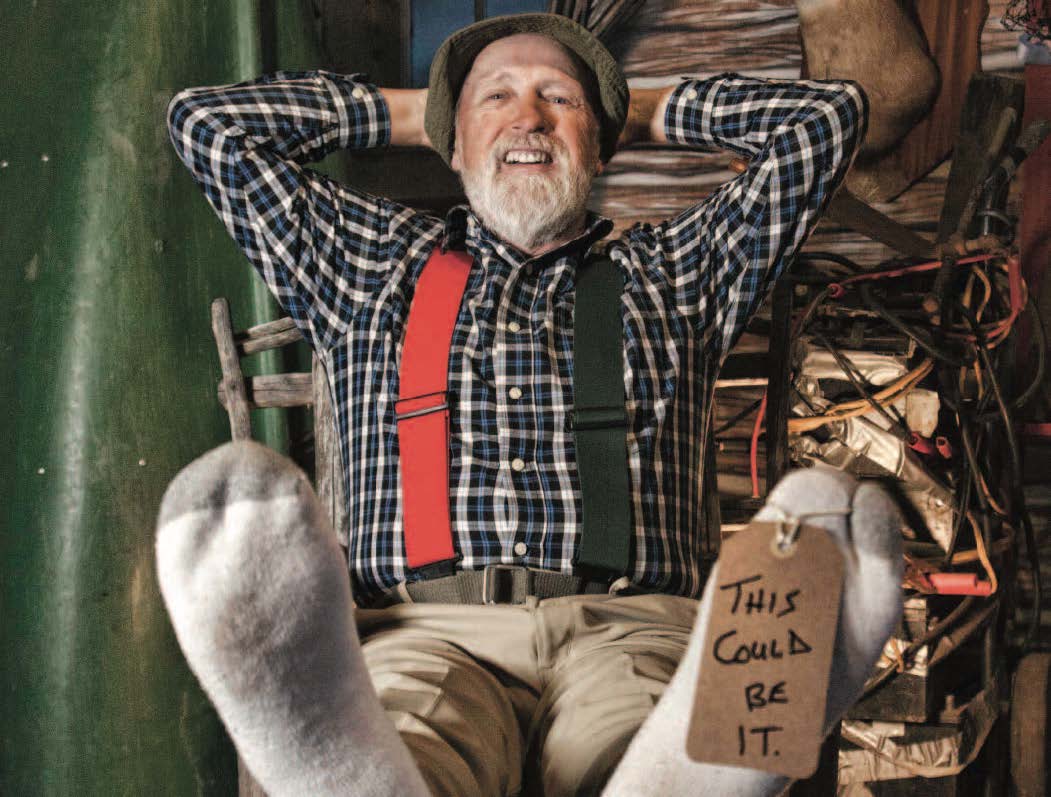 By Iris Winston
This Could Be It
Will Steve Smith's alter ego hang up the duct tape for good?
Steve Smith calls Red Green his best friend. After all, Red — the character that the Canadian writer/producer/comedian created and presented to television audiences for 15 years through 300 episodes of "The Red Green Show" — is still very busy advising on the advantages of duct tape in a punishing touring schedule across North America.
Segments of the popular TV comedy, which ran from 1991 to 2006, are still available to make old and new audience members smile via the Internet. As Steve points out, "A rerun is only a rerun if you've seen it before," and increasing numbers of younger viewers are apparently enjoying Red Green for the first time, close to two decades after the show starring the title character aired originally.
"The show is kind of timeless," says Steve. "We never talked about what was going on, because we really didn't care what was happening. We had a lot of fun, a lot of good times."
"I'm extremely proud of comments that fans have made to me," he adds. "During the tour I just finished in the spring, a mother of five said to me, 'You tell us things we need to hear and make them funny, so we'll listen.' A 23-year-old boy said, 'You make me look forward to getting old.' Comments like that are pretty darn nice to hear. That's the heartwarming side of it and no one would have imagined that comments like these would come out of something as crazy as Red Green."
For anyone unfamiliar with the comic performer in the plaid shirt best known for his close relationship with duct tape ("the handyman's secret weapon"), the sitcom/sketch comedy series featuring Steve's alter ego, Red Green, parodies home improvement, do-it-yourself and outdoors shows. Set in the fictional town of Possum Lake (near Port Asbestos), the not-so-handy handyman given to taking disastrous shortcuts, is president of the local men's club, the Possum Lodge, where he and fellow club members run a cable television show.
"The Red Green Show" was first broadcast on CHCH-TV, Hamilton (the town where Steve and Morag, his wife of 53 years, have lived for more than three decades) and after stints with a couple of other stations, moved to CBC television and was also aired on some 90 public broadcasting stations in the United States. More recently, episodes have appeared on the Comedy Network and spread across the Internet.
Steve originally developed the persona of Red Green for the sketch comedy "Smith and Smith," in which he and Morag starred for six years from 1979 to 1985. The "Smith and Smith" series was turned into a family sitcom, "Me and Max" to include their two sons, Dave and Max. (As adults, both are now involved on the technical side of the family's umbrella company, S & S Productions.) In the next broadcasting season, the Smiths returned to the sketch-comedy format with The Comedy Mill, which aired until 1991, when The Red Green Show hit the airwaves.
Red Green had been a recurring character in the earlier shows as the eccentric Uncle Red. The positive response to the handyman persona encouraged Steve, as writer and producer, to develop a show with Red Green as the focal point and title character. As noted in the Canadian Encyclopedia, the result was that Red Green became "one of the most enduring characters in Canadian television history."
During its lengthy 300-episode-15-year run, "The Red Green Show" collected 27 Gemini nominations, winning for the best comedy program in 1998. Steve, as the producer of S & S Productions (with Morag, who retired from performance with the advent of The Red Green Show), also won awards for best variety series with The Comedy Mill in 1989 and received the Earle Grey Award from the Academy of Canadian Cinema and Television in 2005. That year, he was also awarded the Order of Canada.
While the iconic comic character that Steve developed was the catalyst for the many awards and his enduring fame, his own life is very different from Red Green's. For example, Steve drives a silver Bentley, once lived on a massive houseboat and owns properties in Hamilton and Florida. In addition, he and his family play golf together regularly — and it is very difficult to imagine Red Green being at home on a golf course.
Is Steve as handy – or unhandy – as Red?
"The answer is sort of," says Steve, who spent part of his youth as a university student in engineering. A non-graduate in engineering or, later, in economics, he quips that he "thought it was only fair to leave most of it for the others who were going to need it."
Steve did complete a teaching qualification and taught elementary school before, he claims, "saving future generations of children" by leaving the profession. He also led his own band, with Morag as the lead singer, for a while before settling into comedy writing, performing and producing. Over the years, the writing has included a syndicated newspaper column, two books — We're All in This Together —Red Green, the Man Behind the Character and Vice Versa (published with Mag Ruffman in 2008) and How to do Everything — From the Man who Should Know — Red Green (2010) and a movie, Duct Tape Forever (2002).
On the handiness issue, he explains, "If you've got a machine that doesn't work — a car engine that won't run or some problem that needs to be fixed because you have an emergency, then I'm your guy. But if you want to redo your kitchen or put in a nice-looking screen door to make the place look pretty, I'm not your guy. I just make things functional." In answer to the inevitable question about whether he resorts to duct tape, he admits to its use as required, but probably on far fewer occasions than Red would use his weapon of choice.(Appropriately, the Red Green North American tours are sponsored by duct tape manufacturer 3M. Red Green has been the ambassador of the 3M product since 2000.)
Given that since Red Green retired from the regular television series in 2006, Steve has taken Red on the road for several tours — the Wit and Wisdom Comedy Tour in 2010, the How to Do Everything Tour in 2013-2014, the I'm Not Old, I'm Ripe Tour in 2016, and now the This Could Be It Tour — is this the end of Red's and Steve's road tours?
"Yes," Steve answers instantly, adding, "Did I take too long to answer? I'm not a great businessman, but I have a sense, an instinct as to when it's time not to do that anymore."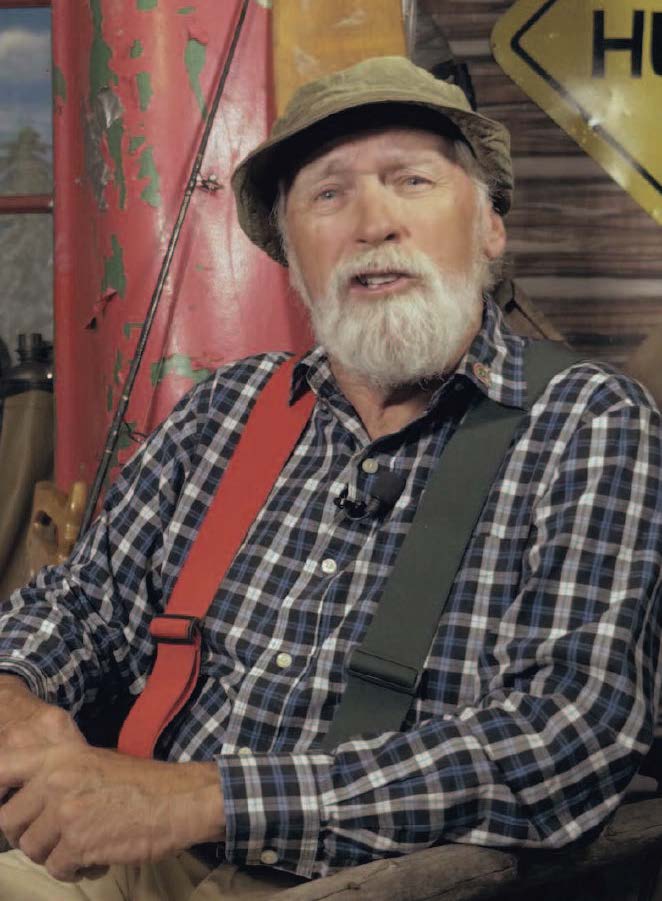 That instinct kicked in most successfully many years ago, when budgetary issues at CHCH forced the cancellation of The Red Green Show at the station in 1993. That was when Steve bought all the rights. It was through the family umbrella company, S & S Productions, that the series was eventually syndicated, then broadcast nationally across Canada and later across the U.S. as well.
Now a 73-year-old grandfather, and trusting the sense of timing that has proved so reliable in the past, Steve says, "I did a U.S. tour in the spring and it was absolutely right to do the tour and absolutely right in my mind for it to be the last one. So, This Could Be It is going to be the last Canadian tour. And it must be right to finish in Canada. That's where I started and that's where I live."
But, he emphasizes, this does not mean that he intends to retire. "I can't retire until my brain stops and it's not stopping yet," he says. "I need a creative outlet. If I don't have one, I just start annoying my friends, so I need to share that burden with an audience somehow."
"Touring is not going to be it," he continues. "Television is not going to be it. I don't know what it's going to be. Twenty years ago, I would have done a newspaper column. In fact, I did. I had a syndicated newspaper column for four years. I know I need to do something. I don't want an obligation to do anything, but I also don't want an obligation to do nothing. I definitely will do something. So, stay tuned."
This could be it for Red Green —or not.
The Earle Grey Award
The Earle Grey Award is a Lifetime Achievement Award presented by the Academy of Canadian Cinema and Television.
The award is given in recognition of an actor's body of work in television, or for a major contribution to the international profile of Canadian television. (It may be presented to an individual or to a collaborative team.)
The Earle Grey Award is named after the first president of the Toronto Alliance of Canadian Television and Radio Artists (ACTRA) branch (not former Governor General Earl Grey).
Red Green Aphorisms
If the women don't find you handsome, they should at least find you handy.
If it ain't broke, you're not trying.
Reasons for not marrying a second time: She's marrying you…[because] she thinks you'll change for the better. Things don't get better as they get older. Look at your truck. Look at the roof. Look in the mirror.
Reasons for not visiting a physician: I know I'm dying. I'm either behind schedule, on schedule or ahead
of schedule. The top end of the visit is status quo and the only potential is negative, so that's why I don't go.
You may have to grow old, but you don't have to mature.
When the going gets tough, switch to power tools.
I'm a man, but I can change, if I have to, I guess.
I'm pulling for ya. We're all in this together.
Keep your stick on the ice.
"This could Be It" – Red Green's tour dates across Canada
Ontario
Sarnia, October 11
Belleville, October 15
Ottawa, October 16
Kingston, October 17
Blyth, October 19 (second show added)
Kingsville, October 20
Brantford, October 22
London, October 23
Kitchener, October 24
Lindsay, October 25
Peterborough, October 26
New Brunswick
Fredericton, October 28
Nova Scotia
Halifax, October 29
For location details and tickets, see redgreen.com/on-tour