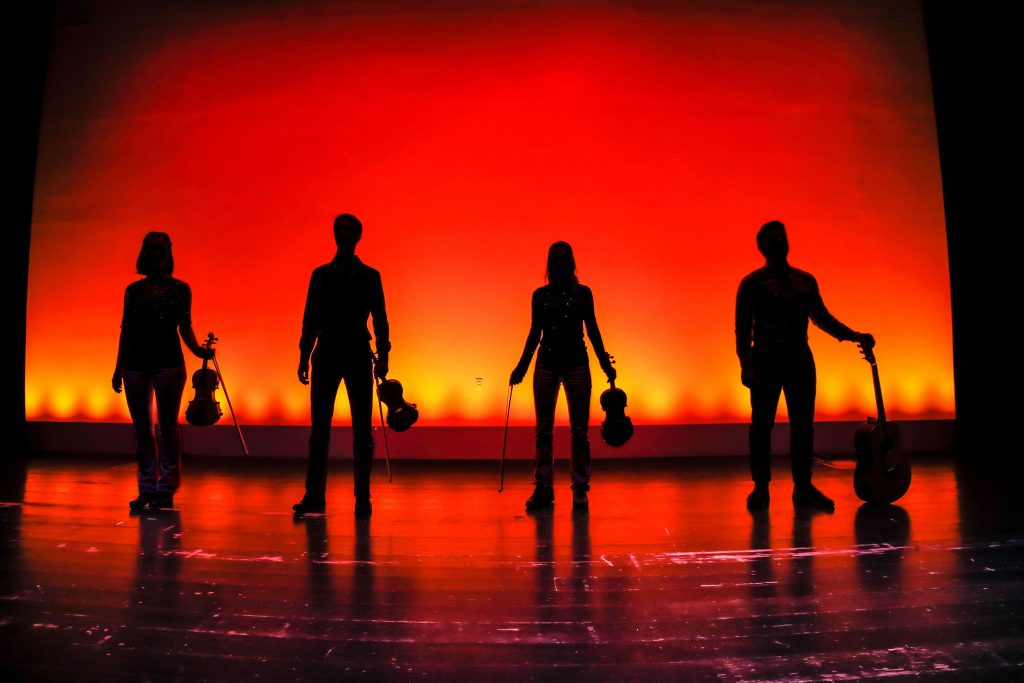 Profile
By Iris Winston
Photos courtesy of Fitzgerald Music
Building their own musical traditions of original dance and novelty fiddling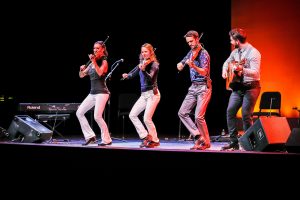 As the legendary movie star Judy Garland sang in the early version of A Star is Born, she "was born in a trunk in the Princess Theatre …".
That's not quite how siblings Tom, Julie and Kerry Fitzgerald began their stage careers, but it's close.
Growing up as part of a musical family, the three, together with their older brother, Pat, were already seasoned performers and award-winning step dancers when they were very young. By the time they were around nine years old, they were regular members of the family band, Everything Fitz, headed by their parents, Paddy and Pam Fitzgerald on bass guitar and piano respectively.
"Step dancing came first," says Julie. "And then, when we were all around six or seven years old, we picked up instruments and started performing."
A couple of years later, the youngsters, by now winners of various step dancing competitions, were playing the piano, she adds. "We actually played classical piano. Then, we started the fiddle and, from there on, picked up other instruments like the mandolin and guitar along the way. We grew up competing in fiddle and dance contests throughout Ontario. We did a lot of group step dancing, which puts the emphasis on really being together, and that has become our forte. Now, Tom also does some singing in our show. It's been a long journey with lots of instruments."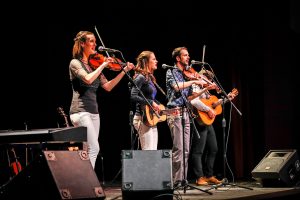 A key point in that journey involved extensive touring, both nationally and internationally, since 2005. This meant that while Julie and Tom were studying music at Humber College in Toronto and Kerry was at Western University, completing a double major in Kinesiology and Foods and Nutrition, they were periodically absent because of their touring commitments.
"When I was in third and fourth year, I sometimes had to take time off for touring," recalls Julie. "I was teaching too, so it was teaching, performing and school all at once. I didn't have time for partying."
The incredibly busy schedule did not impair the quality of musicality and performance, point out many others in the industry, such as Natalie MacMaster.
"The Fitzgerald family are standout musicians in our Canadian music industry, but more importantly in the longstanding Ontario fiddle and step dance traditions," commented the Cape Breton fiddling star in describing Everything Fitz. "I think together they are a beautiful blend of gorgeous fiddle music, and toprate, absolutely exhilarating, dance routines."
Rooted in Canada's old-time fiddle tradition, the Bancroft-based fiddle and step dance ensemble combines a variety of musical styles in eclectic programming that delivers Celtic, bluegrass, western swing, French Canadian, pop, jazz and novelty items in its precisely choreographed and accurately presented step dancing routines.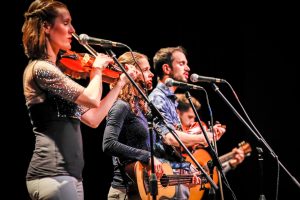 Julie, Tom and Kerry, all champion fiddlers and award-winning step dancers, have extended their dance routines to include other dance variations, such as tap and Irish dancing, both as part of Everything Fitz and more recently as The Fitzgeralds. The threesome may add a guitarist or guest performer to their shows
— their mother, Pam, for example, joined them as a special guest on piano for a gig in Las Vegas (just before the global virus COVID-19 hit).
"About two years ago, we changed over to the three siblings as the core group, "says Julie. "Our parents are not performing as much anymore, although we still occasionally do performances as the full group."
Brother Pat, a pedorthist, is no longer a regular performer either, although he is still involved as the provider of custom orthotics for his siblings. All three, wear orthotics in their shoes, as "one more step to protect the feet" during their energetic dance routines, says Julie.
Julie, Tom and Kerry, all three-time Canadian Grandmaster fiddle champions and Ontario Open Step Dance champions, combine intricate harmonies, solo improvisations and carefully synchronized step dancing routines with original melodies. They also include such novelties as turning the fiddle with strings down, while playing and dancing (a Kerry specialty),or Julie seated
to dance with a fiddle on each shoulder, while her sister and brother draw their bows across the strings in one of their upbeat melodies.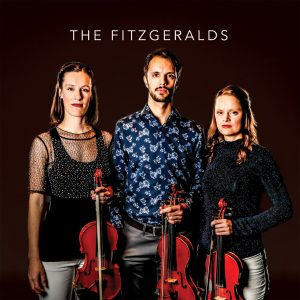 Julie, who won the Ron Collier award for musical arrangement, while studying for her music degree at Humber College, says that the trio plan to continue performing and developing their sound with more original material and arrangements. Vocals from brother Tom, who also holds a degree in music from Humber College, have added another element to The Fitzgeralds' shows, points out Julie.
"We get a lot more radio play on folk and Celtic stations with the vocals. And we're doing a lot more original music that still has ties to the Celtic music we grew up playing. And what we learned through our music classes definitely helps in creating more interesting arrangements with a more professional sound. We have a lot of musical influences. Some of the sounds are familiar, but we are also reaching out and doing more on our own and that's really exciting."
To add to the excitement, the trio has just chalked up another achievement.  Their album, entitled The Fitzgeralds, has been nominated for a 2020 Canadian Folk Music Award, in the Instrumental Group of the Year category.
While the three come together for rehearsal and performance, they all have numerous different projects on the go. Kerry, now based in Toronto, has developed Fiddle-beaTZ, which mixes Celtic sounds with electronic pop music. Kerry also teaches, writes, arranges and produces electronic arrangements of original fiddle tunes. She has already produced one album and two singles on this theme, the most recent entitled Beauty & The Beatz. (Visit kerryfitzgerald.ca for more information.)
Tom, now based in New York, is currently working with another Celtic-style musical group, Runa. Like The Fitzgeralds, Runa, which just celebrated its tenth anniversary, presents eclectic styling, combining the traditional music of Ireland and Scotland with modern music such as folk and jazz and even flamenco. (His website is tomfitzgeraldmusic.ca.)
Julie, who sometimes performs in a singing duo with her fiancé, Michael Debono, used to do a considerable amount of teaching both fiddle and step dancing in Peterborough and Bancroft. She has now moved into teaching online at juliefitzgerald.ca. "This is the first site of its kind where you can learn Ottawa Valley step dancing," she says.
These are just some of the ways in which The Fitzgeralds are putting a personal and spirited stamp on a traditional form of entertainment.
Fiddle Music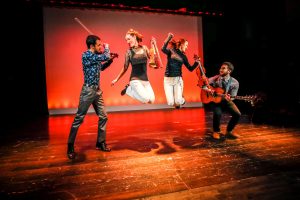 Since the fiddle arrived in Canada in the 1680s with Jesuit priests in Quebec, fiddle music has been a part of Canada's history.
Fiddling is also known as country, folk, Celtic or old-time fiddling, and old-time music.
It is sometimes referred to by cultural or regional names, such as Scottish, Cape Breton, Ukrainian Canadian, French-Canadian, Acadian, Newfoundland, Ottawa Valley, Down-East, Aboriginal, First Nations, Inuit or Métis fiddling.
Until about 1960, fiddling was the principal medium of dance music in rural Canada.
Its continuous history, together with past and current practice and the way it has mirrored the cultural development of Canada since the beginning of European habitation, defines it as our premier instrumental folk tradition.
Many Scottish, Irish, English, French and American tunes which first came to Canada in the 18th and 19th centuries are still widespread in various forms, often modified by local practice.
This early repertoire formed the basis of fiddle traditions that eventually extended throughout the country, passed along almost entirely through oral tradition.
The tune repertoire has been augmented by new immigration, original composition, and, in the 20th and 21st centuries, by electronic media and written notation. Changing performance contexts from dances to contests and concert performance, as well as formal instruction, have also affected many aspects of the music.
Canadian step Dancing
Step dancing is defined as: "A fast-paced, rugged and energetic style of dance usually performed to traditional fiddle music and requiring limited surface movement. The dance is concentrated of footwork involving limited hand and arm motion. Step dancing requires a board with a hard, smooth surface, character shoes, with special clickers at the toe and heel, and music."
Canadian step dance has developed from the blended influences of early settlers, particularly those from Scotland, Ireland and France.
The three different types of step dance performed in Canada are from three different regions: Cape Breton in Nova Scotia; Quebec; and the Ottawa Valley.
• Cape Breton style involves dancing with straight arms, stiff upper bodies and quick repetitive footwork.
• French Canadian style involves intricate footwork and relaxed, usually immobile, arms.
• Ottawa Valley style includes variable steps danced high off the floor and flowing arm movements.
• Canadian step dancing involves fast dancing to fiddle music, often in very small spaces.
• The taps on the dancers' shoes accentuate the rhythmical drumming of the foot movements.
The traditional dance form continues to evolve as dancers imprint their own signatures on the art form — just as The Fitzgeralds have done.