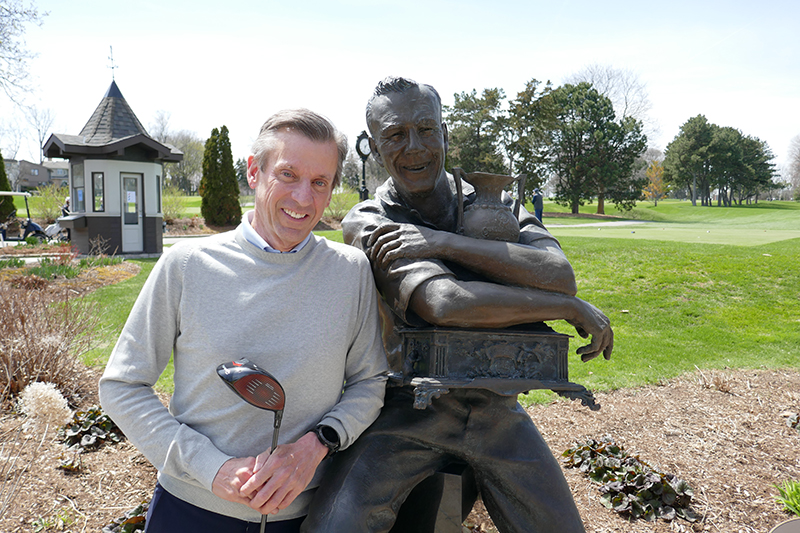 Nice Guys Do Finish First
Profile & Photos By Jennifer Hartley
To anyone in the golf or curling world, Bob Weeks is royalty. From early days as curling correspondent for the Globe and Mail and editor of the Ontario Curling Report, to today's gigs as national co-host of Golf Talk Canada on TSN, writer for TSN.ca and radio commentator, Weeks has been bringing golf and curling stories to life for more than 30 years.
His list of accolades is long. An inductee in both the Canadian and Ontario Golf Halls of Fame and the Canadian Curling Hall of Fame, Weeks is also the recipient of lifetime achievement honours from Golf Canada, the PGA of Canada and the Golf Journalists Association of Canada. As winner of countless national writing awards and a three-time winner of the Scotty Harper Award for the top curling story in Canada, his face is one of the most recognizable in both sports in Canada.
In short, Bob Weeks is a sports writing legend.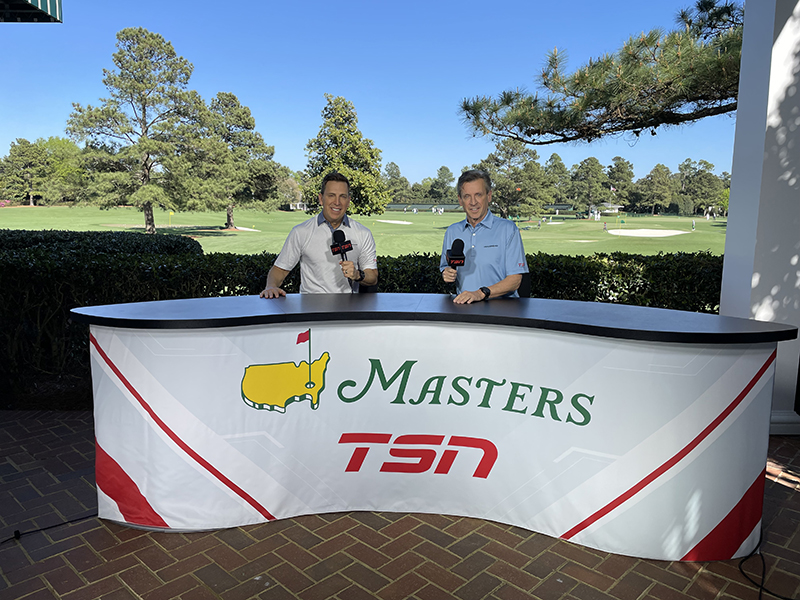 Shy Guy
For somebody who regularly reports from top tournaments,(he has covered more than 80 major championships around the world) on national television, he is actually a bit timid. "I find it easier to talk to 500 people in a room or being onscreen. There might be tens of thousands watching and that doesn't bother me but one-on-one, talking to one person? That is intimidating. The pressure is on!" he jokes.
He is a gentle, kind soul. While it may be instinctual, it is also something he learned early in his career from, of all people, golf superstar Arnold Palmer.
In 1955, the reigning U.S. amateur champion came to the Canadian Open and captured his first PGA Tour event at the Weston Golf & Country Club (WGCC) in Toronto. Weeks grew up knowing that and as a young journalist wanted to interview the golf giant. He tells the story of how he nervously entered the room to meet one of his heroes, not sure how things would go, only to be warmly greeted and put at ease by the golf icon. The experience stayed with Weeks, who emanates that same warmth with everyone he meets. (Today, the WGCC is Weeks' home
base.)
Another one of his defining characteristics is his strong connection to his family and roots. He grew up in a family of curlers and made it to the Ontario Winter Games junior championship, but felt his curling success was not going to come from playing. "So I started writing about it. I wrote for a little paper but then was hired by the Globe and Mail and went on to
write four books on curling. That is a passion for sure."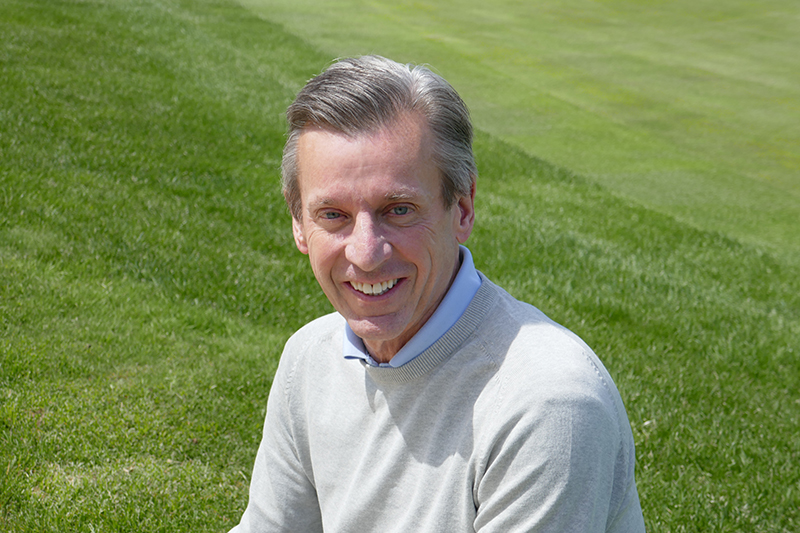 That passion for writing transferred into reporting on golf. "They go together in terms of seasons. [Weeks' great-grandfather was one of the founders of the first golf course in P.E.I., from where the Weeks family hails.] From there, I was hired for a golf magazine and I felt so fortunate that I thought I had actually won the lottery, as opposed to handing out the cheques like I did before," he says laughing. The magazine branched out and started a TV show that Weeks joined. "That first foray into TV was hard. Going from writing 1200 words down to 30 seconds on air was
really difficult. Thankfully, the feedback was pretty good." In fact, it worked very, very well for him and his career took off. He remains a versatile journalist, though he does more broadcasting now. "I love all mediums equally and they all take different skills."
Part of his success comes from his drive and joy on the job. "I wake up every day and I think about how can I have fun today? I don't think about having to work." That said, the excitement of witnessing Mike Weir win the Masters or Brooke Henderson claim victory at the Canadian Women's Open makes his job a little easier. He says he is always trying to find a new story, a new angle to share with viewers and readers. "It's a great challenge and keeps me doing the best I can."
Funny moments on the job? "I have a ton of those." He once interviewed a person thinking they were the skip of the Saskatchewan team at the Brier and about two-thirds into the interview realized it was the skip of the B.C. team.
"Another biggie was when I was the M.C. at the prize tournament for a big golf tournament, not the PGA but one below, and completely forgot
the winner's name. I stopped and had to ask him. He went on to become a famous golfer, so I am not going to say who it was!"
Since that first Palmer meeting, Weeks has had the opportunity to see the star a number of times. Fifty years after that Canadian win, Palmer was
celebrated at the WGCC where a statue of him holding the trophy was erected. Weeks tells the story of how, a few months after the festivities,
when the course closed and winter arrived, his father went out and put a winter hat and scarf on the statue, took a picture and sent it to Palmer's
office. He never expected to hear anything, but a letter arrived a few weeks later. It read: "Dear Bill: I got your photo and smiled. Thanks for taking the time to make sure I stay warm in the winter. Yours very truly, Arnold Palmer."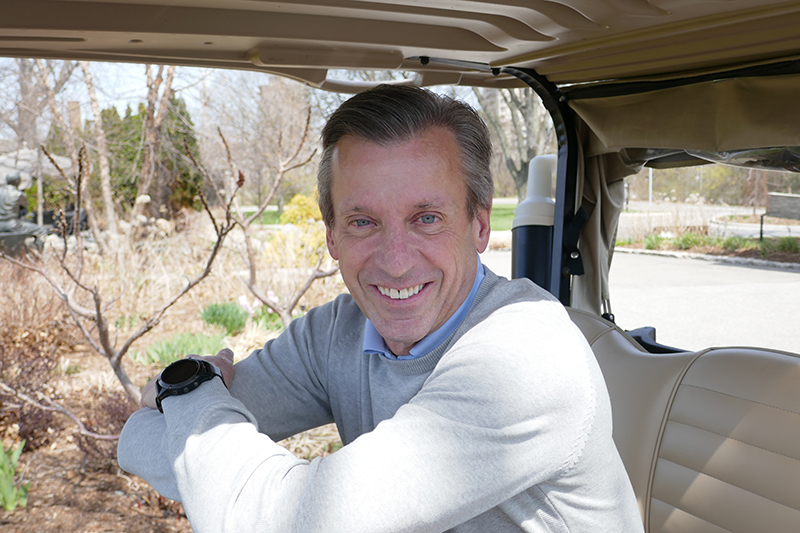 What Weeks Reads
He may be a journalist and author, but he is also a voracious reader. Self help books (Seven Habits of Highly Effective People is one of his favourites) and military history tomes are his go to choices. "I love reading and looking back in time to see how battles were won to understand war efforts and great Canadians' contribution."
One of those great Canadians is his grandfather. Weeks lights up when talking about him. Born in PEI, he was in the militia and as soon as the First World War was called, he signed up. He went to Vimy Ridge and after the war he stayed in the military, working his way up to become a general. He oversaw the demobilization of the Second World War in Canada. He lived into his 90s, so Weeks had the chance to really spend time with him. "He was, and will always be, my hero."
Big Heart
Not surprisingly, Weeks' kindness spills over into volunteering. He dons a moustache for Movember and works with VIMY Foundation, an organization dedicated to keeping Vimy Ridge history alive. "What happens when we are all gone, how will the First World War be remembered? It is worth preserving and talking about and teaching kids."
He also lends a hand to the Daily Bread Food Bank in Toronto. Giving back is a natural extension of one of his mantras: gratitude. "Live your life with gratitude. It is the most important thing you can have." He learned this from his family. "When people are kind to you—and it doesn't need to be a big thing, even just a smile, I am thankful. It took me a while to get here but it is critical."
He has realized there is more to life than stockpiling things. "You don't have to have the most money or the biggest house. There are so many things that are not material that matter. How to be satisfied has been the best thing to learn. I have settled into a nice part of my life and I am very comfortable with who I am."
Weeks' modesty is genuine. When asked about one of his biggest surprises, he says it was a call from Sandra Post. "She is one of the greatest golfers Canada has ever had and she called me to say I was being inducted in the Golf Hall of Fame. I thought I was dreaming. I never thought I was that kind of material."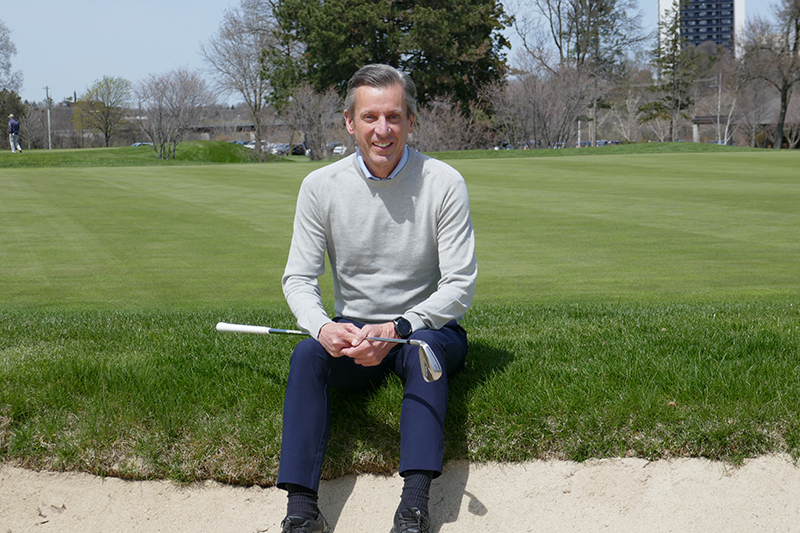 Time to Play
As someone who travels 120 days of the year, COVID brought his life to a halt. If there had been a competition for completing New York Times crossword puzzles, he would have won, he says. He also picked up his guitar. "I decided I wanted to learn how to play a lot better."
Oddly enough, the pandemic allowed him to hit the links more. "I play nine holes with my 90-year-old dad every week. I went through a period where I didn't like playing because I was frustrated but I am back at it. I realized I was putting too much emphasis on my score instead of focusing on the experience and now, I just go and golf and have a good time." He also has a weekly game with an eclectic bunch of guys that includes Bob Rae (when he is around), Bill Fox, Allan Gregg and other political types. Turns out Weeks is a bit of a political junkie too.
COVID also provided lots of time for another of his passions: marathon running. Thankfully, that doesn't stop him from enjoying treats. "I love dessert. I don't smoke or drink too much but boy do I like chocolate chip cookies and those giant bags of Cheetos. Those are my weaknesses. That is why I have to run."
Here's an unexpected pleasure. "I like magic tricks. My son is good to the point he was doing cocktail parties. But I don't have that talent (the rabbit would die waiting to be retrieved out my hat!) but I have seen the best of them like David Copperfield, Penn and Teller. It sounds corny, but I would like to learn to do some of those tricks. So guitar and magic tricks are on my learning wish list. But not together."
What's next on his agenda? "I want to travel and see the world now that we can travel again. I have a ton of books I want to read. I am always interested in learning—I am curious about everything."
As a transplanted Islander, the wish to be near the ocean runs through his blood. "I want to move to a small place on the East Coast. I would like to retire, see the ocean, have a dog, run on the beach and play golf in the afternoon." Sounds like a good plan. But there is more going in that active brain of his. "I think I have a novel or two in me. I am a broadcaster or writer who covers golf. I like to think I could switch and write about something else."