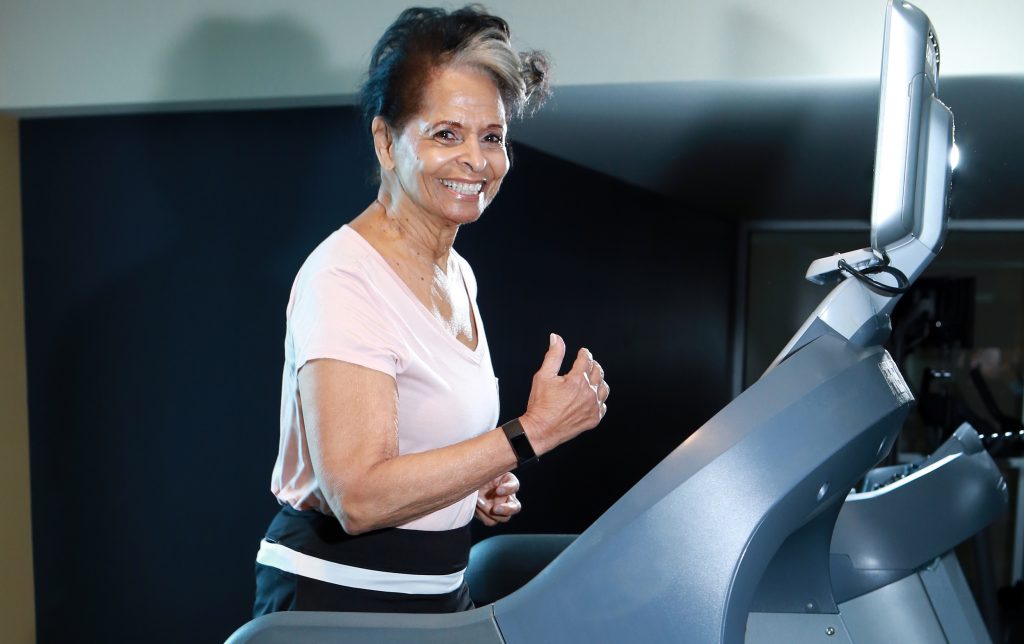 By Beka Shane-Denter
Betty's sage advice
Betty Hope-Gittens has presence. From the natural sweep of white that swoops through her dark hair to her positive and endless energy,
a conversation with one of Ottawa's renown philanthropists leaves one feeling like they can take on the world. At 81, she has the presence and grace to match. Here, she shares her words of wisdom.
Beka Shane Denter: What was your inspiration in taking on the most popular Christian Pilgrim Route in the world?
Betty Hope-Gittens: In the fall of 2017, the charity that is dear to my heart, The Eldercare Foundation of Ottawa Board of Directors met to
discuss the need to raise funds. I started to think, what can one person do? Being a woman of faith and knowing that true faith responds to the needs of others, I thought about how I could find a way to respond to those needs — needs that we saw in our 13 not-forprofit, long-term care homes, right here in Ottawa. By the Spring of 2018, I knew what I was going to do — walk the 800 kilometre Camino; but by then, I had increased it to 14 homes, the 14th being The St. Philip's District Hospital in Barbados, my island of birth.
BSD: What kind of training did you do to prepare?
BHG: I did not train specifically for "the walk" simply because I have been walking daily for the last 45 years. I walk from my home on
Riverside Drive to the ByWard Market once a week and have been doing so for many years in the spring, summer and fall. Ottawa is so
beautiful and has so many walking paths! My set path was through Mooney's Bay Park, into Hogs Back and then into Vincent Massey Park,
along Riverside Drive to Bank Street. Bank to Riverdale, then on to Echo Drive to Sussex and finally the Market. I do other walks to the
Lower Aylmer Road, to the Airport, to the Fallowfield Train Station (I did this last walk three times to meet my late husband). I prefer to walk to wherever the engagement takes me.
BSD: How did you manage such a long journey?
BHG: I was away from Ottawa for 40 days. It took me 36 days to complete the walk. I did take two rest days one in Burgos and the other in Leon. In 2017, I [was joined] by Gordon and Chris and we became friends. When they heard that I was going to attempt an 800 kilometre walk, they agreed to accompany me for the first 12 stages of the 33 stages. They were the best companions one could ask for.
BSD: Can you please describe a memorable moment during the walk?
BHG: The entire trip was one huge memorable experience! For one specific moment, day 17, with 19 more days to go stands out. It was May
8th. I labelled it "the Good Riddance Day."The weather was horrible. It was only a 17.3 kilometre day, but it took me four hours. It was the rain, the damp, the cold wind at gusts of 85 miles per hour — so I was told by Chris, a pilgrim from the U.K. with whom I was walking at the time. He had his glasses blown right off his face! It was not even rugged terrain; it was just one long gravel road from Carrion to Calzadilla with absolutely no shelter, no wind breaks, no let-up and a ton of snails on the path. We saw it push a cyclist into the ditch. Covers on knapsacks were flying off. I could see a pilgrim who had overtaken me, swirling around and around. He had the all-in-one knapsack cover and rain jacket. I offered assistance. I was able to pull down, from way over his head in the air, this all-in-one cover and hold it down till he was able to find the two ends and zipper himself in.
BSD: You're known to be very generous with your time and efforts in pursuing philanthropic endeavors. What organizations and causes are currently close to your heart?
BHG: My calling is working with less fortunate seniors. I worked for an international charitable organization for 25 years and another for 10 years. Now I want to concentrate on two places, Ottawa and Barbados. That way, I can see the effects of the work that has been accomplished as a result of our donations. It's very important that donors know where their money is spent. The Eldercare Foundation of Ottawa is my charity of choice. In the last two weeks of September 2019, various board members and I delivered 13 cheques of $10,000 each to the 13 not-for-profit long-term care homes here in Ottawa. I had said at the outset, that if we received over $130,000 in donations (for "Betty's
Walk" as it was called), I would give that to each home as my 80th birthday gift to them. In Ottawa we did raise just over $200,000. In Barbados, we raised $25,000. At this time, I can't even put a figure value on the "work in kind" which has been graciously offered by the islands' largest hotel, The Crane Resort. Canadian owner, Paul Doyle, could not be more supportive. He has offered the services of his construction crew to paint, to repair roof leaks, to improve ramps, to make the entrance accessible for fire trucks and much, much, more.
BSD: How do you decide which organizations to work with?
BHG: Having had experience working for large charitable organizations, I now like working with The Eldercare Foundation of Ottawa. It was started in 2008 by a local young man, Adam Nihmey. We have no staff, no bricks and mortar; only six board members and all meetings are held either in my kitchen or that of another board member. So just about every penny donated goes directly to the needs of the home.
BSD: How do you manage your time? Between your long walks (I've heard rumours that you sometimes walk up to four hours a day) and work with local charitable organizations?
BHG: I'm an early riser! I'm in the gym in my condo at 4:45 a.m.Monday to Friday and on the treadmill for 65 minutes. In so doing, I knock off 9000 steps before I'm back up in my condo to hear the 6 a.m. news. Medically, one is supposed to do at least 10,000 steps a day. I then have all day to 'walk' outside for fun, meet friends for coffee or to other meetings.
BSD: Who inspires you?
BHG: I'm inspired by my unfailing faith in God. HE was with me every step of my way on the Camino and HE continues to provide my daily Strength, Courage and Confidence.
BSD: What advice would you offer someone looking to get involved in working with a local charitable organization?
BHG: I would suggest that they decide what end of the spectrum they would like to offer their services — children, seniors, the abuse sector, the homeless, animals. There is so much need, one only has to look around and have a real desire to help.
BSD: You show no sign of slowing down. What adventures await you in 2020?
BHG: I would say, more of the same. It's our hope that in 2020, we have another Betty's Walk, however, this one will be here in Ottawa. We're planning to have all the 13 not-for-profit LTC homes participate; each one having a team representing the home. Needless to say, there is much excitement about Betty's Walk 2020.
Beka is a Canadian features and content writer. Her work has appeared in FASHION, ELLE Canada, Today's Parent, Women's Surf, Style Magazine, LUXE and Ottawa Wedding.
Beka was introduced to Betty through Betty's son, Simon, a friend for many years. Every encounter with Betty is inspiring, says Beka.
___________________________
Read: A Pilgrimage to Help Others
By Iris Winston