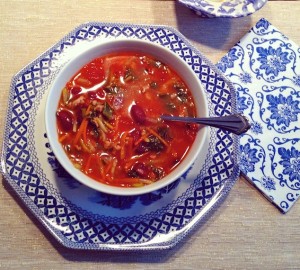 There's nothing like soup to warm you up after a session of skating, sliding, skiing or walking Fido in the wintery outdoors. This easy soup recipe is packed with nutrients and wholesome goodness. It's kid-approved and a cinch to modify too. Switch up the vegetables to include you're family's favourites. The bonus? This bowl of goodness contains pulses (black beans)! Did you know the United Nations has declared 2016 as the Year of Pulses?
Chicken, Spinach and Black Bean Soup
1 medium onion, diced
2 garlic cloves, pressed
2 boxes of salt-free chicken broth
1 28 oz can diced tomatoes
1 lb extra lean ground chicken
3 cups 4x-washed spinach, shredded
1 can black beans, rinsed and drained
1 12-oz bag of shredded carrots, broccoli stalks and red cabbage.
Spices, to taste.
Method
Sauté ground chicken with smashed garlic and onion, until cooked through. Drain. Then, with a wooden spoon, break up the chicken so that it's crumbled.
In a large saucepan, over medium low heat, warm the canned tomatoes and boxes of chicken broth. Add the ground chicken mix and blend. Stir in the black beans. Next, toss in the spinach and shredded vegetable mix. Season to taste and simmer until the shredded carrots and spinach are cooked. Enjoy!