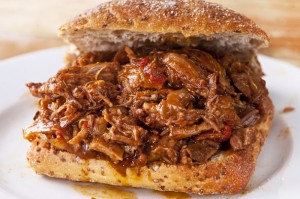 It's perfect weather to get out the crockpot and let something yummy simmer all through the day. This versatile version of roast beef is super easy and always a hit, especially on cold days like these.  Prepare it in less than 10 minutes, stick it in the crockpot  to cook for the day – and you're done.
Crockpot Shredded Beef is great on a cold day
Ingredients

▪  1 3 to 4 lb boneless beef roast
▪  1 cup beef broth
▪  ½ cup balsamic vinegar
▪  2 tablespoon Worcestershire sauce
▪  1 tablespoon soy sauce
▪  1 tablespoon honey
▪  ½ tsp red pepper flakes
▪  4 cloves garlic, minced or pressed
Place roast beef in the crockpot. In a two-cup measuring cup, mix remaining ingredients. Pour over roast beef and set the timer for the crockpot. (Four hours on high or 6 to 8 hours on low.)
Once the meat has cooked, remove it from crockpot and place it in a serving dish. Shred with two forks and pour the sauce over top. You can also serve the sauce at the table.
The beef is great on crusty buns with oven-baked sweet potato fries and a salad on the side.