by Gay Cook
In the heart of Alexandria you will find a small, unique restaurant, cookery school and catering company all in one. The open-kitchen concept at The Quirky Carrot is set in the centre of the café. This is where all the action takes place; where staff members produce delicious cuisine and baked goods in a cosy, friendly atmosphere.
Julie Graham is the owner and operator of the café. She grew up in Montreal, but fell in love with Alexandria — so much so that she turned an empty building into The Quirky Carrot. Julie does not use any white flour or sugar in her baked goods, but includes whole grains. As a sideline, Julie developed the cooking school and catering company, all of which is located on the premises.
Julie's motto is: If you ate here today, thank a farmer! "Our goal is to have a kitchen community which focuses on fresh, natural ingredients.We strive to use only local ingredients wherever possible and we are proud members of FeastON," says Julie. FeastON is an Ontario program that recognizes qualified Ontario restaurants' commitment to supporting partnership, procurement, and joint participation in food production.
To help increase guests' appetites at The Quirky Carrot, the food is made from locally-grown and produced ingredients and served with a smile. It's the perfect place to sip aromatic organically grown fair trade coffee called Café par Joël, which is supplied by a local roaster in nearby Rockland.
Out of the kitchen comes freshly made soups, including an absolutely delicious pear and squash soup. Other mouth-watering offerings include scones, pastas, sandwiches, and risottos, topped off with fresh winter or summer salads, cookies and cakes.
A freezer cabinet contains take-home frozen entrées. I had the opportunity to view the freezer on my visit and was amazed by the selection: chicken on a bed of brown rice; a beautiful lasagne dish, and south western chicken chili with black beans and peas.
The Quirky Carrot
1 Main Street, South
613 525-2229 www.thequirkycarrot.ca
Monday to Friday: 7:30 a.m. to 3:30 p.m. Saturday: 9 a.m. to 2 p.m.
(Cooking classes are held Thursday evenings)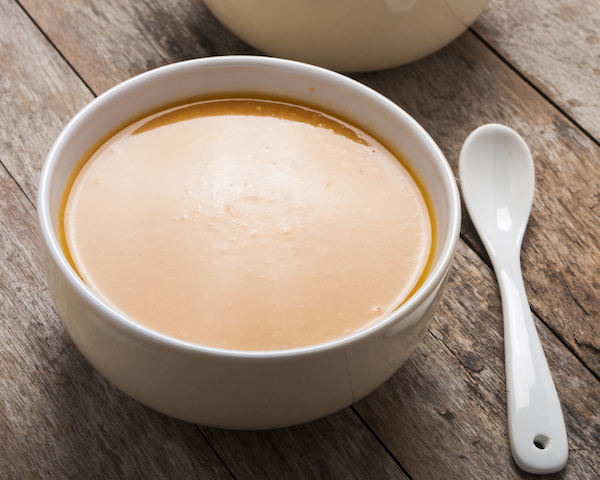 Pear and Butternut Squash Soup with Vanilla Cream
Serves six to eight
1 large onion, diced
1 leek, trimmed off root and coarse green leaves (use leaves for a stock)
2  tbsp (30 ml) coconut oil
Generous pinch of salt
3  to4 lbs (1 1/2 to 2 kg) diced butternut squash
6 to 8 ripe pears (peel away brown spots, core and chop)
Water to cover vegetables
Salt and fresh ground pepper to taste
1 whole vanilla bean, cut in half lengthwise (scrape away seeds and reserve seeds and pod)
1/3 cup (75 ml) 18% cream
1. Prepare onion and leek. Heat oil in large saucepan and sauté onion and leek with a generous pinch of salt. Cook on medium heat until vegetables are soft.
2. Add squash and pears. Toss to coat with oil. Add enough water to cover about two inches (five centimetres) above vegetables. Bring to a boil. Reduce heat to simmer and gently cook until squash is very tender.
3. Purée mixture in batches. Thin with a little water if mixture is too thick. Add half of scraped vanilla seeds to soup, along with the pod. Season soup with black pepper and salt to taste. Just before serving, discard vanilla pod.
4. To top the soup, gently warm cream in a small saucepan over medium heat. Add remaining vanilla seeds to the soup. As an alternative, place warmed cream with the vanilla seeds into a squeeze bottle and squeeze on top of each soup bowl.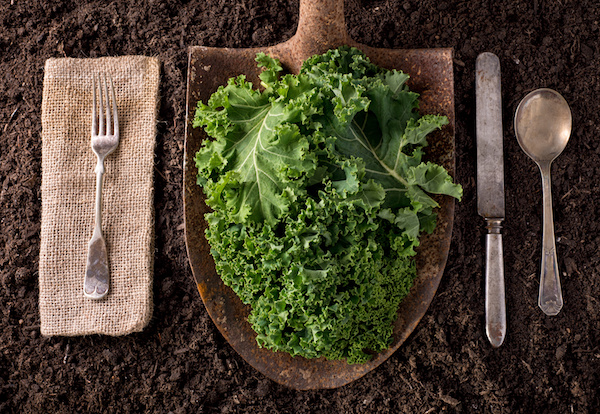 Quirky Kale Salad (house salad)
1 bunch curly kale (or a mixture of green and black)
1 tbsp (15 ml) sesame oil
Salt and pepper to taste
1/2 cup each (125 ml each) grated raw beets and carrots
2 tbsp (30 ml) raw pumpkin seeds
1 tbsp (15 ml) hemp seeds
1 garlic clove, minced
1/2 tsp (2 ml) dried basil
Juice of half a lemon
Juice of half an orange
1/3 cup (75 ml) tahini (add water to thin)
1 tsp (5 ml) maple syrup
1/2 cup (125 ml) olive oil
1. Cut away the stems of kale leaves and shred leaves with a sharp knife. In a bowl, add 1 tsp (5 ml) sesame oil to greens. With your hands, lovingly massage kale until dark green and tender. (This aids digestibility and tenderness.) Top with beets, carrots, pumpkin seeds and hemp seeds.
2. To make tahini vinaigrette, combine garlic, basil, lemon and orange juice, tahini, maple syrup, olive oil. Add salt and pepper to taste. Drizzle over salad. n
Gay Cook is an Ottawa entrepreneur, food writer and author of Mrs. Cook's Foods.