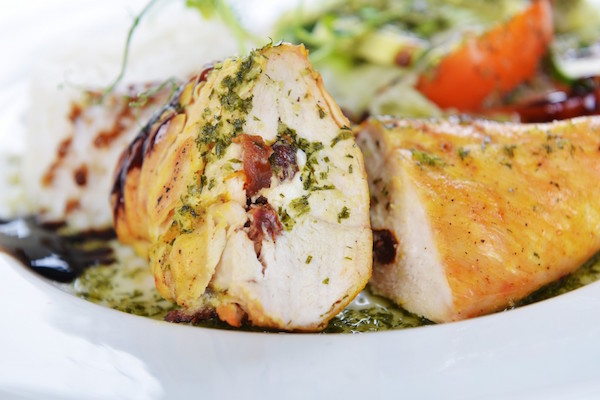 Share your recipes!
We love love love  to find out about your favourite recipes — the ones your whip up for your family and friends. We want to try them too. And to share them.
Thanks so much to reader Claire Ducharme for sharing this yummy recipe for Southwestern Chicken Roll-Ups!
As Claire says, "This recipe is fast and easy, and I can prepare it in advance for guests. Use toothpicks to secure the chicken before dredging."
Southwestern Chicken Roll-Ups
Ingredients:
6 (6-ounce) skinless, boneless chicken breast halves
6 tablespoons (about 3 ounces) 1/3-less-fat cream cheese
6 tablespoons picante sauce
6 cilantro sprigs
6 tablespoons Italian-seasoned breadcrumbs
Cooking spray
Preparations:
Preheat oven to 350°.
Place each chicken breast half between 2 sheets of heavy-duty plastic wrap; pound to 1/4-inch thickness using a meat mallet or rolling pin. Top each breast half with 1 tablespoon cheese, 1 tablespoon picante sauce, and 1 cilantro sprig. Roll up jelly-roll fashion, beginning at narrow end.
Dredge chicken rolls in breadcrumbs. Place rolls, seam sides down, on a baking sheet coated with cooking spray; lightly coat rolls with cooking spray. Bake at 350° for 20 minutes or until chicken is done.
*This recipe originally appeared in our sister publication, Ottawa Family Living Magazine. We thought you'd like it too. Please feel free to send us your fave recipes too. You can email them to pam@coylepublishing.com and we'll share them online.