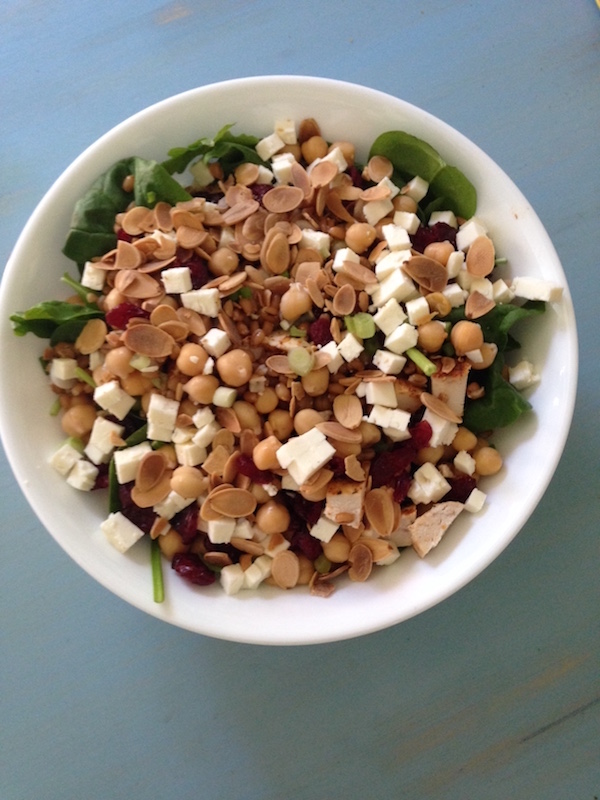 This Sweet and Salty Salad is as tasty as it is pretty to look at. It has a satisfying crunch and an appealing mix of flavours. The colour combo is perfect for Canada Day too.
Better yet, it's super nutritious. The wheat berries have a nice, nutty flavour and they add boosts of protein and fibre.
You can modify quantities to your liking and switch up ingredients, based on what's handy. Just try and keep the kid-approved sweet and salty ingredients, and you'll have a hit at the dinner or buffet table.
Sweet and Salty Salad
5 cups baby spinach or kale (or a mix of both)
1.5 cups of cooked wheat berries
1.5 cups of quinoa
1 can chickpeas, rinsed and drained (optional)
1 cup chopped, cooked chicken (optional)
½ cup green onion, finely sliced
½ cup feta cheese
⅓ cup dried cranberries
¼ cup sliced almonds, toasted
Lemon Vinaigrette
¼ cup fresh lemon juice
¼ cup extra virgin olive oil
2 cloves garlic, minced or pressed
pinch salt, pepper, sugar (optional and to taste)
Method
Add the spinach/kale to a large bowl and mix in the quinoa and wheat berries. Toss in the green onion and then mix in the chickpeas and chicken if using. Top with sprinkles of feta, cranberries and almonds. Mix dressing in a separate container and serve on the side.