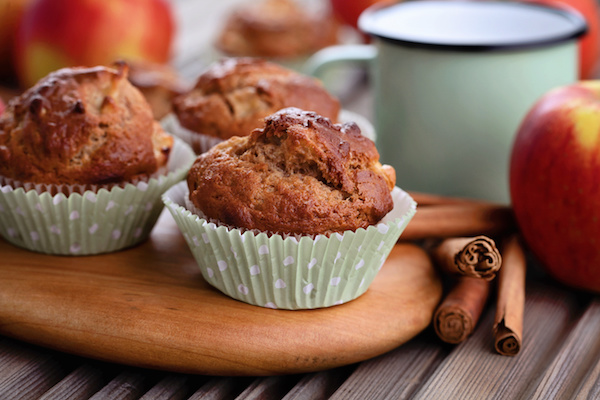 These muffins are a great grab-and-go snack. If you make them with raisins, they also work for bake sales and the like.
Apple Cinnamon Muffins
1/2 cup brown sugar
1/2 cup melted coconut oil or grape seed oil
1/4 cup molasses
1 large egg
3/4 cup apple cider
2 apples, peeled and chopped
1 1/2 cups unbleached flour
3/4 cup wheat bran
1 tbsp. baking soda
1 tbsp. baking powder
1 tsp. cinnamon
1 cup almonds, chopped
*For bake sales, you can replace the almonds with raisins.
Mix sugar, oil, molasses and egg. Stir in cider and apples.
In large bowl, stir flour, bran, baking powder, baking soda and cinnamon. Blend in the apple mix, just until moist, then add almonds or raisins.
Spoon into prepared muffin tins. Bake at 400° F for 20 minutes.