Are you hosting this holiday season? Planning special meals or get togethers with the special people in your life? These recipes will fit the bill delectably.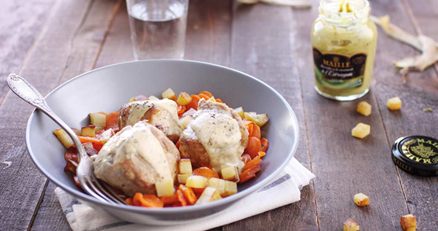 Pork Tenderloin with Maille Tarragon Mustard
Ingredients:
2 pork tenderloin (500g)
200 ml whipping cream
120 ml white wine
200 ml water
Salt, Pepper
2 tablespoons Maille Mustard with Tarragon
Side Dish
8 carrots
1 tablespoon powdered sugar
Olive oil
4 big potatoes
Salt, Pepper
Instructions:
Peel and cut carrots into thin slices. Heat oil in a drying pan. Add sugar and carrots. Cook for 5 minutes, stirring regularly. Add water to cover the carrots, season with salt and cook. Once the water has evaporated, add a small amount of water to finish cooking. Allow a total cooking time of 30 minutes. While the carrots are cooking, peel potatoes and dice into cubes. Heat the oil in a frying pan and add potatoes, season with salt and pepper. Brown them over medium heat, then reduce the heat and continue cooking, stirring occasionally. 25 minutes of cooking. Cut the tenderloin into pieces. Heat oil into a large cast iron casserole dish and brown meat on all sides. Remove the meat; add the white wine and water. Add tenderloin, season with salt and pepper. Cover and cook – 25 minutes. Remove the tenderloin again and add in cream and mustard. Mix and bring to a boil for 5 minutes. Add the tenderloin and cook for 5 minutes. Serve tenderloin with the potatoes and carrots vichy. Cover with sauce.
Maille cornichons
You can find lots of other recipes on www.maille.ca, as well as a $2 OFF discount coupon towards the purchase of any Maille cornichons.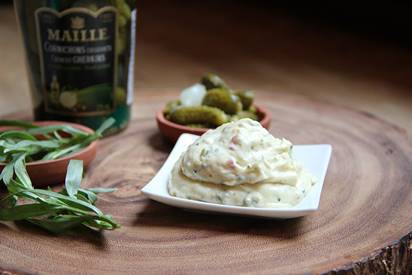 Classic Tartare Sauce
Ingredients
2 egg yolks
50 ml Maille Dijon original Mustard
300 ml canola oil
8 finely chopped Maille Cornichons
1 finely chopped French shallot
6 strands of chives
1 branch of tarragon
15 ml Maille sherry Vinegar
Salt and pepper to taste
Preparation
Chop and combine the herbs, shallot and gherkins. To make the mayonnaise, blend the egg and Dijon mustard in a food processor or blender for 15 seconds. With the motor running, gradually add the oil in a very slow stream until the mixture emulsifies. Once at the desired consistency, add the vinegar and whisk for a few more seconds. Season with salt and pepper and add the herbs to the mixture. Cover and refrigerate for 1 to 2 hours before serving.
Chef's tip
This classic tartare sauce can accompany a multitude of hot or cold dishes including fish, potatoes and meat. Serve it as a dip with in season veggies.
More options: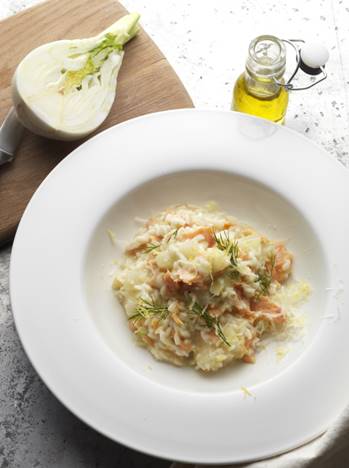 Risotto Pronto
Riso Bello's Risotto Pronto are a quick, easy alternative to risotto that takes only 12 minutes to prepare. Using only water, they are ready to enjoy but you can also add an extra unique spin to it by adding fresh vegetables and protein! Below are suggestions on how to create your custom flavor.
RISO BELLO WANTS TO SEE HOW CANADIANS ARE PUTTING THEIR OWN, UNIQUE SPIN ON RISOTTO! Home chefs are encouraged to share their photographs showing how they serve up the quintessential Italian dish to Facebook or Instagram, using the hashtag, #CookLikeNonna, for a chance to win an authentic Italian cooking class for two in Italy! For more information on the contest, visit www.risobello.com
PORCINI RISOTTO
Garnish with wild mushrooms – Stir in fried bacon strips
Serve with grilled sausages – Add some grilled peppers
Try it with strips of herb omelette – Serve with chicken
ASPARAGI RISOTTO
Add prawns 5 minutes before end of the cooking time
Stir in chopped sun-dried tomatoes just before serving
Garnish with basil leaves and grated Pecorino
Stir in small cubes of Gorgonzola & chopped pistachio nuts
4 FORMAGGI RISOTTO
Stir in peas & chopped ham
Perfect stuffing for mushrooms
Add cooked flaked smoked haddock
Serve with chopped spring onions & chopped tomatoes
Try it with cubed pears
Ideal with sliced smoked sausage
VEGETABLES
Cured ham cubes and Parmesan shavings
Grilled vegetable garnish
Mozzarella cheese cubes
Pan-fried strips of chicken breast
Arborio and Carnaroli (risotto rices for making your recipe from scratch)
FENNEL RISOTTO WITH SMOKED SALMON, SICILIAN LEMON AND VODKA
Serves 4
– 1 large head of fennel
– 75g unsalted butter
– 2 tbsp. olive oil
– 275g Riso Bello risotto rice
– 100ml vodka
– 1 onion, peeled, finely chopped
– 1 litre light chicken stock
– 50g parmesan, freshly grated
– 75g smoked salmon, chopped
– Juice and zest of 1 lemon
– Sea salt, ground black pepper
Bring the stock to a boil, then reduce the heat and simmer.
Peel the fennel, reserving any fronds as a garnish if desired. Cut the fennel in half and remove the woody centre core, then cut into 1 cm cubes. Add any trimmings to the stock for added flavour.
In a heavy saucepan, heat the olive oil and 25g of the butter, add the onion and fennel, cook over a low-medium heat for 4-5 minutes to soften the vegetables.
Add the rice and cook for about 2 minutes, stirring frequently, until the rice is translucent and well coated.
Add the vodka and continue to cook for 2 minutes, or until it has been completely absorbed.
Add a ladle of hot stock and simmer, stirring until it has been absorbed.
Continue adding the stock, a ladle at a time, letting each addition to be absorbed by the rice before adding the next.
After 18-20 minutes check for the required ''al dente'' texture: the rice should be tender but with a firm bite in the centre and offer a creamy moist consistency.
Remove the pan from the heat, add the parmesan, remaining butter, smoked salmon, juice and zest of the lemon, stir in well.
Cover the risotto with a lid, then let it stand for one minute before serving, garnish with any reserved fennel fronds and serve.