Barbecue season is at full sizzle. Now's the time to turn off the oven and enjoy backyard cookouts. You don't have to stick to classics such as hot dogs, steak or ribs. Everything from seafood and
appetizers to pizza and desserts can be barbecued to mouth-watering perfection. This recipe and photo, courtesy of Foodland Ontario, will get you fired up to be creative with summer fare, whether you're grilling for one, two or a crowd.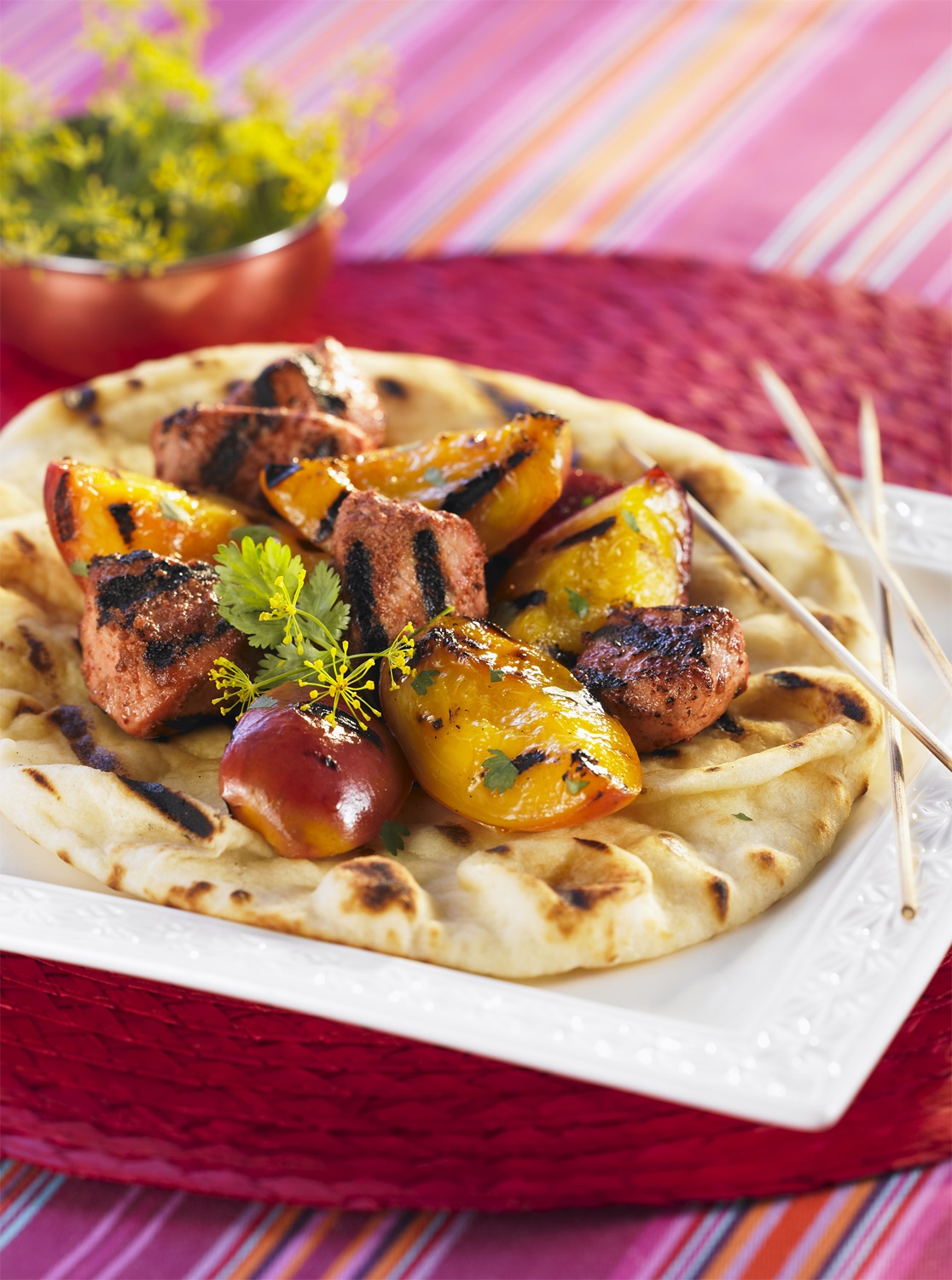 Last minute guests? Don't worry. Th ese skewers taste amazing and require minimal work. Tandoori paste is available at most grocery stores, but in a pinch any Indian paste can be used. Th e skewers are excellent with basmati rice as well.
Preparation Time: 20 minutes
Marinating Time: 30 minutes
Cooking Time: 10 minutes
Serves 4
1/4 cup (50 mL) plain yogurt
4 tsp (20 mL) bottled tandoori paste
1 lemon
1 lb (500 g) boneless skinless Ontario chicken breasts or thighs
3 fi rm but ripe Ontario peaches or nectarines
1 tsp (5 mL) olive oil
3 tbsp (45 mL) fi nely chopped fresh Ontario coriander Salt
4 small naan breads (optional)
Raita (homemade or store bought), optional
In medium bowl, whisk yogurt with tandoori paste and 1 tbsp (15 mL) lemon juice. Cut chicken into bite-size chunks; add to yogurt mixture and stir. Refrigerate, stirring occasionally, for 30 minutes or covered overnight.
Cut unpeeled peaches into four wedges each. In bowl, toss together peaches, 1 tsp (5 mL) lemon juice, oil and 2 tbsp (25 mL) of the coriander.
Thread chicken onto four skewers; thread peaches onto remaining skewers. Sprinkle both with salt to taste. Place chicken on greased grill over medium heat; grill, turning occasionally for seven minutes. Add peach skewers; grill until juices run clear when chicken is pierced and peaches are warm, two to four minutes. During last minute of cooking, grill naan if using. To serve, top each naan with one peach skewer, one chicken skewer and dollop of raita. Sprinkle with remaining coriander.
Tip: To prevent peaches from spinning when grilling, thread skewer through top and bottom of each wedge.
Nutritional Information:
1 serving
PROTEIN: 28 grams
FAT: 3 grams
CARBOHYDRATE: 9 grams
CALORIES: 183
FIBRE: 1 gram