Whether you bake them into a pie or a crisp, simmer them into sauce, chop some up for muffins or stir them into a salad, apples are a favourite taste of autumn. This versatile recipe and photo from Foodland Ontario, foodlandontario.ca, will inspire you to enjoy them to the max.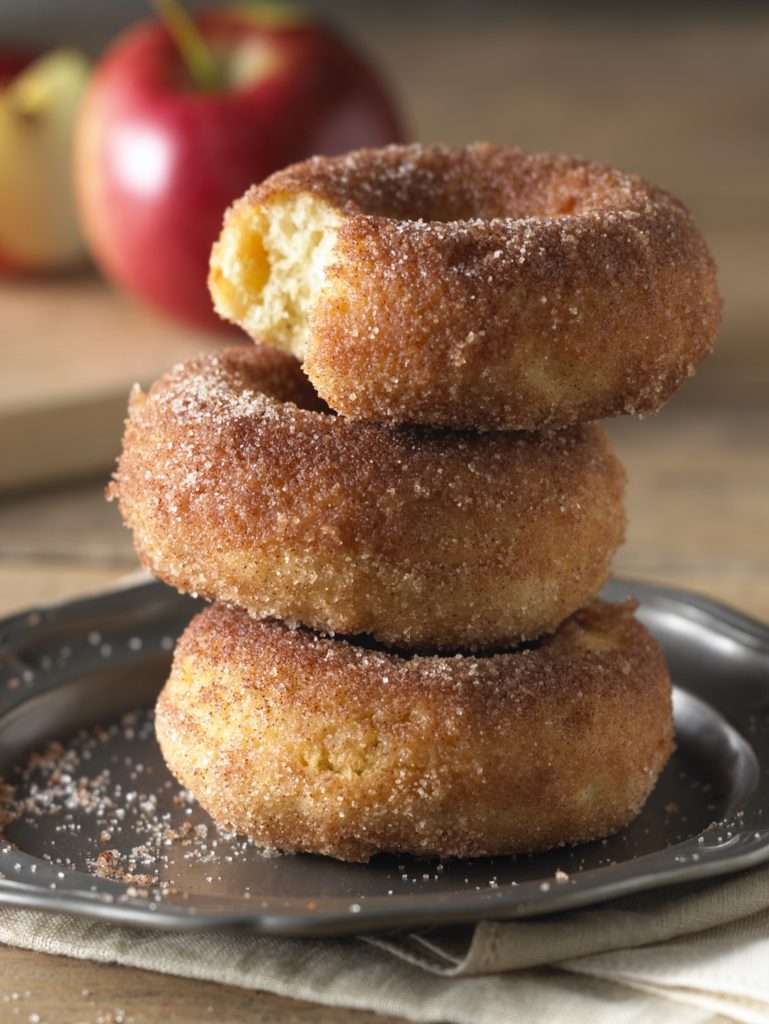 The addition of apples makes these baked doughnuts soft and moist. Once the batter is mixed, it's best to bake them as soon as possible.
Preparation Time: 30 minutes
Baking Time: 12 minutes
Makes 12
Doughnuts:
1-1/2 cups (375 mL) all-purpose flour
2 tsp (10 mL) baking powder
1/2 tsp (2 mL) salt
1/2 tsp (2 mL) ground cardamom (optional)
2 Ontario Eggs
2/3 cup (150 mL) granulated sugar
3/4 cup (175 mL) coarsely grated peeled Ontario apple
1/4 cup (50 mL) Ontario buttermilk
2 tbsp (25 mL) vegetable oil or butter, melted
3/4 tsp (4 mL) vanilla
Cinnamon Sugar:
6 tbsp (90 mL) granulated sugar
1-1/2 tsp (7 mL) ground cinnamon
6 tbsp (90 mL) butter, melted
In medium bowl, whisk together flour, baking powder, salt, and cardamom, if using. In large bowl, whisk eggs with sugar; stir in apple, buttermilk, oil and vanilla. Stir in flour mixture until moistened.
Spray two 6-doughnut pans with cooking spray. Fill each cavity with about 1/4 cup (50 mL) batter. (If you have only one pan, cover and refrigerate remaining batter.) Bake in 350°F (180°C) oven for 10 to 12 minutes or until doughnuts spring back when touched and are light in colour. Let cool in pan for 3 minutes; invert onto rack and let cool completely. Repeat with remaining batter if necessary, cleaning and re-spraying pan.
In medium bowl, mix sugar with cinnamon. Brush or dip doughnuts in butter to coat all over. Dip doughnuts into cinnamon sugar, pressing lightly to adhere.
Nutritional Information:
1 doughnut
PROTEIN: 3 grams
FAT: 9 grams
CARBOHYDRATE: 31 grams
CALORIES: 215
FIBRE: 1 gram
SODIUM: 198 mg