Recipe and photos courtesy of Foodland Ontario
It's asparagus season. Much like the month of May itself, asparagus is full of vivid colour and appeal. This springtime vegetable looks elegant on a plate, adds oomph to all kinds of recipes and delivers a bounty of nutrients—including vitamins, minerals, antioxidants and fibre. Try this delectable recipe when asparagus is at the peak of grown-in-Ontario freshness.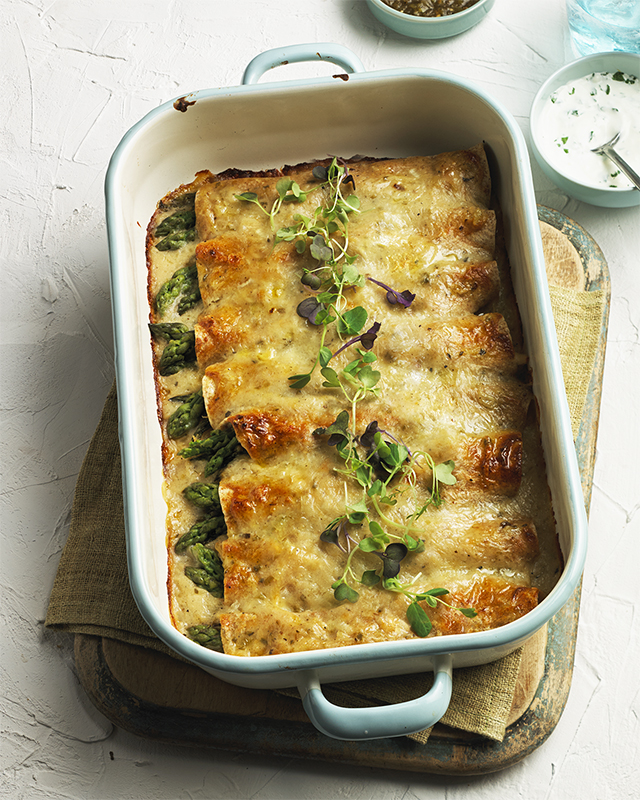 Fresh, crisp asparagus is the star of this tasty dish. A small amount of low-fat sour cream adds creaminess without a lot of added calories. Serve with a green salad.
Preparation Time: 10 minutes
Cooking Time: 15 minutes
Baking Time: 25 minutes
Serves 4
1 lb (500 g) Ontario asparagus, trimmed
2 tbsp (25 mL) butter
1 Ontario onion, chopped
1/4 cup (50 mL) all-purpose flour
1-1/2 cups (375 mL) chicken broth
2 cups (500 mL) shredded Ontario old cheddar cheese
1/2 cup (125 mL) salsa verde or tomatillo salsa
1/4 cup (50 mL) low-fat Ontario sour cream
Salt, pepper and crushed red pepper flakes
8 8-inch (20 cm) whole wheat flour tortillas
2 cups (500 mL) shredded cooked Ontario chicken
Ontario pea sprouts and salsa verde
In large pot of boiling water, cook asparagus until tender-crisp, 3 to 4 minutes. Drain and rinse under cold water; set aside.
In medium saucepan, melt butter over medium heat. Add onion and cook until softened, 2 to 3 minutes. Stir in flour until absorbed. Gradually stir in broth and bring to boil, stirring constantly.
Reduce heat and simmer until thickened, 2 to 3 minutes. Remove from heat; stir in 1/2 cup (125 mL) of the cheese until melted. Stir in salsa and sour cream. Season to taste with salt, pepper and
red pepper flakes.
Sprinkle each tortilla with 2 tbsp (25 mL) of the cheese and 1/4 cup (50 mL) of the shredded chicken. Arrange asparagus spears in centre of each tortilla. Spoon 2 tbsp (25 mL) of the sauce over each, roll up and place seam side down in greased 13- x 9-inch (3 L) baking dish.
Pour remaining sauce over and sprinkle with remaining cheese.
Bake in 350°F (180°C) oven until sauce is bubbly and cheese is melted, about 25 minutes. Sprinkle with pea sprouts and additional salsa.
Nutritional Information:
1 serving (2 enchiladas)
PROTEIN: 44 grams
FAT: 33 grams
CARBOHYDRATE: 52 grams
CALORIES: 688
FIBRE: 6 grams
SODIUM: 1270 mg