Onion soup is a favourite cold-weather warmer-upper. This version includes Ontario onions for sweetness, beer for heartiness and depth of flavour and a cheesy topping for extra appeal.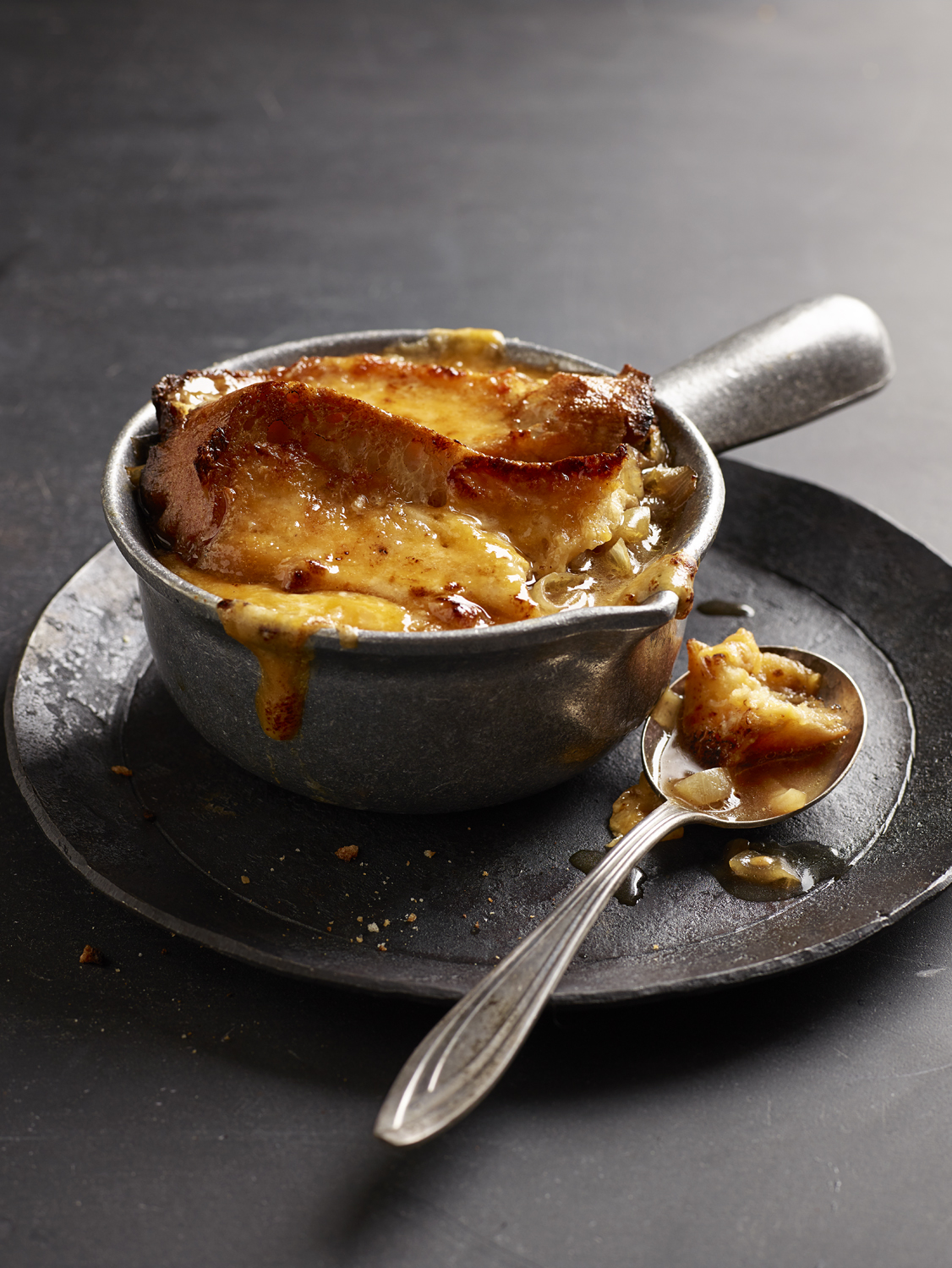 Preparation Time: 20 minutes
Cooking Time: 30 minutes
Baking Time: 15 minutes
Serves 6
4 Ontario onions
2 tbsp (25 mL) butter
1 cup (250 mL) beer
3/4 tsp (3 mL) dried leaf thyme
1/2 tsp (2 mL) each granulated sugar and Worcestershire sauce
4 cups (1 L) low sodium beef broth
Salt and pepper
12 slices baguette
1-1/2 cups (375 mL) grated old Ontario Cheddar cheese
1/3 cup (75 mL) grated Parmesan cheese
1/3 cup (75 mL) sour cream
Peel and slice onions about 1/4-inch (5 mm) thick. In large wide saucepan, melt butter over medium heat; cook onions, separating into rings and stirring frequently, until starting to turn golden brown, about 10 minutes. Add beer, thyme, sugar and Worcestershire sauce; increase heat to medium-high and bring to boil uncovered, stirring often, until liquid is reduced by half, about 5 minutes. Stir in beef broth. Bring to a boil, reduce heat; cover and simmer for 5 to 10 minutes to develop flavours. Season to taste with salt and pepper. (Recipe can be prepared to this point and refrigerated for up to 4 days. Heat before serving.)
Place bread on baking sheet and toast lightly. Meanwhile, in small bowl, stir together Cheddar and Parmesan cheeses and sour cream. Ladle soup into 6 heatproof soup bowls or individual casserole dishes, leaving space for toasts; place on baking sheet.
Spread cheese mixture over toasts; float 2 pieces on each bowl of soup. Bake in 450°F (230°C) oven until cheese is golden and soup bubbles, about 13 minutes. Serve immediately.
Nutritional Information:
1 serving
PROTEIN: 15 grams
FAT: 17 grams
CARBOHYDRATE: 22 grams
CALORIES: 310
FIBRE: 2 grams
SODIUM: 1120 mg