The hot days of summer call for light eating, such as this delicious main course that combines Ontario strawberries, lettuce, grilled shrimp and chèvre cheese. Throw a multigrain baguette wrapped in foil onto the grill and you'll have a great satisfying meal.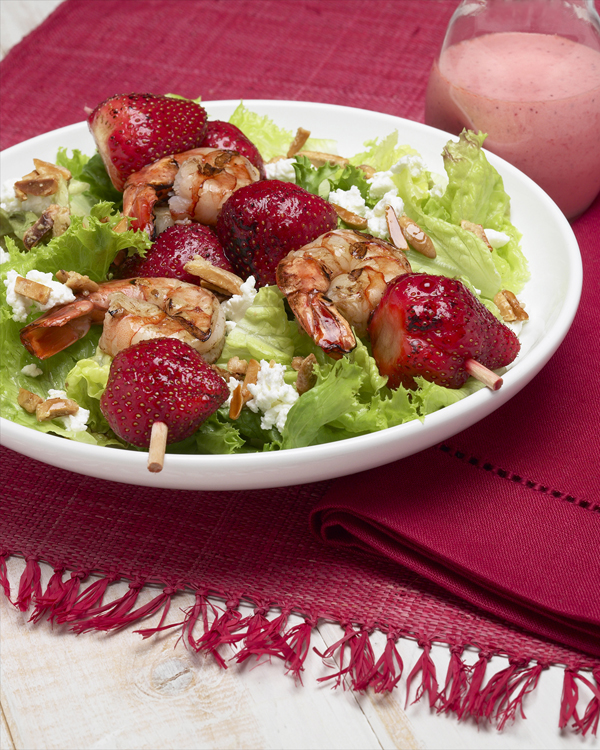 A trip to the strawberry patch is one of the joys of June. After all, it's as fun to pick these ripe, juicy berries as it is to eat them or use them in recipes. While jam and strawberry shortcake are perennial favourites, there are plenty of delicious ways—both sweet and savoury—to incorporate strawberries into your seasonal dishes and feasts.
Recipes and photos courtesy of Foodland Ontario
Preparation Time: 15 minutes
Cooking Time: 6 minutes
Serves 4
1/2 cup (125 mL) Ontario strawberries
2 tbsp (25 mL) mayonnaise
1 tbsp (15 mL) each red wine vinegar and vegetable oil
1-1/2 tbsp (22 mL) granulated sugar
1/4 tsp (1 mL) salt
Salad:
1/2 cup (125 ml) slivered almonds
1 tsp (5 mL) granulated sugar
8 cups (2 L) Ontario leaf lettuce (red or green)
3 oz (90 g) chèvre cheese, crumbled
16 large firm Ontario strawberries
12 medium to large raw shrimp (8 oz/250 g), peeled and deveined
2 tbsp (25 mL) balsamic vinegar
1 tbsp (15 mL) vegetable oil
In small food processor or with immersion blender, purée strawberries, mayonnaise, vinegar, oil, sugar and salt. (Can be covered and refrigerated for 1 day.) Set aside.
In small skillet, toast almonds over medium-high heat until golden. Sprinkle with sugar; heat until sugar dissolves and caramelizes and coats almonds. Let cool.
Place lettuce in 4 individual bowls; top with chèvre cheese. Set aside.
Alternately thread 4 strawberries and 3 shrimp onto each of 4 metal or soaked wooden skewers. Combine vinegar with oil; brush all over skewers.
Place on greased grill over high heat; close lid and grill, turning once, until shrimp are pink,  about 4 minutes.
To serve, drizzle strawberry vinaigrette over lettuce and cheese. Top with skewer; sprinkle with caramelized almonds.
Nutritional Information:
1 serving
PROTEIN: 20 grams
FAT: 27 grams
CARBOHYDRATE: 18 grams
CALORIES: 385
HIGH SOURCE OF FIBRE