This recipe and image, courtesy of Foodland Ontario, will inspire you to get cooking and to savour the special times ahead.
This hearty snack is great for St. Patrick's "Month."  It's also a favourite appetizer for meat and potato lovers.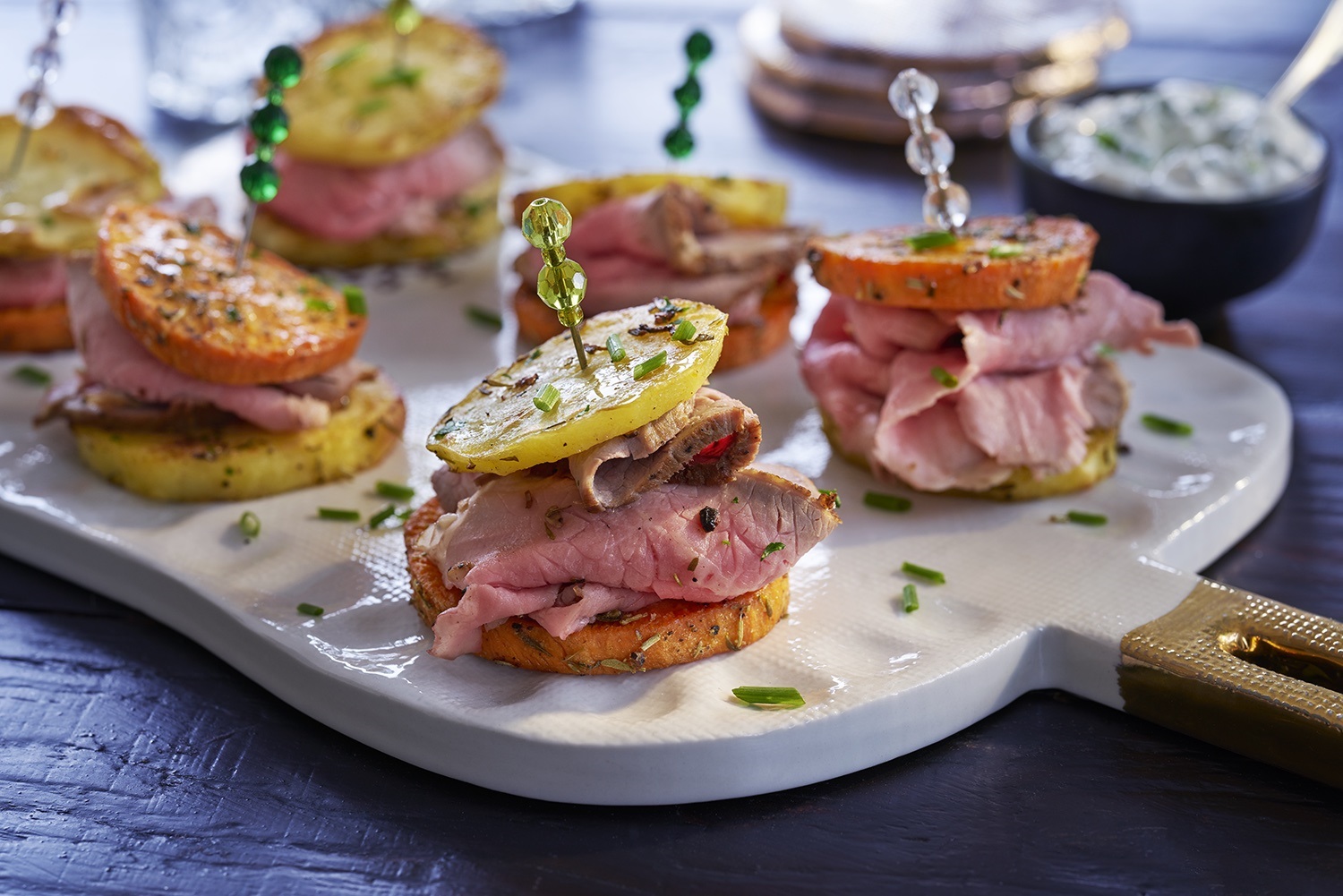 Preparation Time: 15 minutes
Cooking Time: 30 minutes
Makes 18
2 Ontario yellow fleshed potatoes, sliced into 1/4-inch (5 mm) rounds
1 Ontario sweet potato, peeled and sliced into 1/4-inch (5 mm) rounds
2 tbsp (25 mL) butter, melted
2 tsp (10 mL) dried parsley
1/2 tsp (2 mL) each salt, pepper, garlic powder, dried thyme and dried rosemary leaves
1 tsp (5 mL) vegetable oil
500 g cooked Ontario roast beef, thinly sliced
1/4 cup (50 mL) chopped fresh Ontario chives
1/2 cup (125 mL) Ontario sour cream
In large bowl, toss potato and sweet potato rounds with butter, parsley, salt, pepper, garlic, thyme and rosemary until well coated. Place in single layer on foil-lined baking sheet. Bake in 400ºF (200ºC) oven for 20 minutes. Turn oven to broil; broil for 3 minutes on each side, or until slightly crispy.
In large non-stick skillet; heat oil over medium-high heat. Add sliced roast beef and cook for 2 minutes or until warm.
To assemble stacks, place one potato round on bottom, add slice of beef, top with sweet potato round. Skewer stack with a decorative toothpick. Repeat until the potato and sweet potato rounds have been used; alternating potato rounds. Sprinkle stacks with 1 tbsp (15 mL) of the chives.
In small bowl, mix sour cream with remaining chives until well combined. Serve with potato stacks.
Nutritional Information:
1 stack with dip
PROTEIN: 10 grams
FAT: 5 grams
CARBOHYDRATE: 6 grams
CALORIES: 109
FIBRE: 1 gram
SODIUM: 95 mBottom of Form