Easy to make, this hearty soup really hits the spot.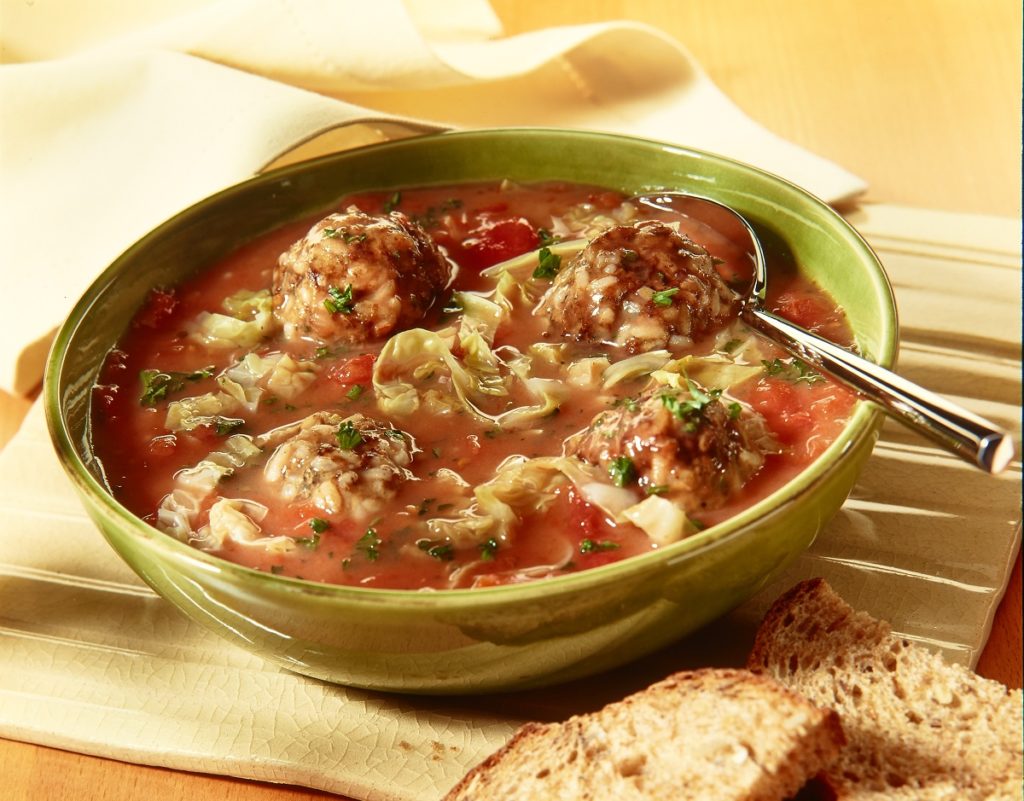 Preparation Time: 20 minutes
Cooking Time: 20 minutes
Serves 6 to 8

250 g lean Ontario ground beef
250 g ground pork
1 Ontario egg, beaten
3/4 cup (175 mL) uncooked rice
1 Ontario onion, minced
1 small clove Ontario garlic, minced
Salt and pepper
2 tbsp (25 mL) vegetable oil
8 cups (2 L) chicken broth
1 can (28 oz/796 mL) diced tomatoes
4 cups (1 L) shredded Ontario cabbage
1/4 cup (50 mL) chopped fresh Ontario parsley
In large bowl, mix together beef, pork, egg, rice, onion and garlic. Season with salt and pepper. Form into 1-1/2-inch (4 cm) balls to make 25 to 30 meatballs.
In Dutch oven or soup pot, heat oil over medium heat; brown meatballs all over. Add chicken broth, tomatoes (including juice) and cabbage. Bring to boil over high heat; reduce heat and cook for 20 minutes. Stir in parsley and serve.
Nutritional information:
1 serving (when recipe serves 8):
PROTEIN: 16.0 grams
FAT: 14.0 grams
CARBOHYDRATE: 23.0 grams
CALORIES: 282