This gorgeous salad provides a delicious combination of colours, textures, aromas and flavours to make it the perfect summer fare.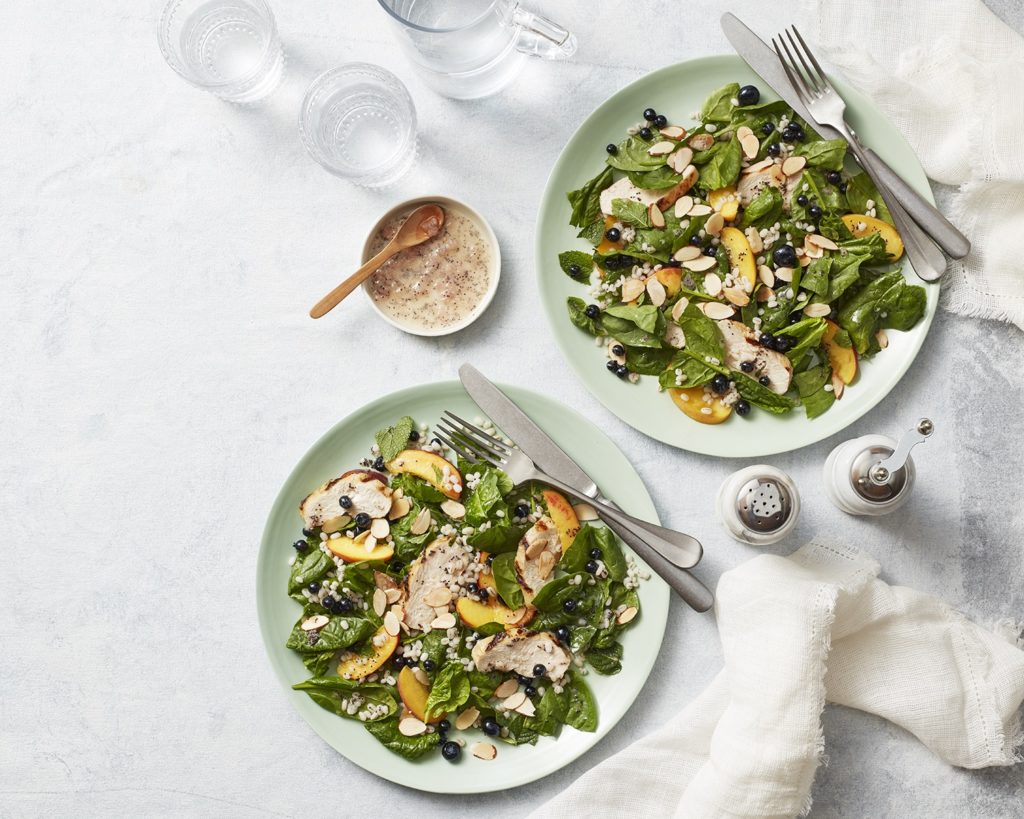 This recipe and image, courtesy of Foodland Ontario, celebrates these "superfood" berries.
Preparation Time: 20 minutes
Cooking Time: 35 minutes
Grilling Time: 12 minutes
Serves 4
1/2 cup (125 mL) pearl barley, rinsed
2 boneless skinless Ontario chicken breasts (250 g)
Salt and pepper
1 tbsp (15 mL) vegetable oil
2 tbsp (25 mL) white wine vinegar
1-1/2 tsp (7 mL) Ontario honey
1 tsp (5 mL) each dry mustard and poppy seeds
1/2 tsp (2 mL) salt
1/4 cup (50 mL) vegetable oil
1 Ontario shallot, grated
8 cups (2 L) torn Ontario spinach leaves
1 cup (250 mL) Ontario blueberries
2 Ontario peaches, pitted and sliced
1/2 cup (125 mL) torn fresh Ontario mint
1/2 cup (125 mL) toasted sliced almonds
In medium saucepan of boiling salted water, cook barley until tender; about 30 to 35 minutes. Drain and rinse under cold water; drain well.
Brush chicken with 1 tbsp (15 mL) oil; season with salt and pepper. Place on greased grill over medium-high heat; close lid and grill, turning once, until no longer pink inside, about 12 minutes. Transfer to cutting board and tent with foil; let rest 5 minutes before slicing thinly.
In small bowl, whisk together vinegar and honey. Whisk in mustard, poppy seeds, salt and oil. Stir in shallot. Set aside.
In large bowl toss spinach, blueberries, peaches, mint, barley and chicken. Divide salad among plates; sprinkle with almonds. Serve dressing on the side.
Nutritional Information:
1 serving
PROTEIN: 22 grams
FAT: 25 grams
CARBOHYDRATE: 38 grams
CALORIES: 457
FIBRE: 7 grams
SODIUM: 450 mg