Light and tasty, this pretty soufflé would make a great ending to any Canada Day party.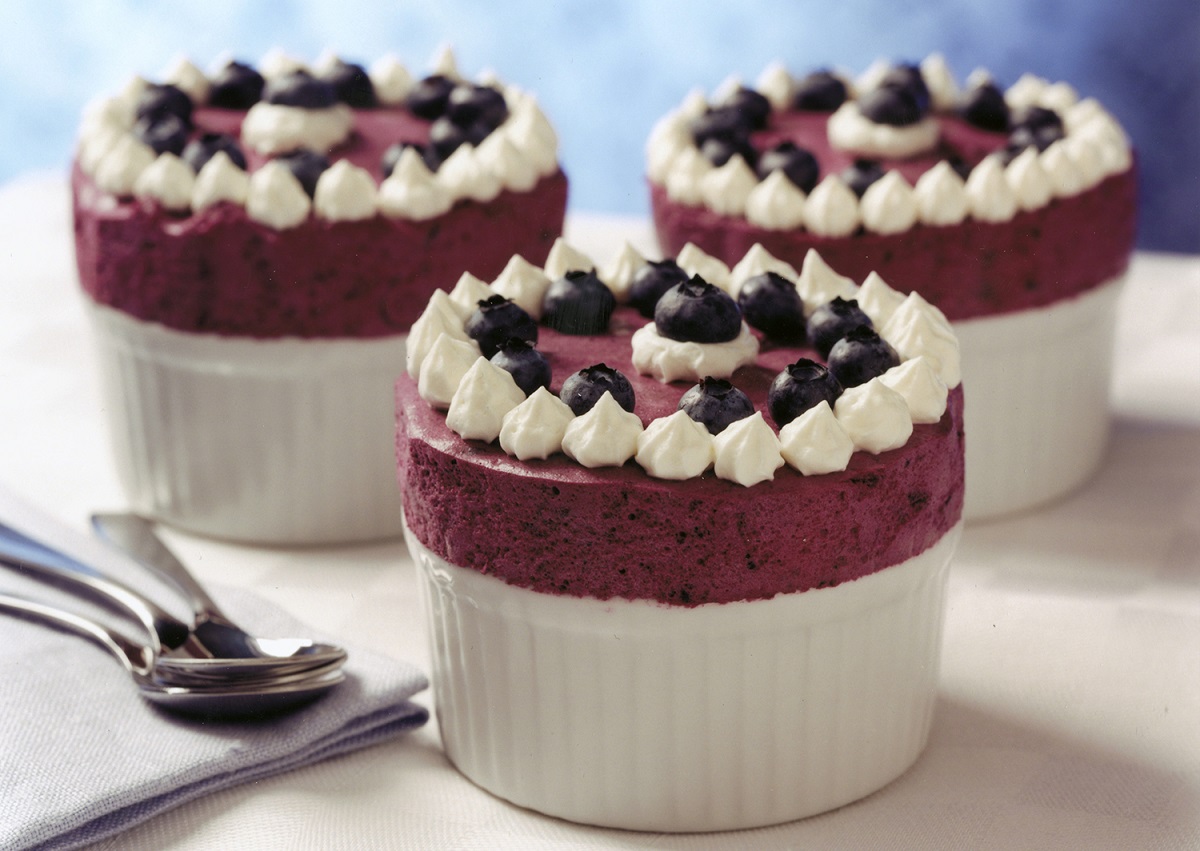 This recipe and image, courtesy of Foodland Ontario, celebrates these "superfood" berries.
Preparation Time: 35 minutes
Serves 6
3 cups (750 mL) fresh Ontario blueberries
3/4 cup (175 mL) granulated sugar
1/2 cup (125 mL) fresh lime juice
1 pkg unflavoured gelatin
1 tbsp (15 mL) grated lime zest (outer rind)
4 Ontario egg whites
1 cup (250 mL) Ontario whipping cream
1 tbsp (15 mL) icing sugar
Fresh Ontario strawberries
In small saucepan, combine blueberries, 1/2 cup (125 mL) of the sugar and lime juice; bring to boil, crushing berries with back of spoon. Reduce heat to medium-low; simmer for about 5 minutes or until thickened.
Meanwhile, in small saucepan, sprinkle gelatin over 1/4 cup (50 mL) water; let stand for 1 minute. Heat over low heat until dissolved. Stir into blueberry mixture along with lime zest; refrigerate until cold and thickened but not set, about 2 hours.
Fold 24-inch (60 cm) length of waxed paper in half lengthwise; tie tightly around outside of 4-cup (1 L) soufflé or other straight-sided dish to make a collar. Grease inside of dish and paper that extends over dish.
In large heatproof bowl, whisk egg whites with remaining sugar. Set over saucepan of boiling water, whisking often, until white, 2 to 3 minutes. Remove bowl from pan. With electric mixer, beat for 8 to 10 minutes until very cold. Fold into berry mixture.
Whip 3/4 cup (175 mL) of the cream until stiff peaks form; gently fold into berry mixture. Spoon into prepared dish. Place plastic wrap lightly on top of waxed paper collar; refrigerate for at least 4 hours or until firm. (Soufflé can be refrigerated for up to 24 hours.)
To serve, carefully remove collar and wipe dish with damp cloth. Whip remaining cream with icing sugar; pipe into rosettes onto top of soufflé. Garnish with fresh blueberries.
Nutritional Information:
1 serving
PROTEIN: 5 grams
FAT: 14 grams
CARBOHYDRATE: 38 grams
CALORIES: 298