A trip to the strawberry patch is one of the joys of June. After all, it's as fun to pick these ripe, juicy berries as it is to eat them or use them in recipes. While jam and strawberry shortcake are perennial favourites, there are plenty of delicious ways—both sweet and savoury—to incorporate strawberries into your seasonal dishes and feasts.
Recipes and photos courtesy of Foodland Ontario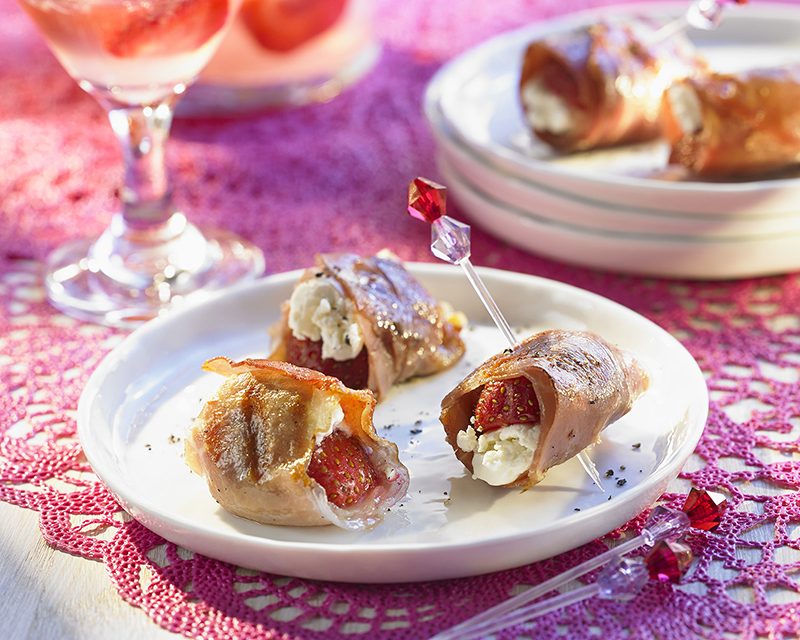 Sweet, savoury, tangy and salty, these delicious bundles are grilled to perfection. This simple yet sophisticated seasonal appetizer will surprise and delight your guests
Preparation Time: 15 minutes
Grilling Time: 8 minutes
Makes 16 pieces
8 slices prosciutto
80 g Ontario goat cheese or cream cheese
16 small Ontario strawberries hulled or
8 large strawberries hulled and halved
Freshly ground black pepper
Slice each strip of prosciutto in half lengthwise; separate. Place 1/2 tsp (2 mL) goat cheese about 1-inch (2.5 cm) from end of strip; place 1 strawberry
on top, then 1/2 tsp (2 mL) goat cheese beside strawberry. Firmly roll prosciutto around cheese and strawberry until securely enclosed. Repeat with remaining ingredients. Top with pepper to taste; cover and refrigerate for up to 8 hours.
Place bundles on greased grill over medium-high heat (400°F/200°C); cook until slightly grilled about 6 to 8 minutes, turning frequently to avoid burning. Arrange on serving platter; serve immediately.
Nutritional Information:
1 bundle
PROTEIN: 3 grams
FAT: 2 grams
CARBOHYDRATE: 3 grams
CALORIES: 47
FIBRE: 0 grams
SODIUM: 210 mg