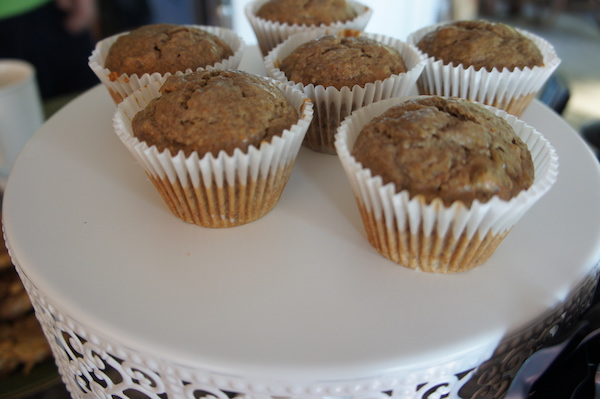 Muffin  or Cake? Sometimes, there's isn't much difference
by Lauren Follett, BA, RHN, Registered Nutritionist
Ever notice the giant muffins in the display case of a coffee shop? People often order a muffin with their morning coffee thinking it's a healthy choice, but unfortunately most regular muffins are so high in refined sugar, white flour and unhealthy fats they're basically a little cake shaped like a muffin!
Don't worry, you can have your muffin and eat it too with my healthy Whole-Wheat Banana Muffins. What makes these little babies healthy is they're made with whole-wheat flour. It's high in fibre so it doesn't spike your blood sugar (causing carb and sugar cravings) like regular white flour does.
These muffins are sweetened with bananas and real maple syrup — natural sugars that actually have health benefits. Instead of unhealthy vegetable oil, they're made with healthy fats like grapeseed or coconut oil.
Next time you're at the store, pick up a few extra ripe bananas and whip up a batch of my healthy Whole-Wheat Banana Muffins. Pop them in the freezer, and take one with you to the coffee shop for a truly healthy choice to enjoy with your morning coffee.
Whole Wheat Banana Muffins
Ingredients
1 cup oats
¾ cup of whole wheat flour
1 tsp of baking soda
½ tsp of salt
1 tbsp of ground flax seed
1 tsp cinnamon
1/3 cup of grapeseed oil or coconut oil
1/3 cup of real maple syrup or organic honey
2 eggs
3 medium-size ripe bananas mashed
¼ cup of warm water
½ cup of dark chocolate chips (you can sub in whatever you like here: raisins, dates, walnuts, blueberries…)
Method
Preheat oven to 325 degrees F.
If your bananas are in the freezer, thaw them for a few hours or overnight before you start baking.
In a small bowl, stir together dry ingredients.
In a separate bowl, mash bananas and set aside. In a large bowl, beat the oil & maple syrup together. Add the eggs and beat well. Add the mashed bananas and beat to combine.
Slowly add the dry ingredients to the wet; alternating with water, and stirring after each addition. Add in the chocolate chips or other addition of choice.
Spoon the batter into greased muffin cups (coconut oil or canola oil spray works well) and put them in the oven for 20 minutes or until they are golden brown.
Take them out of the muffin trays, and let them cool on a rack.
(Each muffin is about 170 calories.)