Pear Raspberry Yogurt Muesli
Prep time: 15 min | Cook time: 8 min | Refrigeration time: 12 hours | Makes: 6 servings
Toasted oats, seeds and nuts, plus sweet pears and tangy raspberries all combined with yogurt for a satisfying and tasty breakfast. Prepare it in the evening and you'll be off to a great start to the next day before you even go to bed.
1 cup (250 mL) large-flake rolled oats (see tip below)
1/4 cup (50 mL) unsalted sunflower seeds
1/4 cup (50 mL) sliced almonds
1 firm-ripe pear
2 tbsp (25 mL) ground flax seeds
1/8 tsp (0.5 mL) ground nutmeg or cinnamon
1-1/2 cups (375 mL) 1% plain yogurt
2 tbsp (25 mL) maple syrup or liquid honey
1-1/2 cups (375 mL) fresh or frozen
raspberries (thawed if frozen), divided
Directions
In a large, dry skillet, toast rolled oats, sunflower seeds and almonds, stirring constantly, for about 5 minutes or until golden and fragrant. Transfer to a medium heatproof bowl and let cool. Set 1/4 cup (50 mL) aside for topping; cover and store at room temperature.
Coarsely shred pear on the coarse side of a box grater. Stir pear, flax seeds, nutmeg or cinnamon, yogurt and maple syrup or honey into bowl with oat mixture. Cover and refrigerate overnight.
To serve, stir 1 cup (250 mL) of the raspberries into yogurt mixture, mashing berries slightly as you stir. Spoon into bowls, sprinkle with reserved oat mixture and top with remaining raspberries.
Tips
Use a mixture of rolled oats, quinoa flakes and/or barley flakes for a change in texture and flavour – just keep the total amount at 1 cup (250 mL).
Use a pear that's ripe and sweet but still firm enough to shred. Pears ripen from the inside first; to check for ripeness, gently squeeze the neck of the pear closest to the stem and it should give slightly.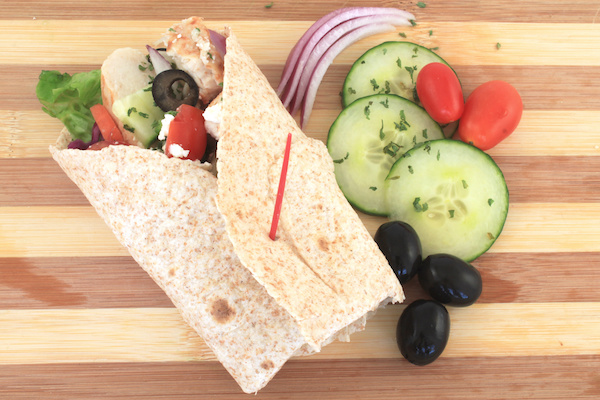 Greek Veggie, Chicken and Cheese Wrap
Prep time: 10 min | Servings: 4
Wrap up this tasty vegetable mixture, chicken and zingy Canadian Feta cheese in a pita with luscious yogurt dip on the side
1/2 cup (125 mL) 2% plain yogurt
1 tsp (5 mL) grated lemon zest
1 large black olive, minced
4 large lettuce leaves
4 large (about 9 inches/23 cm) whole wheat pita breads
1 cup (250 mL) shredded cooked boneless skinless chicken breast
1 cup (250 mL) chopped English cucumber
1 cup (250 mL) grape or cherry tomatoes, cut in half
2 tbsp (25 mL) very thinly sliced red onion (optional)
2 1/2 oz (70 g) diced Canadian Feta cheese
1 tsp (5 mL) dried oregano
Directions
In a bowl, combine yogurt, lemon zest and olive. Portion into individual containers or one container, cover and refrigerate until serving, for up to 1 day.
Place one lettuce leaf on each pita; arrange chicken, cucumber, tomatoes, onion (if using), Canadian Feta cheese and oregano in a line down the centre of each, dividing evenly. Fold top and bottom of pita over filling, then roll up pita tightly around filling to enclose.
Wrap tightly in plastic wrap or waxed paper and refrigerate until serving, for up to 4 hours.
To serve, unwrap pita, cut in half crosswise, if desired, and serve with lemon-olive yogurt for dipping or spreading.

Herbed Dipping Sauce
Prep time: 10 min | Refrigeration time: 1 hour | Yield: 250 mL/1 cup | Servings: 16
Make this tasty side dish or appetizer by serving with grilled vegetables.
250 mL (1 cup) 1% plain yogurt
30 mL (2 tbsp) fresh rosemary, finely chopped   1 garlic clove, minced
2 mL (1/2 tsp) ground cumin
Pepper to taste
Directions
Combine all the ingredients.
Refrigerate at least one hour to let flavours blend.
Serve with grilled vegetables.