The air is crisp and so are the apples. There are pumpkins on doorsteps and in pies topped with whipped cream. There is much to be grateful for in October, as we gather for Thanksgiving and anticipate Halloween.
The recipe and photo, courtesy of Foodland Ontario, are ideal for sharing and for celebrating the best of the season.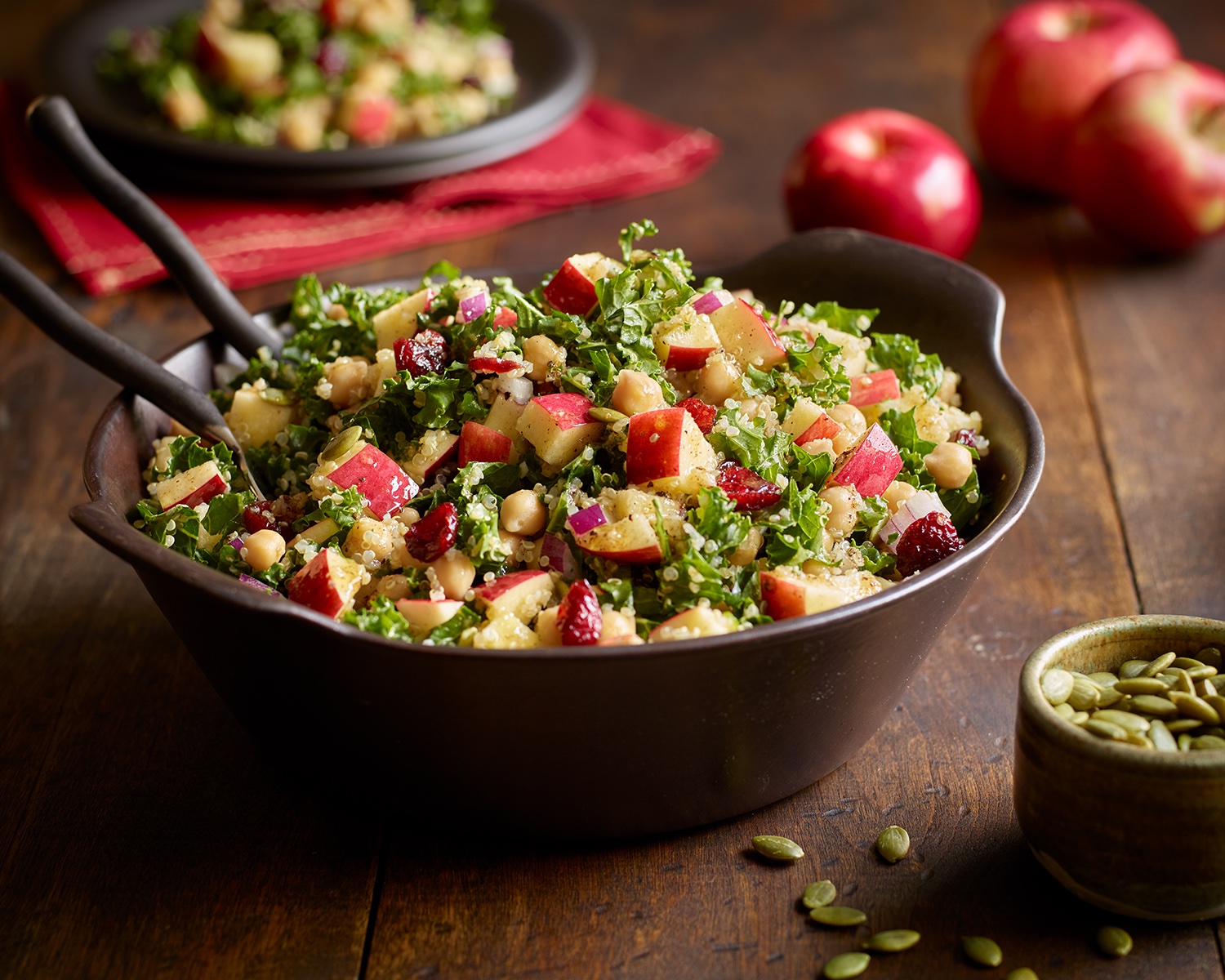 This vibrant salad is packed with goodness and a touch of East Indian flavouring. Equally delicious as a side dish, it makes the perfect portable addition for Thanksgiving gatherings.
Preparation Time: 15 minutes
Serves 6 to 8
3 tbsp (45 mL) each white wine vinegar and extra-virgin olive oil
2 tsp (10 mL) Ontario honey
1 tsp (5 mL) garam masala
1/2 tsp (2 mL) salt
1/8 tsp (0.5 mL) freshly ground pepper
1 clove Ontario garlic, pressed
4 cups (1 L) chopped, stemmed Ontario kale
1 can (19 oz/540 mL) chick peas, drained and rinsed
2 cups (500 mL) chopped Ontario apples (about 2 apples)
1-1/2 cups (375 mL) cooked quinoa
1/3 cup (75 mL) diced Ontario red onion
1/4 cup (50 mL) each pumpkin seeds and dried cranberries
In large bowl, whisk together vinegar, oil, honey, garam masala, salt, pepper and garlic.
Add kale and toss to coat thoroughly. Stir in chick peas, apples, quinoa and onion.
Cover and refrigerate salad for at least 1 hour or up to 12 hours.
Just before serving, sprinkle with pumpkin seeds and cranberries.
Tip: To prepare kale, trim the leafy portion from either side of the tough stem; discard stem and chop leaves.
Nutritional Information:
1 serving (when recipe serves 8)
PROTEIN: 7 grams
FAT: 7 grams
CARBOHYDRATE: 31 grams
CALORIES: 210
FIBRE: 4 grams
SODIUM: 170 mg