Whether you bake them into a pie or a crisp, simmer them into sauce, chop some up for muffins or stir them into a salad, apples are a favourite taste of autumn. This versatile recipe and photo from Foodland Ontario, foodlandontario.ca, will inspire you to enjoy them to the max.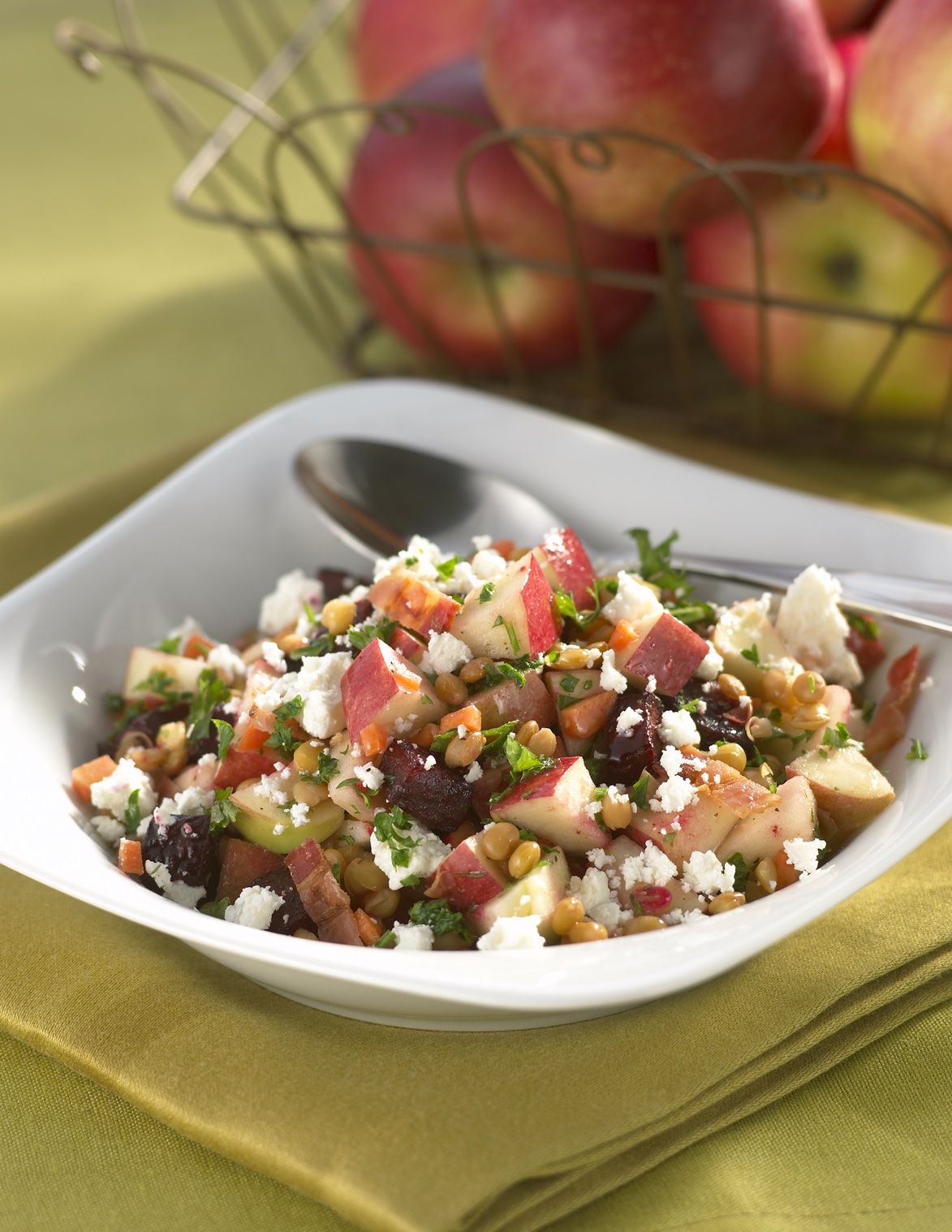 When Ontario lettuce is hard to find, look to hearty salads such as this one. It's nutritious, quick to make and travels well for lunch the next day.
Preparation Time: 10 minutes
Cooking Time: 7 minutes
Roasting Time: 20 minutes
Serves 8
1 medium Ontario beet
3 tbsp (45 mL) olive oil
Salt and freshly ground black pepper
2 slices bacon, cut into thin strips
1 can (19 oz/540 mL) lentils, preferably green
1/2 cup (125 mL) diced Ontario carrot
1/3 cup (75 mL) finely chopped fresh Ontario parsley
2 tbsp (25 mL) lemon juice
1 Ontario garlic clove, minced
2 Ontario apples
1/4 cup (50 mL) feta cheese (optional)
Peel beet and cut into pieces no larger than 1/2-inch (1 cm). Place on large baking sheet and toss with about 1/2 tsp (2 mL) of the olive oil and salt and pepper to taste. Roast in 400°F (200°C) oven, stirring once or twice, until beet is tender, 15 to 25 minutes.
Meanwhile, in small frying pan, cook bacon over medium heat, stirring occasionally, until crisp, about 7 minutes. Remove to paper towel and pat dry.
Drain lentils and rinse with water, then drain well. In medium-size serving bowl, stir together beets, lentils, carrot and parsley.
Whisk together remaining olive oil, lemon juice, garlic and 1/2 tsp (2 mL) each salt and pepper; stir into lentil mixture. Core apples and coarsely chop; stir into salad. Taste and add a little more lemon juice, salt or pepper if needed. Sprinkle with bacon and feta (if using). Serve at room temperature. (Salad will last refrigerated for a few days.)
Nutritional Information:
1 serving
PROTEIN: 6 grams
FAT: 6 grams
CARBOHYDRATE: 20 grams
CALORIES: 153
SOURCE OF FIBRE