This herbed maple marinade can also be used as a marinade for salmon, trout or chicken.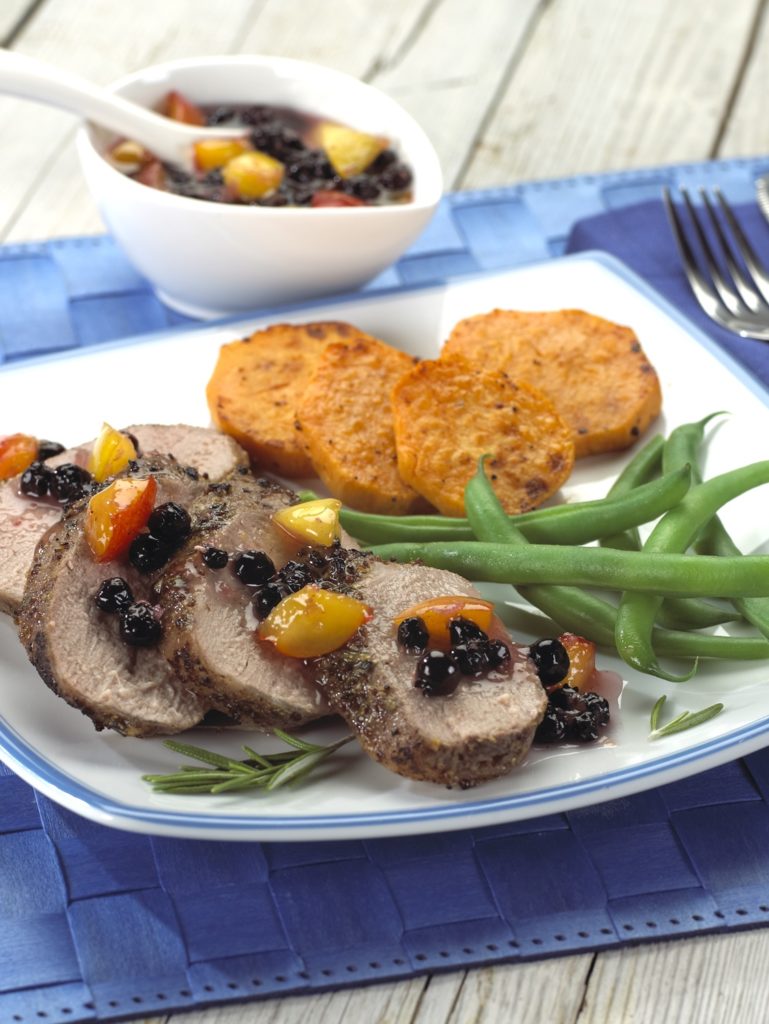 This recipe and image, courtesy of Foodland Ontario, celebrates these "superfood" berries.
Herbed Maple Marinade
Preparation Time: 15 minutes for marinade; 4 to 8 hours for marinating
Cooking Time: 25 minutes
Serves 4
1/4 cup (50 mL) Ontario maple syrup
1/4 cup (50 mL) grainy mustard
2 cloves Ontario garlic, minced
1/4 cup (50 mL) apple cider vinegar
2 tbsp (25 mL) olive or vegetable oil
1-1/2 tbsp (22 mL) chopped fresh Ontario rosemary
1 tsp (5 mL) ground coriander
1/2 tsp (2 mL) each allspice and salt
1 lb (500 g) Ontario pork tenderloin
Combine maple syrup, grainy mustard, garlic, apple cider vinegar, oil, rosemary, coriander, allspice and salt. Pour over pork tenderloin in resealable plastic bag and refrigerate to marinate for a minimum of 4 hours or overnight.
Place pork on greased grill over medium heat; close cover and cook until thermometer reaches 155 °F (68°C), 20 to 25 minutes. Let stand for 5 to 10 minutes or until internal temperature reaches 160°F (71°C). Serve with Blueberry Plum Compote.
Blueberry Plum Compote
Preparation Time: 25 minutes
Cooking Time: 15 minutes
Makes 1 cup (250 mL)
1/4 cup (50 mL) granulated sugar
1/4 cup (50 mL) water
1 tbsp (15 mL) lemon juice
1/2 tsp (2 mL) grated lemon rind
1 tsp (5 mL) grated fresh ginger
1/4 tsp (1 mL) vanilla
Pinch allspice
1/2 cup (125 mL) Ontario blueberries
2 Ontario yellow plums, pitted and coarsely chopped
In small saucepan, bring sugar and water to boil. Add lemon juice and lemon rind; cook for about 5 minutes or until syrupy. Remove from heat. Add ginger, vanilla and allspice; mix well. Mix in blueberries. Refrigerate until ready to serve. Mix plums into compote. Serve over pork tenderloin.
Nutritional Information:
1 serving (pork and compote):
PROTEIN: 30 grams
FAT: 5 grams
CARBOHYDRATE: 24 grams
CALORIES: 266
FIBRE: 1 gram