Use leftover turkey (or chicken) to create this flavourful, festive Mexican soup.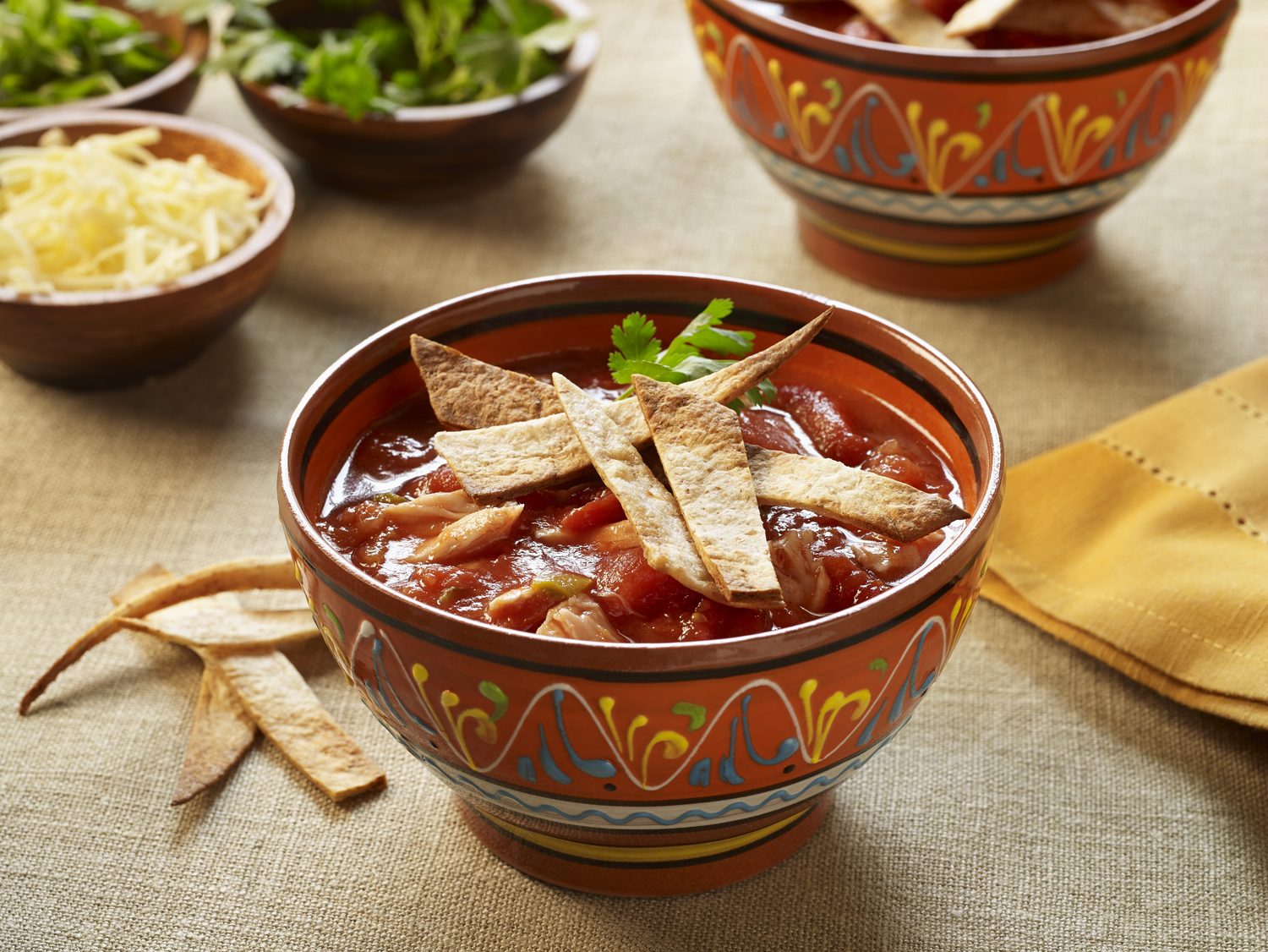 Preparation Time: 15 minutes
Cooking Time: about 30 minutes
Serves 6
2 tbsp (25 mL) vegetable oil
2 cloves Ontario garlic, minced
1 tbsp (15 mL) tomato paste
1 can (19 oz/540 mL) chunky stewed tomatoes
1 tsp (5 mL) each chili powder, dried oregano leaves and ground cumin
1/4 tsp (1 mL) crushed red pepper flakes
4 cups (1 L) sodium-reduced chicken broth
3 cups (750 mL) water
4 cups (1 L) shredded cooked Ontario turkey (about 1 lb/500 g)
6 whole grain tortillas, thinly sliced into strips
1/2 tsp (2 mL) salt
1 cup (250 mL) shredded Ontario jack cheese
1/2 cup (125 mL) coarsely chopped fresh Ontario coriander
3 green onions, thinly sliced
Lime wedges
In large pot, heat 1 tbsp (15 mL) of the oil over medium-high heat; add garlic and cook until softened, about 1 minute. Add tomato paste, stewed tomatoes, chili powder, oregano, cumin and red pepper flakes; cook, breaking up tomatoes and stirring until most of the liquid is evaporated, about 4 minutes.
Add broth, water and turkey; bring to boil. Reduce heat and simmer over medium-low heat to combine flavours, about 10 minutes.
Meanwhile, on large rimmed baking sheet, toss tortilla strips with remaining oil and salt. Bake in 425°F (220°C) oven, turning occasionally, until crisp and golden, about 15 minutes.
Divide cheese, coriander and green onions among six bowls. Top with turkey soup, then tortilla strips. Serve with lime wedges.
Nutritional Information:
1 serving
PROTEIN: 34 grams
FAT: 14 grams
CARBOHYDRATE: 25 grams
CALORIES: 365
FIBRE: 2 grams
SODIUM: 865 mg