Start your morning with this tasty and nutritious blend of fruit, whole grains and yogurt. Recipe and photo courtesy of Foodland Ontario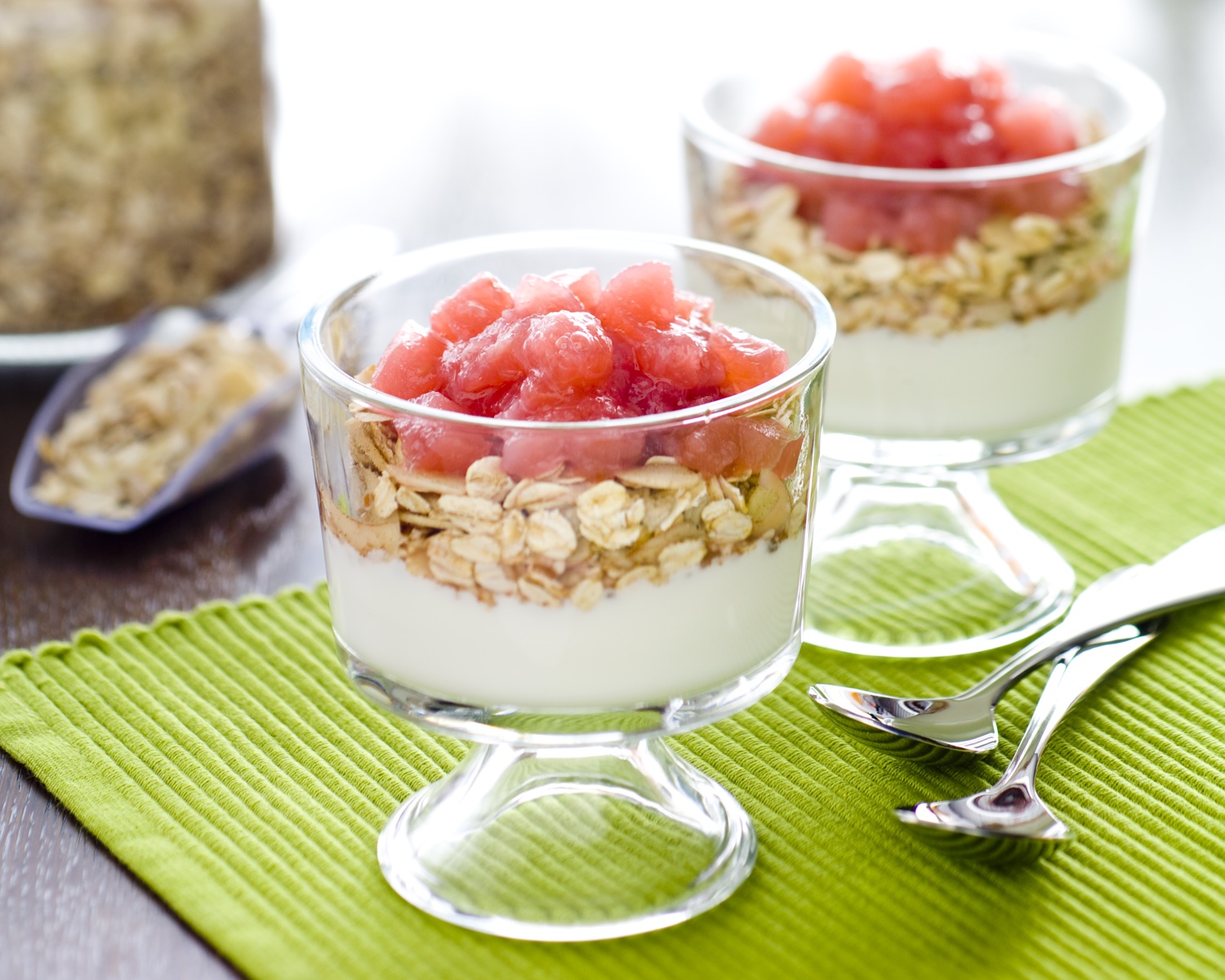 Preparation Time: 20 minutes
Cooking Time: 6 minutes
Serves 9
3 cups (750 mL) diced peeled Ontario apples
2 cups (500 mL) sliced Ontario rhubarb
1/2 cup (125 mL) granulated sugar
1/2 cup (125 mL) cranberry juice, apple juice or water
2 cups (500 mL) large flake rolled oats
1/2 cup (125 mL) each large flake spelt and kamut (or triticale)
1/2 cup (125 mL) sliced almonds
1/4 cup (50 mL) raw sunflower seeds
2 tbsp (25 mL) ground flax seeds
1 tbsp (15 mL) sesame seeds
1 tsp (5 mL) cinnamon
Vanilla-flavoured stirred yogurt
In large saucepan, mix together apples, rhubarb, sugar and juice; bring to boil over high heat, stirring occasionally. Reduce heat, cover and simmer for 5 to 6 minutes or until apples are softened. Transfer to bowl; let cool. Cover and refrigerate for up to 1 week. Makes 3 cups of compote (750 mL).
In large bowl, mix together oats, spelt, kamut, almonds, sunflower seeds, flax seeds, sesame seeds and cinnamon. Store in tightly sealed container for up to 3 weeks. Makes 4 cups (1 L).
To serve, spoon 1/2 cup (125 mL) yogurt, 1/3 cup (75 mL) muesli and 1/3 cup (75 mL) rhubarb compote into small bowl or layer in tall parfait glass. Let rest for 5 minutes to soften muesli.
Nutritional Information:
1 serving compote (1/3 cup/75 mL):
CARBOHYDRATE: 21 grams
CALORIES: 80
FIBRE: 1.5 grams
1 serving muesli (1/3 cup/75 mL):
PROTEIN: 5 grams
FAT: 7 grams
CARBOHYDRATE: 16 grams
CALORIES: 140
FIBRE: 3 grams