Whether you bake them into a pie or a crisp, simmer them into sauce, chop some up for muffins or stir them into a salad, apples are a favourite taste of autumn. This versatile recipe and photo from Foodland Ontario, foodlandontario.ca, will inspire you to enjoy them to the max.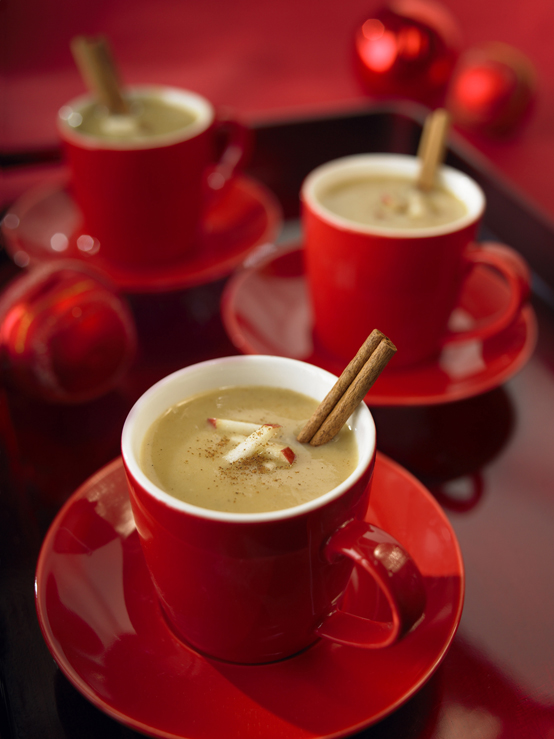 With its bright spices, this creamy soup is reminiscent of mulled cider. Serve in shot glasses as guests arrive. Brush apple wedges with lemon juice for garnishing or place a tiny cinnamon stick in each glass. For larger servings, a china teacup and saucer would be fun.
Preparation Time: 20 minutes
Cooking Time: 1 hour
Makes 9 cups (2.25 L) or 36 shots
1 lb (500 g) Ontario parsnips
2 tbsp (25 mL) olive oil
Salt and pepper
1 small Ontario onion, chopped
3 Ontario apples, peeled and chopped
1 Ontario potato, peeled and chopped
2 cloves Ontario garlic, minced
1 tbsp (15 mL) packed brown sugar
1-1/2 tsp (7 mL) ground ginger
5 cups (1.25 L) Ontario apple cider or juice
3/4 tsp (4 mL) ground cardamon
1/2 tsp (2 mL) cinnamon
Pinch allspice
1/2 cup (125 mL) Ontario whipping cream
Peel parsnips and cut into 1-1/2 inch (4 cm) pieces. In baking pan, toss parsnips with half the oil and 1/4 tsp (1 mL) each salt and pepper; spread out in a single layer. Roast in 400°F (200°C) oven until tender and golden, about 30 minutes, stirring once or twice.
Meanwhile, in large saucepan, heat remaining oil over medium heat; cook onion for 2 minutes. Add apples; cook for 3 minutes. Stir in potato, garlic, sugar and ginger; cook for 1 minute. Stir in roasted parsnips, stock, cider, cardamom, cinnamon and allspice; bring to boil. Reduce heat, cover and simmer until apples and potato are tender, 20 to 30 minutes.
In blender or food processor, purée soup, in batches, until smooth. (A blender makes smoother soup.) Return to saucepan; stir in cream. (Soup can be cooled, covered and refrigerated for up to 3 days. Reheat gently until steaming hot, but do not boil.) Taste and adjust seasoning with more salt and pepper if desired. To serve, place metal spoon in glass before adding warm soup or use a metal funnel.
Nutritional Information:
1 shot (2 oz/60 mL):
PROTEIN: 1 gram
FAT: 2 grams
CARBOHYDRATE: 6 grams
CALORIES: 43