This recipe and image, courtesy of Foodland Ontario, will inspire you to get cooking and to savour the special times ahead.
This salad is perfect for the start of spring. Substituting fruit juice for some of the oil in the dressing lowers the fat content.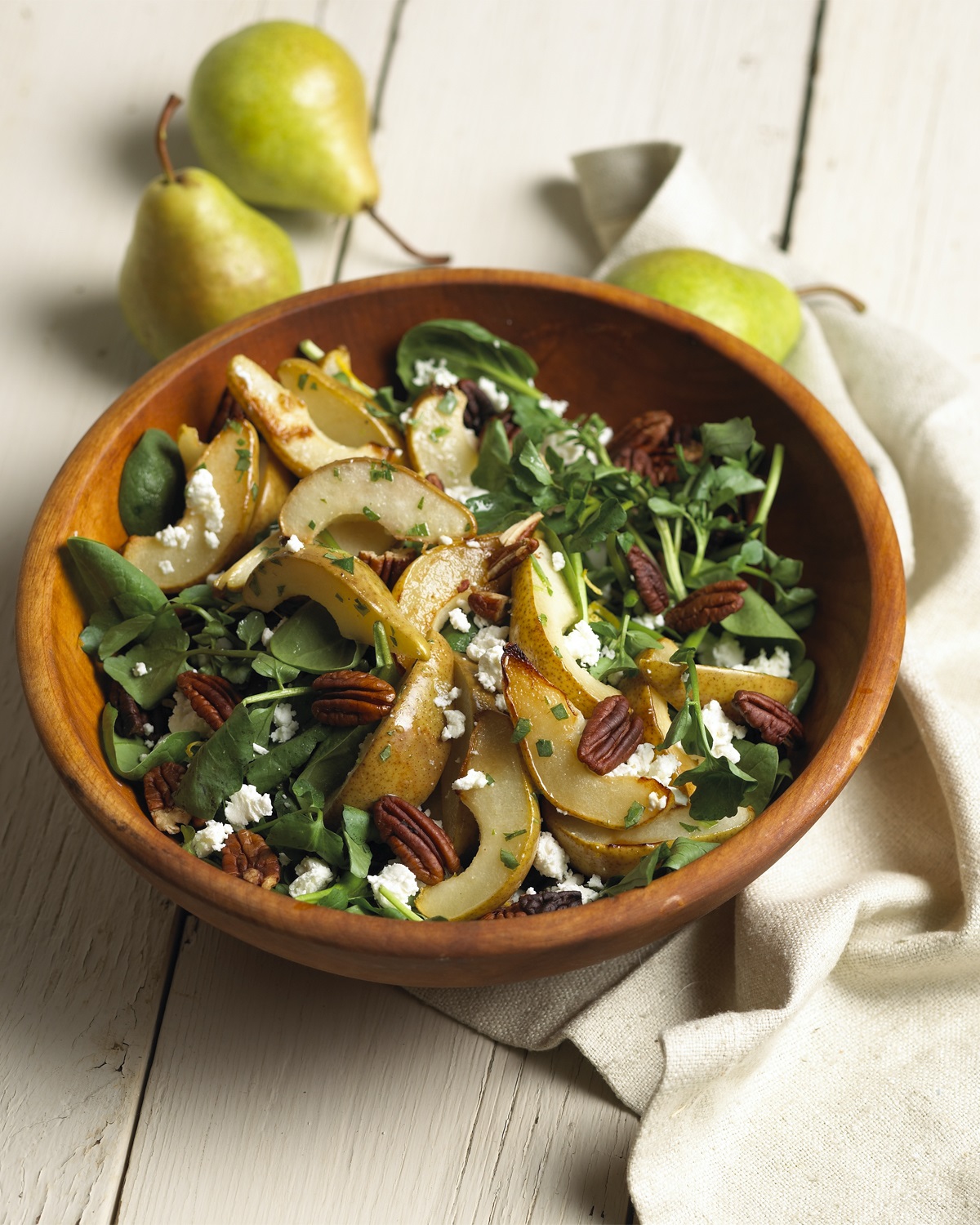 Preparation Time: 15 minutes
Cooking Time: 5 minutes
Cooling Time: 10 minutes
Serves 4
Dressing:
2 tbsp (25 mL) each apple juice and lemon juice
2 tbsp (25 mL) vegetable oil
1 tbsp (15 mL) Ontario honey
2 tsp (10 mL) Dijon mustard
1 tsp (5 mL) dried tarragon
1/4 tsp (1 mL) each salt and pepper
Salad:
4 Ontario pears (slightly underripe)
1 tbsp (15 mL) vegetable oil
2 tsp (10 mL) finely grated lemon rind
1/2 cup (125 mL) pecan halves
8 cups (2 L) packed Ontario baby spinach and arugula or watercress
2/3 cup (150 mL) crumbled Ontario chèvre cheese (about 4 oz/120 g)
In small bowl, whisk together apple juice, lemon juice, oil, honey, mustard, tarragon, salt and pepper. Set dressing aside.
Remove stems and slice pears into 6 wedges each, removing core. In large bowl, toss pears with oil to coat well. Place, cut side down, on large baking sheet; sprinkle with lemon rind. Place pecans in small cake pan. Roast pears and pecans in 375°F (190°C) oven together for about 5 minutes or just until pears are slightly softened and pecans are toasted. Transfer pears to cutting board to cool slightly.
Toss greens with two-thirds of the dressing and arrange on salad plates. Arrange pears and nuts in circular fashion on top; sprinkle with cheese. Drizzle pears with remaining dressing. Serve immediately.
Nutritional Information:
1 serving
PROTEIN: 9 grams
FAT: 29 grams
CARBOHYDRATE: 37 grams
CALORIES: 422
VERY HIGH SOURCE OF FIBRE