This subtlety smoked Brie would be perfect as either an appetizer or as dessert. Be sure to soak an Ontario cedar plank for at least two hours before using.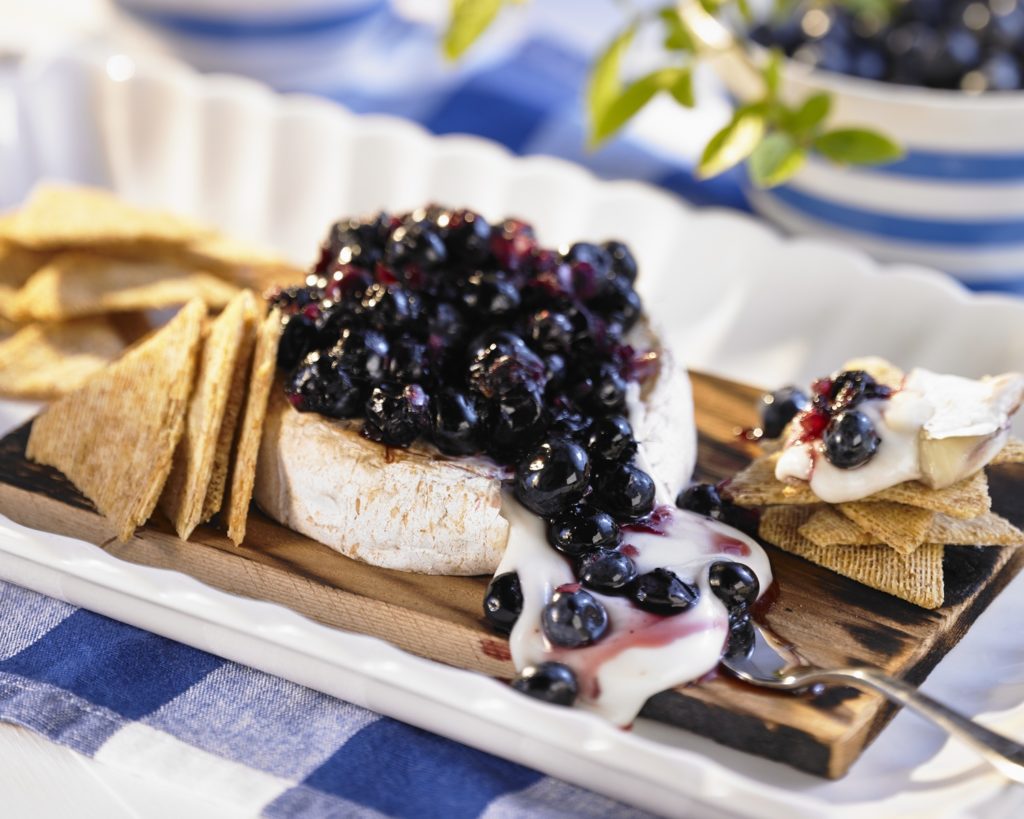 This recipe and image, courtesy of Foodland Ontario, celebrates these "superfood" berries.
Preparation Time: 5 minutes
Soaking Time: 2 hours (cedar plank)
Grilling Time: 10 minutes
Serves 4
3 tbsp (45 mL) packed brown sugar
2 tbsp (25 mL) finely diced Ontario shallots or onion
2 tbsp (25 mL) cider vinegar
1-1/2 tsp (7 mL) finely grated fresh gingerroot
3 whole cloves
1 cup (250 mL) Ontario blueberries
1 round (4-inch/10 cm) Ontario Brie cheese
Crackers or sliced baguette
In small saucepan, combine sugar, shallots, vinegar, ginger and cloves; bring to simmer over medium heat, stirring until reduced and syrupy, 1 to 2 minutes. Discard cloves. Stir in blueberries. Transfer to glass bowl or jar, cover and refrigerate until ready to use or up to 1 day.
Place soaked cedar plank on preheated grill over medium-high heat. Cover and grill until plank starts to smoke and crackle, turning once, 2 to 4 minutes. Place cheese on plank, close lid and reduce heat to medium-low. Grill for 5 minutes or until just deep golden brown. Top with half of the blueberry chutney; close lid and grill until golden and a little puffy, 1 to 2 minutes. Carefully remove plank with cheese from grill. Let cool 1 to 2 minutes. Place planked cheese on platter. Serve with remaining blueberry chutney and crackers on the side.
Nutritional Information:
1 serving
PROTEIN: 11 grams
FAT: 14 grams
CARBOHYDRATE: 17 grams
CALORIES: 235
FIBRE: 1 gram
SODIUM: 323 mg