Recipe and photos courtesy of Foodland Ontario
It's asparagus season. Much like the month of May itself, asparagus is full of vivid colour and appeal. This springtime vegetable looks elegant on a plate, adds oomph to all kinds of recipes and delivers a bounty of nutrients—including vitamins, minerals, antioxidants and fibre. Try this delectable recipe when asparagus is at the peak of grown-in-Ontario freshness.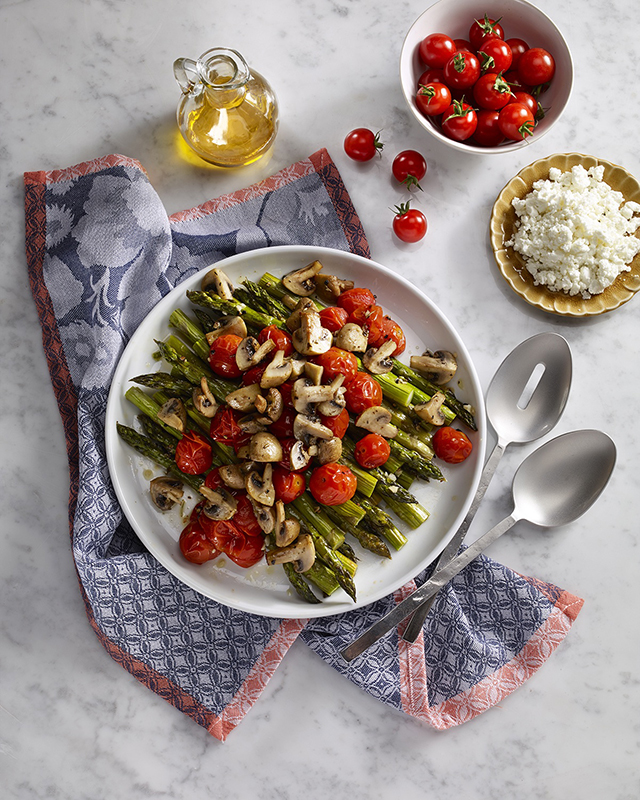 Cook the ingredients for this impressive and tasty salad ahead of time and assemble before serving.
Preparation Time: 20 minutes
Baking Time: 30 minutes
Marinating Time: 30 minutes
Serves 4 to 6
1 lb (500 g) Ontario asparagus, trimmed
6 tbsp (90 mL) olive oil
Salt and freshly ground pepper, to taste
1-1/2 cups (375 mL) Ontario greenhouse cherry or grape tomatoes
2 cloves garlic, minced
1 pkg (227 g) Ontario white or cremini mushrooms, quartered
1/2 tsp (2 mL) dried Italian seasoning
3 tbsp (45 mL) white balsamic vinegar
1-1/2 tsp (7 mL) Ontario honey
1/3 cup (75 mL) crumbled Ontario goat cheese
Spread asparagus on parchment paper-lined rimmed baking sheet. Drizzle with 1 tbsp (15 mL) of the olive oil; season with salt and pepper. Shake gently to coat.
In medium bowl, toss tomatoes with 1 tbsp (15 mL) of the oil, 1 clove garlic and salt and pepper. Spread over asparagus. Bake in 400°F (200°C) oven for about 15 minutes, shaking once, or until asparagus is tender and tomatoes slightly shrivelled. Arrange on platter; set aside.
In same bowl, toss mushrooms with 2 tbsp (25 mL) of the oil, Italian seasoning and salt and pepper. Spread on same baking sheet. Bake for 15 minutes, tossing once, or until mushrooms release some juices.
In medium bowl, combine remaining oil and garlic, vinegar, honey and salt and pepper. Toss with roasted mushrooms; let marinate for 30 minutes.
Just before serving, top asparagus mixture with mushroom mixture and goat cheese. Serve at room temperature.
Nutritional Information:
1 serving (when recipe serves 6):
PROTEIN: 5 grams
FAT: 16 grams
CARBOHYDRATE: 9 grams
CALORIES: 193
FIBRE: 2 grams
SODIUM: 102 mg