The extra prep is worth the effort for this soup that's special enough to serve guests. Garnish it with sliced cooked mushrooms and fresh herbs.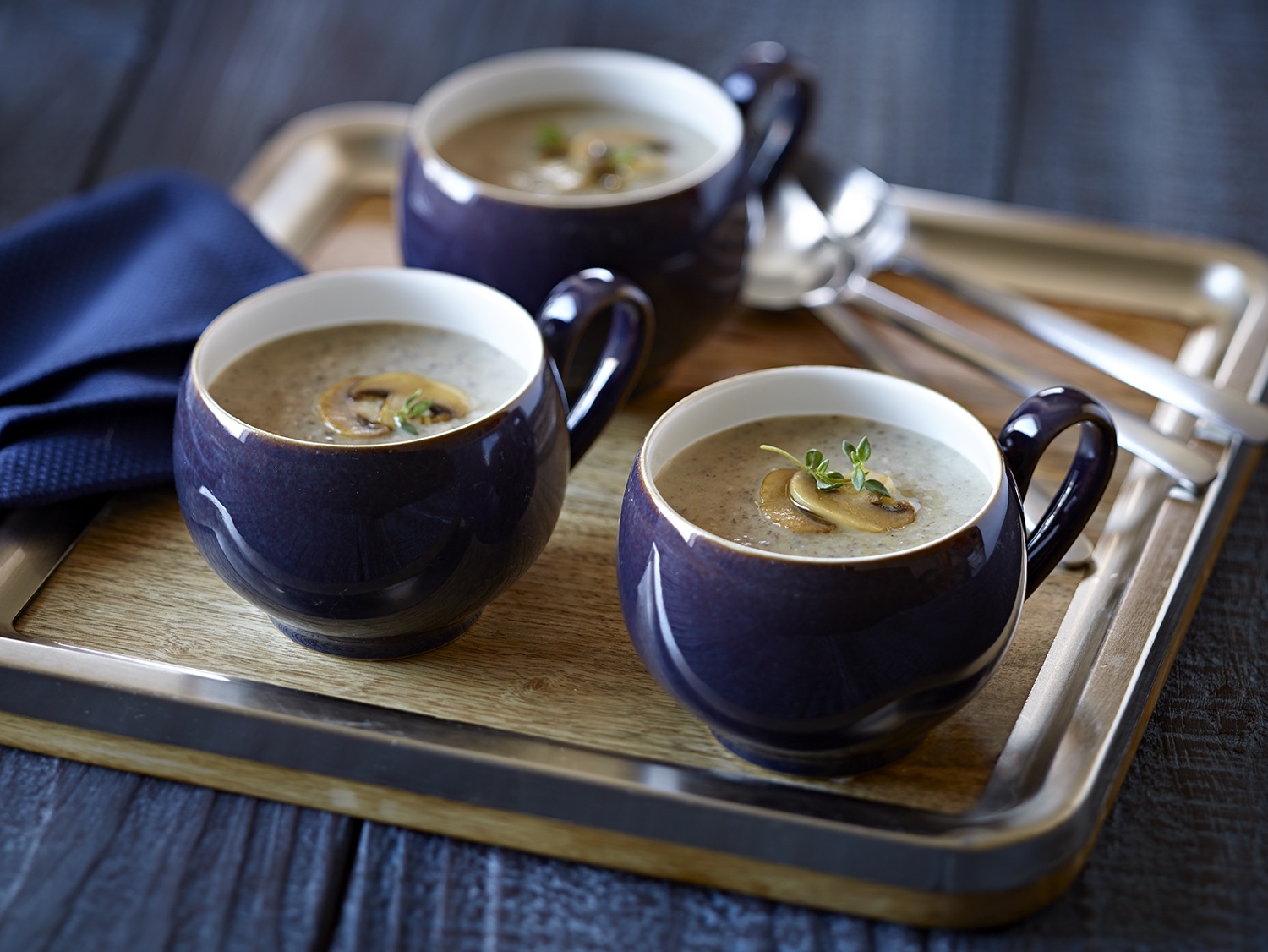 Preparation Time: 30 minutes
Cooking Time: 35 minutes
Roasting Time: 20 minutes
Serves 4 to 6
8 oz (250 g) each Ontario shiitake, button and cremini mushrooms
3 tbsp (45 mL) olive oil
1 tbsp (15 mL) chopped fresh Ontario thyme
Freshly ground pepper
2 Ontario leeks, white part only, chopped
1 Ontario onion, chopped
3 cloves Ontario garlic, minced
1/2 cup (125 mL) dry Ontario white wine
4 cups (1 L) sodium-reduced chicken or vegetable broth
1 large Ontario potato, peeled and diced
1-1/2 tsp (7 mL) salt
2 bay leaves
1/8 tsp (0.5 mL) cayenne pepper
1 can (370 mL) 2% or fat-free evaporated milk
2 tbsp (25 mL) balsamic vinegar
Remove stems from shiitake mushrooms; half or quarter mushrooms, depending on size. In medium bowl, toss mushrooms with 2 tbsp (25 mL) of the oil, half of the thyme, and pepper to taste. Spread evenly in single layer on baking sheet. Roast in 450°F (230°C) oven until tender, for 15 to 20 minutes, stirring occasionally.
Meanwhile, in large pot, heat remaining oil and thyme over medium heat; add leeks and onion and cook until softened, about 8 minutes. Add garlic, roasted mushrooms and wine; cook over medium-high heat for 2 minutes.
Add broth, potato, salt, bay leaves and cayenne; bring to boil. Reduce heat, cover and simmer until potato is tender, about 15 minutes. Let cool slightly; remove bay leaves.
Purée in batches in blender; return to saucepan and stir in milk and balsamic vinegar. Season with additional freshly ground pepper, if desired. Reheat gently until hot.
Nutritional Information:
1 serving (when recipe serves 6):
PROTEIN: 12 grams
FAT: 8 grams
CARBOHYDRATE: 33 grams
CALORIES: 260
FIBRE: 3 grams
SODIUM: 1040 mg