Whether you bake them into a pie or a crisp, simmer them into sauce, chop some up for muffins or stir them into a salad, apples are a favourite taste of autumn. This versatile recipe and photo from Foodland Ontario, foodlandontario.ca, will inspire you to enjoy them to the max.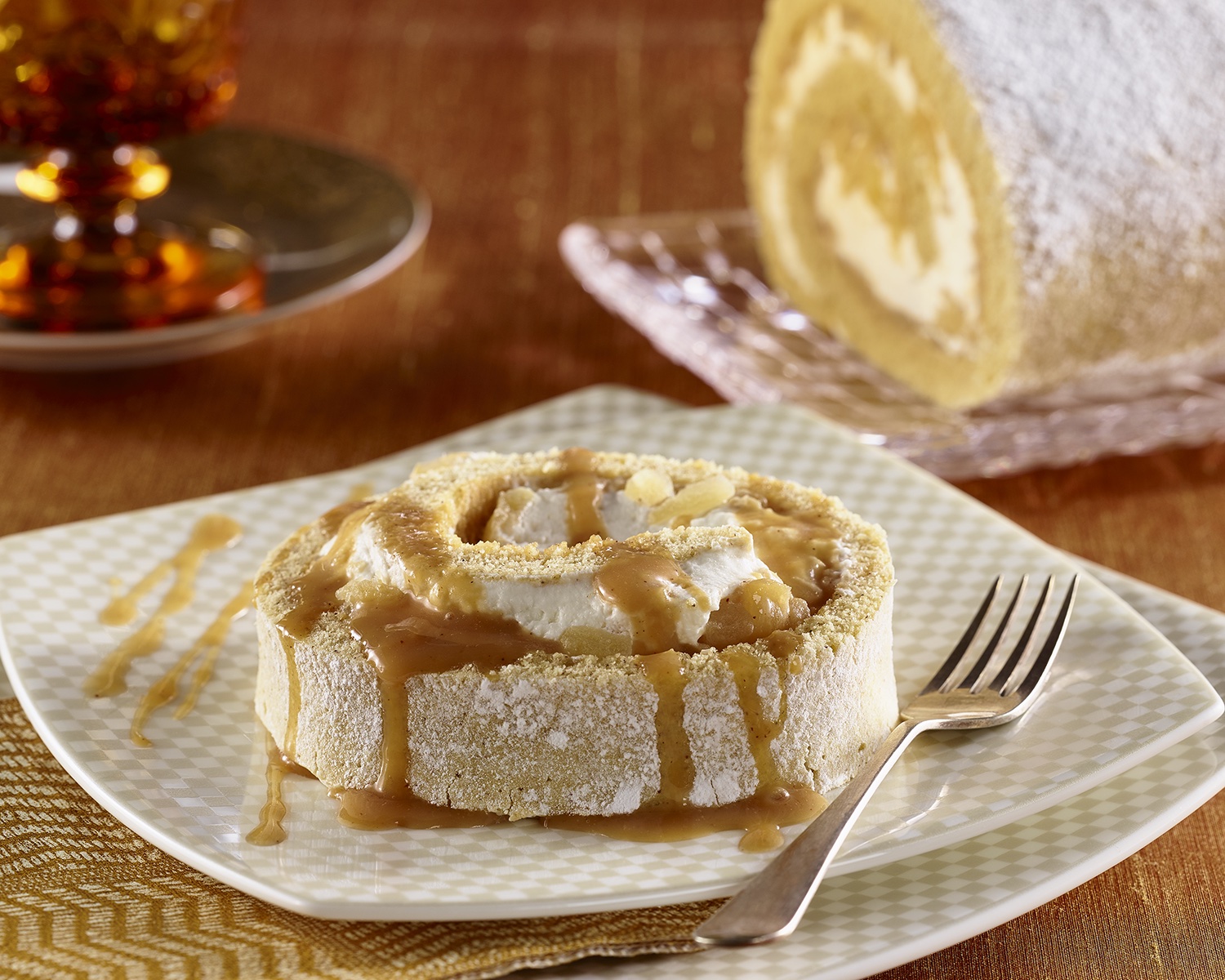 Apples and caramel are a perfect marriage in this unique rolled cake. Ontario apples add a sweet tart complement to the caramel and cream filling.
Preparation Time: 25 minutes
Cooking Time: 12 minutes
Baking Time: 7 minutes
Chilling Time: 1 hour
Serves 12 to 16
Apple roll:
5 Ontario eggs
3/4 cup (175 mL) granulated sugar
3 tbsp (45 mL) butter, melted
1-1/2 tsp (7 mL) vanilla
1-1/4 cups (300 mL) all-purpose flour
1 tsp (5 mL) baking powder
3/4 tsp (4 mL) ground cinnamon
Pinch salt
3 tbsp (45 mL) icing sugar
Salted caramel filling:
1 cup (250 mL) caramel squares, unwrapped (about 30)
3 tbsp (45 mL) butter
2 tbsp (25 mL) water
Pinch sea salt
3 Ontario apples, peeled and diced (about 3 cups/750 mL)
1/4 tsp (1 mL) ground cinnamon
1-1/2 cups (375 mL) 35% Ontario whipping cream
1/4 cup (50 mL) icing sugar
1/2 tsp (2 mL) vanilla
Line 17- x 11-inch (45 x 29 cm) rimmed baking pan with parchment paper. Spray with non-stick vegetable spray; set aside.
In large bowl, with electric mixer beat eggs, sugar, butter and vanilla until well combined and sugar is dissolved.
In medium bowl, whisk together flour, baking powder, 3/4 tsp (4 mL) cinnamon and salt; add to egg mixture and beat on low speed just until combined. Spread in prepared pan, smoothing top. Bake in 350°F (180°C) for about 12 minutes or until light brown and firm to the touch.
Sift icing sugar onto clean tea towel in even layer. Invert cake onto towel; peel off paper. Starting at the short edge, roll up cake in towel; let cool completely on rack.
In small saucepan, combine caramels, 2 tbsp (25 mL) of the butter and water; cook over medium-low heat, stirring constantly until melted. Add salt and set aside.
Meanwhile, in small skillet, melt remaining butter over medium-low heat. Add apples and cinnamon; cover and cook until apples are soft and tender, about 5 minutes. Stir caramel mixture into apples; set aside.
In large bowl, using an electric mixer beat together cream, icing sugar and vanilla until stiff peaks form.
In sieve strain apples; reserving caramel sauce. Unroll cake and spread apples evenly over top. Spoon 3 tbsp (45 mL) of the reserved caramel. Spread whipped cream mixture evenly over cake leaving about 2-inches (5 cm) from the short end. Roll up, using towel to help. Cover and refrigerate for at least 1 hour or until ready to serve. Serve with remaining caramel sauce.
Nutritional Information:
1 serving (when recipe serves 16):
PROTEIN: 3 grams
FAT: 15 grams
CARBOHYDRATE: 37 grams
CALORIES: 299
FIBRE: 1 gram
SODIUM: 152 mg