The air is crisp and so are the apples. There are pumpkins on doorsteps and in pies topped with whipped cream. There is much to be grateful for in October, as we gather for Thanksgiving and anticipate Halloween.
The recipe and photo, courtesy of Foodland Ontario, are ideal for sharing and for celebrating the best of the season.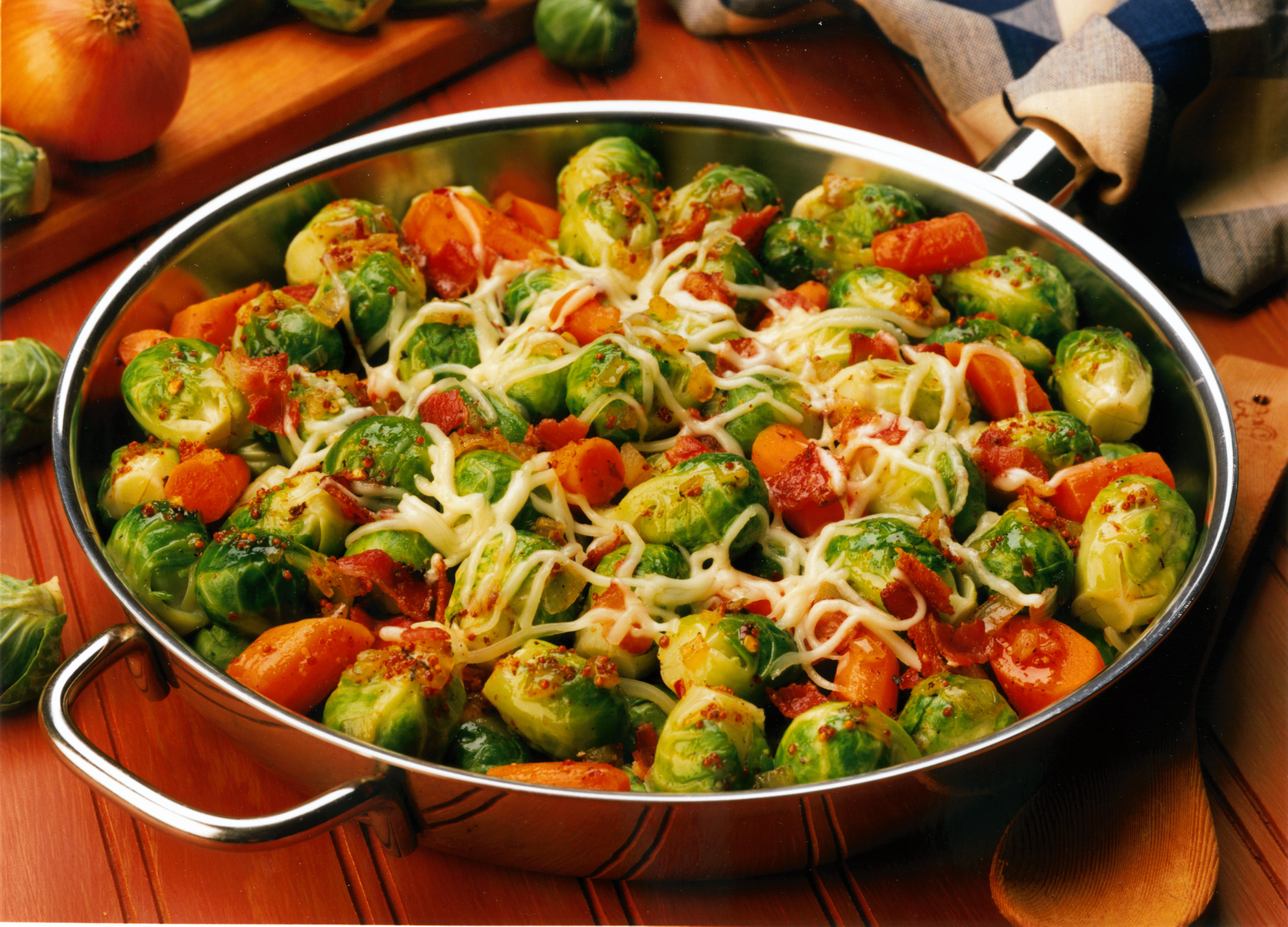 A light honey-Dijon glaze coats tender-crisp Ontario brussels sprouts and carrots. Crisp bacon, tender onion and a thin layer of melted cheese put the finishing touches on this hearty side dish.
Preparation Time: 20 minutes
Cooking Time: 20 minutes
Serves 4 to 6
1-1/2 lb (750 g) Ontario brussels sprouts
2 medium Ontario carrots
3 strips side bacon
1 small Ontario onion, chopped
1/4 tsp (1 mL) hot pepper flakes (optional)
2 tbsp (25 mL) Ontario honey
1 tsp (5 mL) Dijon mustard
1/4 tsp (1 mL) each salt and pepper
1/2 cup (125 mL) shredded Ontario Swiss or mozzarella cheese
Trim brussels sprouts; cut X in base of each. Cut carrots into 1-inch (2.5 cm) pieces. In saucepan of simmering salted water, cook brussels sprouts and carrots for 3 minutes or until desired tenderness. Drain well and set aside.
In large ovenproof skillet, cook bacon over medium heat until crisp. Remove to paper towel-lined plate.
Drain all but 1 tbsp (15 mL) fat from skillet. To skillet, add onion, and hot pepper flakes (if using); cook over medium-low heat, stirring frequently, for 5 minutes or until softened but not browned. Stir in honey, mustard, salt and pepper. Add reserved brussels sprouts and carrots; toss to coat well. Chop reserved bacon; sprinkle over top. Sprinkle with cheese. Bake on middle rack of 400°F (200°C) oven for 3 minutes or until cheese is melted.
Tip: If skillet handle is not heat resistant, wrap in foil.
Nutritional Information:
1 serving
PROTEIN: 8 grams
FAT: 7 grams
CARBOHYDRATE: 21 grams
CALORIES: 170
FIBRE: 5 grams
SODIUM: 290 mg