Take advantage of the healthy flavours of fall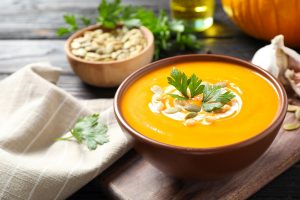 The fall season is the perfect time to experiment with recipes that are good to eat and good for you. The rustic flavours and deep textures of pumpkin and squash make a perfect foundation for better-than-ever hearty side meals or full courses.
The culinary experts at Cobourg's Palisade Gardens Retirement Community have come up with a way to reduce sodium and keep the flavour in several autumn-inspired dishes. The key is substituting salt with antioxidant-packed, flavourful herbs.
Thyme and sage are integrated into this pumpkin soup and ginger, among other flavours, into the winter squash. Thyme helps control the heart rate and blood pressure, eases stress, calms upset stomachs and combats coughs and fevers. Sage enhances memory, calms anxiety, reduces respiratory and nasal congestion and helps reduce allergy symptoms. Ginger is well-recognized for easing nausea and motion sickness, but it also provides migraine relief, reduces arthritic inflammation and helps fight colds.
Pumpkin Soup With Maple Cream
Serves 4
454 g (1lb) peeled pumpkin
57 ml (1/4 cup) unsalted butter
1 medium onion, finely diced
794 ml (3½ cups) homemade chicken stock/sodium-reduced chicken stock
500 ml (2 cups) 35% whipping cream
Pinch of ground nutmeg
45 ml (1½ oz) fine egg noodle
Freshly ground white pepper to taste
Chop pumpkin into bite-sized cubes. Heat butter and add onion over medium heat until softened for about eight minutes. Stir in pumpkin and cook for two to three minutes. Add stock and cook for another 15 minutes. Remove from heat and puree. Add cream, nutmeg, season with pepper. Bring to a boil, stir in pasta and cook until done. Garnish with maple cream.
Maple Cream
125 ml (1/2 cup) 35% whipping cream
1 ml (1/4 tsp) maple syrup
4 ml (1 tsp) sugar
2 drops maple flavouring (optional)
Whip cream and sugar together until stiff. Fold in syrup and flavouring. Add a dollop on top of the soup.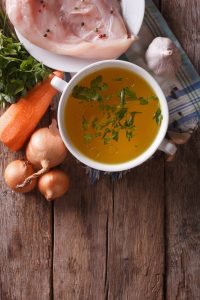 Homemade Chicken Stock
28 ml (2 tbsp) olive oil
1 medium onion
1.8 kg (4 lbs) chicken (preferably chicken bones, but any pieces will work)
3.6 l (2 qts) boiling water
2 bay leaves
9 ml (2 tsp) fresh sage
9 ml (2 tsp) fresh thyme
Cheesecloth
Heat oil and add onion and sauté until translucent. Add chicken and sauté until no longer pink (if using chicken pieces). Reduce heat to low, cover and cook until the chicken renders its juices— about 20 to 30 minutes. Increase heat to high and add water, bay leaves, sage and thyme. Return to simmer, then cover until broth is rich, about 20 minutes. Strain broth through cheesecloth into a clean pot or bowl. Can be refrigerated up to two days or frozen.
Winter Squash with Ginger,
Allspice and Brown Sugar
1.8 kg (4 lbs) hubbard squash
125 ml (1/2 cup) unsalted butter
Freshly ground pepper
Ginger, allspice and brown sugar to taste
Peel squash and cut into cubes. Place in a large saucepan and cover with cold water. Cover and simmer until tender. Drain and return to pan, place over low heat and shake continuously until all the moisture has evaporated. Puree squash until smooth, mix in butter with pepper, ginger, allspice and brown sugar.
Serve as a side to a turkey dinner.